Brooklyn is a hipster haven for bars selling natural wines. Elin McCoy chooses six of the best
New York City came late to natural wine compared to London and Paris, and has been trying hard to catch up. Many of the top spots are across the river from glitzy Manhattan in hipster Brooklyn, which is fast becoming the city's natural wine haven (there's no official definition for the buzz-category "natural" wine, but the term basically refers to vino made from organically or biodynamically grown grapes, and with the least technological help possible).
Last year Brooklyn hosted New York's first natural wine fair, The Big Glou. Eight months later, the RAW wine fair, a version of the annual London and Berlin events, rolled in, and the two-day celebration returns to the same industrial warehouse "cultural space" in early November. 120 producers will pour for a public eager to lap up the juice.
But you don't have to wait for the fair to sample natural wine in New York. Here are the six best natural wine bars, all offering Brooklyn's hip atmosphere, top bottle selections, and food beyond salumi and cheese boards.
This long, dramatically lit, brick-walled bar in Cobble Hill has a cozy back patio strung with lights. Its 175-plus choices go way beyond the same old names you find on just about every natural wine list. Yes, you can find standards like Dard & Ribo's Rhone cuvees at more than $100 a bottle, but this is where to come for up-and-coming labels from far-flung places like Chile and Australia, and dozens of unusual red, orange, and rosé sparkling wines at under $100 a bottle. Ask about the staff's daily wine favorites and plan to chow down on substantial entrees like whole roasted trout.
231 Court St Brooklyn NY 11201
Co-owned by experimental musician and DJ James Murphy, lead singer of LCD Sound Systems, this tiny and very cool wine nook in the Williamsburg section was an early natural wine adopter. Hip and sophisticated, with a sleek, lots-of-wood Scandinavian/Japanese aesthetic, it's a place where wine geeks hang out late at night. But it's also relaxed and non-stuffy, and the killer wine selection is deep for such a small spot, going beyond well-known French names to include labels from Sicily's Frank Cornelissen. Prices aren't cheap. Don't miss the rustic homemade bread and gnocchi.
295 Grand St Brooklyn, NY 11211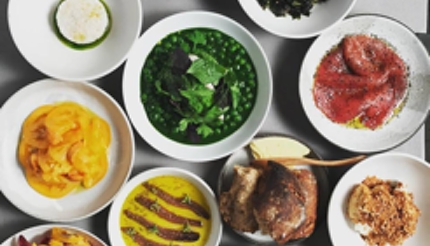 This charming, rustic space in Williamsburg bills itself as a vineria naturale con cucina and implies on its website that it's the best natural wine bar in New York City. I wouldn't go that far, but it does have one of the city's most unusual lists. Almost all the wines are Italian, and it boasts an astonishing 32 orange "skin contact" wines, many by the glass, when most places offer a mere handful. Regular meet-the-wine-grower events draw a knowledgeable but super-friendly crowd. The basic décor is a mix of wine bottles and antiques; the cucina includes simple Italian dishes.
103 Havermeyer St Brooklyn, NY 11211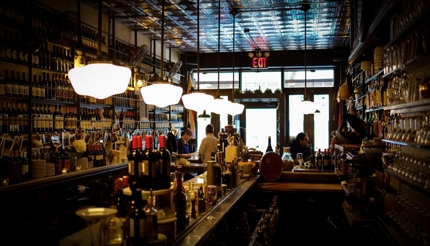 Natural wine booster Bill Fitch of Vinegar Hill House (another outpost in Brooklyn) put together the exciting list at this new spot in Prospect Heights. Huge pluses are the lush backyard patio where you can sip surrounded by herb and veggie plants, and the chef Brian Leth, whose Italian pastas from local produce are delicious. The 50-plus wines on offer will please the adventurous with unusual bottles such as a Hungarian rosé made with blaufrankisch, and reds from Greece and the Czech Republic. By the glass selections are cheap by city standards, especially during happy hour.
606 Vanderbilt Ave Brooklyn 11238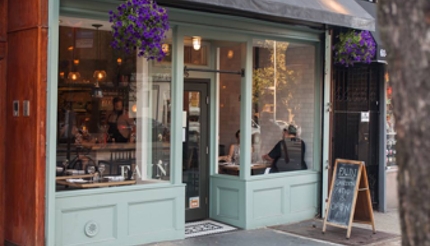 The combination of natural wine and great, traditional wood-fired pizza is a total rarity in New York, so this sprawling spot with graffitied cinder block walls is a sort of oasis. A hyped Bushwick institution with its own food-focused Internet radio station, it also has an outdoor tiki bar and rooftop garden. The rough wooden tables are usually crowded; be prepared to wait. The long wine list includes the latest natural wines from around the globe, including 13 orange wines and a surprisingly good selection from California. All are well priced. The Bee Sting pizza and duck prosciutto are musts.
261 Moore St Brooklyn, NY 11206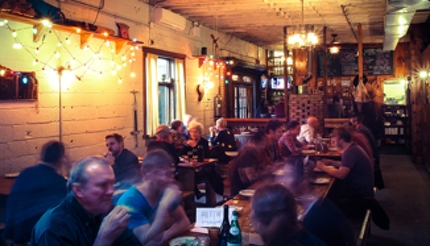 Brooklyn's biggest restaurant impresario is Andrew Tarlow, mastermind behind an empire of bars and restaurants, a bakery, a magazine, and a hotel; natural wines star at all of his venues. Quaint, rustic Achilles Heel, with a wood-burning fireplace in the dining room, is a tavern-style bar in Greenpoint near the Hudson River, with an emphasis on affordable wines. The well-chosen short selection is mostly from France. Be prepared to buy a bottle: the by-the-glass offerings are limited. Key dish? Chicken roasted over a wood fire.
180 West St Brooklyn, NY 11222