For those who love savoury and well-spiced dishes, Egyptian food is a blessing, so prepare your stomach for the top 10 dishes to try in Cairo
Whether you're grabbing a bite to eat from a street vendor or dining at an elegant 5-star restaurant, Cairo is the place for hearty and flavourful dishes that will delight all taste buds. The city is renowned for its North African cuisine and with so many restaurants to choose from, you can hardly go wrong. Read on to discover the most delicious things to try in Cairo.
Simit
If sightseeing has you craving a snack on the go, look no further than the humble simit: a classic Turkish baked good that has become a popular Cairene street food. This sesame-covered bread looks like a cross between a bagel and a pretzel and has a soft, fluffy interior. It is usually served with a hard-boiled egg and is most popular around Easter, when the Egyptians celebrate Sham Ennessim.
Where to try: Sample it from a street cart at a souk (marketplace) such as Khan el-Khalili (Al-Azhar St)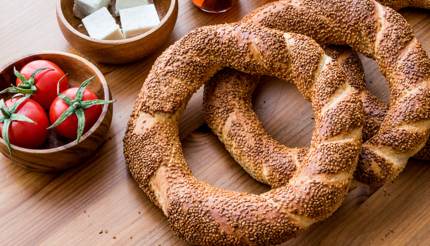 Hawawshi
Commonly eaten for lunch or dinner, hawawshi is prepared by stuffing pita bread with a minced meat mixture flavored with onions, peppers, and chillies to create a delicious hot and spicy dish. If you're willing to brave the heat, hawawshi makes for a filling meal.
Where to try: El Hawawshy El Asly (63 El Hegaz St)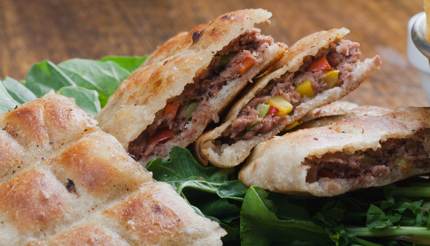 Ful
When you think of breakfast, bean stew isn't usually the first thing to come to mind, but in Cairo, spiced fava beans is the working man's delicious go-to breakfast. Flavoured with cumin and olive oil and served with pita or French bread, it's a popular dish both in restaurants and among street vendors.
Where to try: Niema (172 Nile Corniche), a street cart in front of the Agouza's Police Hospital, serves traditional dish and has a beautiful view of the Nile.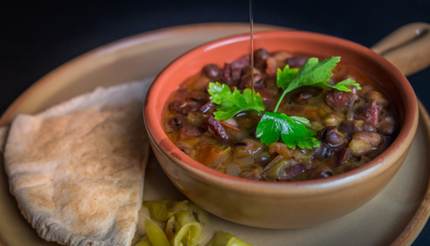 Koshary
This simple meal, made cultural phenomenon, is a hearty dish made of rice, pasta, and lentils combined with chickpeas, tomatoes, garlic and crispy fried onions in a tomato-vinegar sauce. Although it may sound like a kitchen sink meal, there's an art to a good koshary, and until you've tried it in Cairo, you haven't tried it at all.
Where to try: Both Felfela (15 Hoda Shaarawi St) and Abou Tarek (26 El-Shaikh Marouf) offer cheap and mouth watering koshary in modest establishments.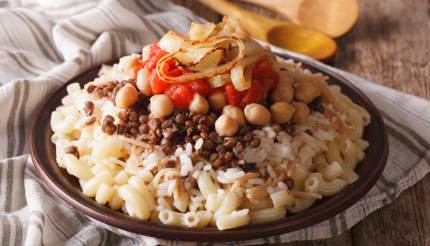 Hamam Mahshi
If you're looking for a luxurious meal, you may be surprised to find that a popular dish for special occasions—hamam mahshi—is in fact cooked pigeon. Raised in special conical towers and plucked at the ripe age of 6 weeks, these birds are marinated and stuffed with a mixture of rice or wheat, onions, cinnamon, cumin, and nuts, and then grilled over a wood charcoal fire.
Where to try: Farahat (126 Al Azhar St)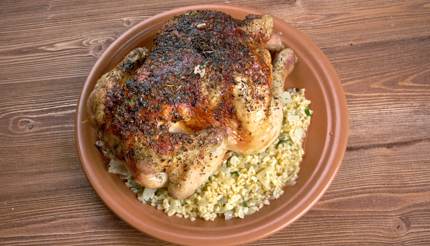 Shawarma
Classically Middle Eastern, shawarma is a simple and popular comfort food for many. Composed of slices of meat carved from a slowly revolving skewer, shawarma is typically accompanied by bread, salads, and sauces. It can be served from street carts throughout the city or in a number of restaurants, if you fancy a sit down approach to this meat feast.
Where to try: Abu Haidar (13 Ibrahim El Laqqany St) has arguably the best shawarma in Cairo and though a hidden gem, it certainly lives up to its name.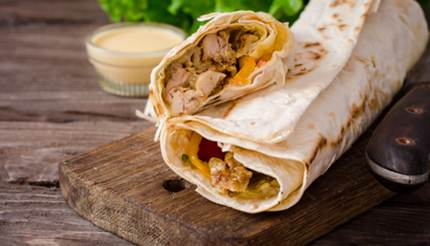 Egyptian Brunch
The Egyptians favour savoury foods for breakfast, and brunch is no different. A big Egyptian brunch is a meal to share, and includes homemade dips such as baba ganoush (eggplant) and hummus, sides like Roumy cheese and garlic tomatoes, and of course pita and falafels.
Where to try: Stop by Zitouni (1089 Corniche El Nil) in the Cairo Four Seasons Hotel on Fridays for an extensive and luxurious brunch in a traditional Egyptian setting.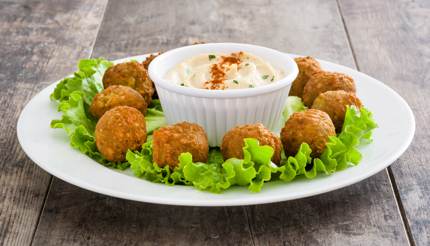 Om Ali
If you have a sweet tooth, Om Ali, meaning "Ali's mother," is a dessert you cannot miss. This soft and delicate bread pudding is made of pastry blended with nuts, raisins, coconut, cinnamon, cream and plenty of sugar. It can be eaten fresh out of the oven or served cold. Where to try: The Khan El-Khalili Restaurant & Naguib Mahfouz Coffee Shop (5 El Baddistan Lane), named after a Nobel-prize winning Egyptian novelist, is the place to go for fantastic Om Ali.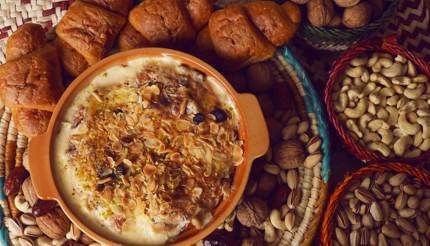 Coffee
Coffee at an ahwa (Arabic for coffeehouse) is a great experience for anyone who wants to enjoy local Cairene culture and sample the heralded coffee or shai (tea). Traditional cafes steam from the smoke of fragrant shishas (water pipes). Don't be surprised if the people at the next table strike up a conversation – ahwas are the perfect place to meet new people. Where to try: For a traditional and beloved ahwa, stop by El-Fishawi (El-Fishawi Alley) in Khan al-Khalili.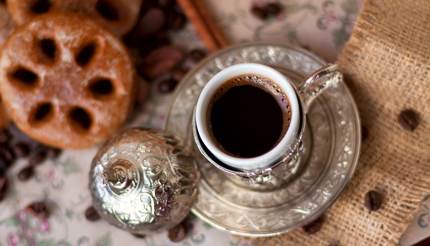 Zibib
Although the Egyptians don't boast a wide variety of hard liquors, zibib is one concoction every adventurous tourist must try. Made with anise, it has a potent and lingering flavour. Even though it is often served on the rocks, many people choose to dilute it with water, while some even mix it with tea.
Where to try: Sip the Asmara brand Zibib at your hotel bar or pick up a bottle from the local liquor store chain, Drinkies.
Before you go, check out: