The foodie capital of South Africa, Cape Town's flavoursome cuisine reflects its rich cultural heritage while its award-winning wines deserve a toast
A cultural melting pot, Cape Town's cuisine is influenced by Dutch East Indies from far-off days to modern British-Indian cooking, appealing to intrepid foodies. The local wine industry is thriving too – the nearby rolling Winelands keep visitors happy with superb tasting menus, pairing award-wining wines with a great selection of local cheeses and olives. Read on to discover the top 10 things to eat & drink in Cape Town and where to find them.
Braai
On our South Africa Food & Drink guide, we say braai (BBQ) is a national sport, a religion even, and many Capetonians agree. A traditional braai isn't just about roasting meat, but a social event where friends and family gather to share food and have a fantastic time.
Where to try: Many Township tours include a traditional braai as part of the highlights. The Backyard Grill (72 Regent Road) and a Madoda (1 Strand St, Woodstock) are two popular places to enjoy a meat feast.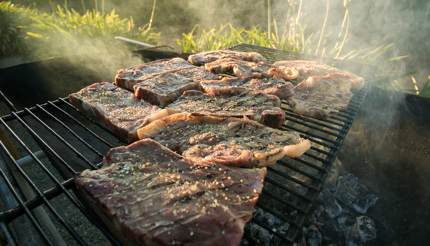 Boerewors
You can't talk about braai without mentioning boerewors – beef and pork sausages seasoned with a generous amount of spices including coriander and nutmeg.
Where to try: Tara Butchery (6 Sevenii Center) sells quality boerewors.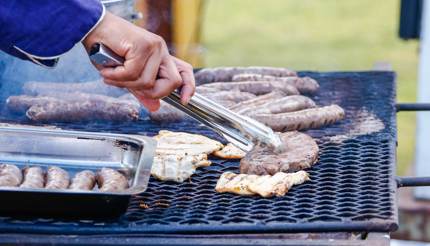 Biltong
This dried, cured meat is the favourite snack of South Africa. Biltong is often made from beef, though it can also be made from game meats like ostrich. It's high in protein so pack some with you when you go on safaris and hikes.
Where to try: Head down to The Butcher Man (105 Main Road) to sample some kudu or springbok biltong while Mama Africa (178 Long Street) serves feta and biltong salad.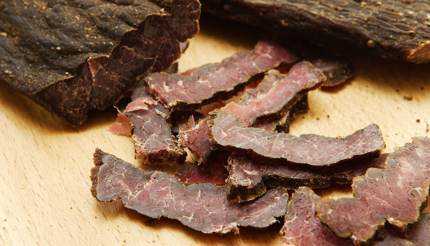 Gatsby
This lunchtime super sandwich is a foot-long loaf of bread stuffed with French fries, meat of your choice (steak, fish or calamari), eggs, salad and drenched in sauces. It's cheap, filling, makes for an ideal budget eat.
Where to try: Mariam's Kitchen has two locations (31 Heerengracht Street and 101 St Georges Mall) serving up Gatsby with masala steak and braise onion.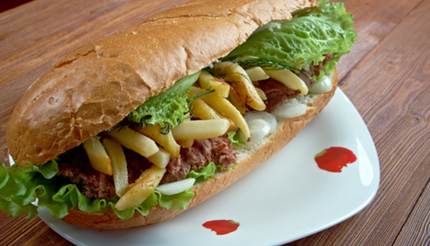 Wild Game
By now you've probably figured out that South Africans love to eat meat and exotic wild game – crocodile, kudu, ostrich, springbok – is widely available. Enjoy a game steak or kebabs made with wild game.
Where to try: Mama Africa (178 Long Street) is popular with visitors who seek wild game in an authentic setting.
Bobotie
A popular Cape Malay dish of curried meat, raisin and a creamy egg topping, often served with banana slices and yellow rice on the side.
Where to try: Bobotie at Karibu (156 Victoria Wharf) is baked to perfection.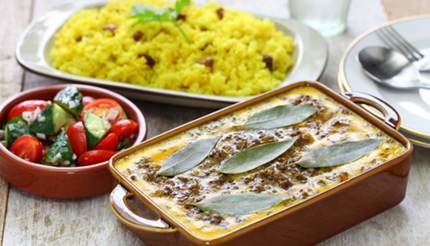 Fish and Chips
With a long coastline promising a good supply of fresh fish, it should be no surprise that fish and chips are popular in Cape Town. Freshly caught hake, yellowtail and snoek are battered and fried. Delicious.
Where to try: Lusitania Fisheries (49A Waterkant Street) in Cape Town city centre draws office crowds while further way, Fish on the Rocks (1 Harbour Road) is the iconic takeaway spot in Hout Bay.
Malva Pudding
A soft sponge cake made with apricot jam and smothered with creamy sauce the moment it's taken out of the oven, then served with a scoop of ice cream or custard. This classic South African dessert is a sweet and sticky perfection.
Where to try: Mama Africa (178 Long Street) and Karibu (156 Victoria Wharf)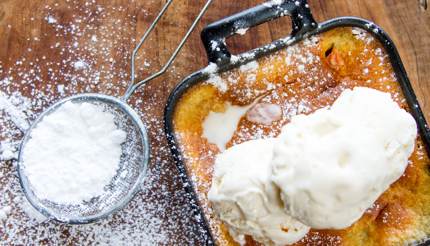 Roibos tea
This refreshing caffeine-free drink is produced from the leaves of the Rooibos shrub native to the mountainous Western Cape. It's packed with powerful antioxidants and minerals and is considered a natural remedy for headaches, insomnia and hypertension.
Where to try: Lady Bonin's Tea Bar (213 Long Street)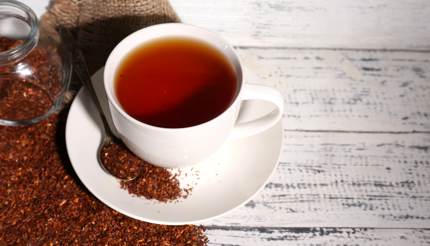 Wine
South African wine has received much attention thanks to its quality. The wine making history started in Constantia near Cape Town, and has since expanded to nearby valleys. Vineyards here produce a wide range of varieties including Pinotage, South Africa's signature variety.
Where to try: Visit the wine bar Chalk & Cork (51 Kloof St).