With a plethora of excellent eateries offering traditional Icelandic cuisine with a modern twist, Reykjavik is a top Scandinavian stop for foodies
Reykjavik's position as a coastal city allows local restaurants to showcase some of the freshest seafood in the world. Couple that with more unique food items such as Minke whale and puffin, eating in Reykjavik is a true culinary adventure. This Reykjavik food and drink guide features the top 10 things to try in the city. So go on, eat your heart out!
Plysur (Icelandic hot dogs)
Mostly made from Icelandic lamb, these hot dogs are a firm favourite with locals and tourists alike. Ask for one with everything and you'll be handed a delicious hot dog topped with raw onions, fried onions, mustard, ketchup and a remoulade sauce made from mayonnaise, capers and herbs.
Where to try: Bæjarins Beztu Pylsur is a chain of hot dog stand that can be found all around the city. The long lines attest to the popularity of this hot dog chain. Don't be put off by the lines though; their take on this savoury snack is well worth the wait.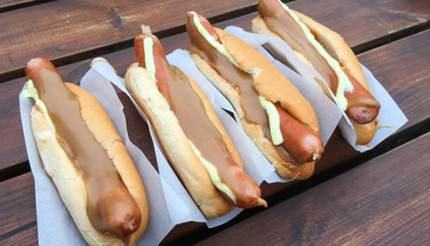 Rye bread
Dense and with an underlying sweet flavour, Icelandic rye bread is typically eaten with butter, pâté, smoked meats or smoked fish. A traditional way of making the bread is to place it in a wooden cask and bury it near a hot spring, although a majority of bakeries today just use a modern oven.
Where to try: For an authentic rye bread experience, head to Laugarvatn Fontana (Hverabraut 1) where you can visit the geothermal bakery and taste the freshly baked bread straight from the ground. Also try Café Loki's (Lokastíg 28) unique rye bread ice cream for a twist on this classic essential food.
Lamb
In Iceland, there are more sheep than people. The people of Iceland love a good bit of lamb. A free range farming method is widely used as it allows the animals to graze on a variety of plants, such as wild grasses and herbs, which gives the meat a very complex and tasty flavour.
Where to try: Grillmarkadurinn's (Lækjargata 2a) rack of lamb is legendary due to it being sourced from local farmers and possessing a rich flavour.
Lobster soup
Reykjavik has access to a rich selection of seafood, so it's not difficult to understand why lobster soup is one of the nation's most popular dishes.
Where to try: Lobster soup is Læjarbrekka's (Læjarbrekka Bankastræti 2) star dish. Fresh langoustine is lightly fried before being transformed into a silky, flavoursome soup.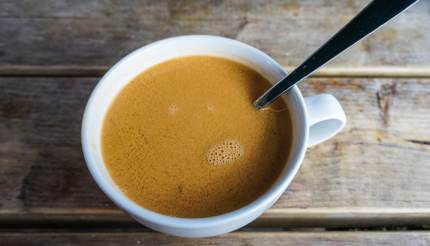 Minke whale
Originally a traditional Icelandic staple, Minke whale is now put on menus to entice the curious tourist. However, it still remains a firm favourite with some locals. Whale meat has a gamey flavour and a tender texture, similar to that of a good quality beefsteak.
Where to try: Fish Mrkt (Aðalstræti 12) serves up a grilled Minke whale dish with Icelandic wasabi root and a soy ginger dressing.
Puffin
Puffin meat remains a main part of Iceland's national diet and is considered a delicacy. A rich meat with a slight fishy flavour, it is often smoked or boiled in milk.
Where to try: Íslenski Barinn (Ingólfsstræti 1a) combines grilled puffin with blueberries, skyr (a creamy dairy product), pickled red onions and herbs for a contemporary take on this traditional meat dish.
Harðfiskur
This much-loved dried fish snack is usually made from cod, but can also be made from haddock or ocean catfish. Utilising the crisp North Atlantic air, the fish is dried by undergoing a bacterial curing process that is similar in cheese making. Before eating, the fish is smothered in salted butter to help soften it and to add a slightly creamy flavour.
Where to try: You can find Harðfiskur in most supermarkets throughout the city.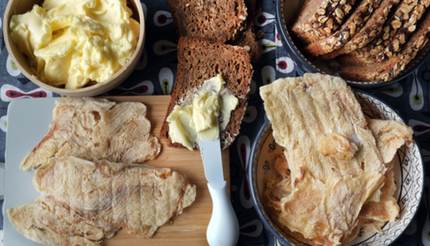 Skyr
Skyr is a delicious dairy product: creamy, low in fat and high in protein. Skyr pairs well with fruit and oats and is usually eaten for breakfast or as an after dinner treat.
Where to try: Offering classic Icelandic cuisine, Matur og Drykkur (Grandagarõur 2) serves skyr with a blueberry granita, fresh blueberries and hearty oats, making for a satisfying dessert.
Pönnukökur
These thin pancakes – think crêpes – are rolled up before serving. They can contain any number of fillings, from fruit to powdered sugar, but the most customary way to eat them is with jam and whipped cream.
Where to try: Café Loki (Lokastíg 28) gives you the chance to try these delightful pancakes in two ways: either with jam and whipped cream or with skyr and caramel sauce.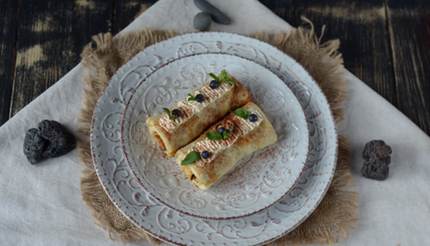 Brennivín
Iceland's answer to vodka, this incredibly strong alcoholic drink is also made from potatoes and then flavoured with caraway. Known colloquially as 'black death' due to its potency, it is often used to make cocktails – only the courageous drink it neat!
Where to try: Slippbarinn (Myrargata 2) makes a mean cocktail using Brennivín as a base, adding lemon, raspberry, rhubarb bitters and egg white to round off the ensemble.
Before you go, check out: