How do you find your way through the thousands of beers on the shelves? World of Food and Drink presents the definitive guide to modern (and ancient) beer
Never in the history of beer has such a confluence of old and new rubbed shoulders on the shelves (writes Rupert Ponsonby). America has gone wild. Double IPAs, triple IPAs, with hops enough to raise the evilest sinners from their mud'some graves. Fruit beers, sour beers… Denmark has a cuckoo brewer, who flies around the world hatching amazing new beers in other breweries' nests.
Belgium, that safe monastic oracle of heavenly beers, is serving fruit beers over ice. Germany is adding pungent hops to previously ambrosial wheat beers. And Britain is going mental.
What's changed? Well, youth is out there brewing. What used to be the preserve of older men is now peppered with younger folk, and women are brewing as much as men. In Britain, we have leapt from 300 breweries in 2005 to over 2200 now. The government played a major part, reducing the tax liability on smaller brewers. The spread of brewers across the country is now wider than for a hundred years. And with this competition a new interest in ingredients has grown, a way to differentiate and to bring new beer drinkers into the fold.
Where we once used British hops, or German and Czech for lager, we are turning eyes and palates towards America, Australia, New Zealand and further afield. Modern hops arrive here with so many flavours: our British hops (Challenger, Fuggles, Goldings, First Gold) tend to be understated, like those from Germany (Perle, for example) and the Czech Republic (Saaz is the most popular variety), with floral overtures of Chablis, honey, lemon, lime, liquorice, earthiness and geranium; American hops like Cascade, Citra and Chinook are more confident, with vibrant lemon, grapefruit, lychee, lime. New Zealand is now growing its armoury with the Sauvignon Blanc-inspired Nelson Sauvin; and Australia is weighing in with its passionfruit and citrus Galaxy.
Beer styles have been revived. Dark Porter beers had nearly died, and India Pale Ales were on their last legs. By 1971, when the Campaign for Real Ale began, there were but five live 'bottle-conditioned' beers still in the market. Now there are hundreds, and counting. And Germany is at it too, in a more demure manner. Wheat beers were traditionally the preserve of the nobility (wheat was used for bread and often in short supply), and they tasted of cloves, honey and ripe banana – just wonderful for haunch of pig. Their hops were purposefully oxidised (exposed to air) to reduce their flavour in the brew. Now hoppy wheat beers are here, and delicious they are too, like fragrant orange marmalade on a crust of warm brioche.
And Saison, that French/Belgian farmhouse style, pale, fruity with low hop bitterness is being reinterpreted in the UK with orange and lemon peel added, or cucumber, or all manner of interesting spices and herbs.
But America, where brewers take beers to new limits of colour, flavour, carbonation or madness, leads the way in innovation.
It is this influence which drew us to taste nearly fifty beers at the Institute of Brewing and Distilling, the education hub for brewers from all over the world, and the home of the Beer Academy, which runs courses for anyone with an interest in beer.
BRITISH BEER STYLES
c4000 BC. HEMLOCK: Shards of pottery found on Orkney, to the north of Scotland, show a beer-like drink including meadowsweet, hemlock, deadly nightshade and wheat. Honey beers with wheat or barley and herbs were also consumed.
c1500. HOPS: This member of the cannabis family arrived in Britain. Hops made beers last longer and gave it backbone, and a peculiar taste.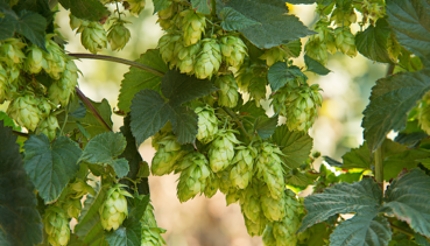 c1600. OLD ALE: These strong 7-12% beers were brewed from October to March, as the summers' heat turned beers sour. Stored in cold cellars, normally in oak, they were good fast-time beers, and were given to friends instead of Champagne (which hadn't been invented yet).
c1720. PORTER ALE: This dark beer, a weaker forerunner of stout, was the first British beer to be brewed on an industrial scale. It was the chosen drink of the porters and stevedores who unloaded ships and carried goods. It was often aged for over a year in house-sized barrels.
c1820. INDIA PALE ALE (IPA): The Chardonnay of its time. High in alcohol and with massive quantities of hops it could withstand the months-long sea journey to India. The wood and straw used to turn barley into 'malt' had made all beers dark; but this was pale, and looked stunning in the clear glassware at long last being produced commercially. It loved a Balti too.
c1840. MILD ALES: These were meat for industrial workers. Lower in alcohol and bitterness (often 3-4%) they had a reassuring malt sweetness for the sweating worker, instant rehydration for those in the mines, foundries and other manual industries. Mild was cheap and comforting, but a bit cloggy in warm summer as refrigeration for beers was but a dream.
c1880s. PALE LAGERS: Pale lagers was first brewed in Pilzen in 1842; before that they were smoky and dark. By the 1880s, they were being brewed in London, Wrexham, Glasgow and maybe Edinburgh, often with Germans at the helm. We'd been using light-coloured barley malts for ages, but we kept them for our own iconic ales.
c1900. CASK BITTER: Bitter Ales were developed in the 1840's and took off in a bigger way post 1900, a lower-hopped, lower-alcohol cousin to India Pale Ale. It was served mainly in 'cask', and ninety years later in kegs. Cask houses an unpasteurised 'living' beer dispensed under its own natural gas; it last 3 days once the cask is 'broached', to let it breathe and mature. It can improve with age. Cask is a British icon. Few other countries have it.
c1910. BROWN ALES: Bottled brown ales and milk stouts were big business, often blended with 'cask' ales to form a cocktail/blend of different beers or it was drunk by women after childbirth for health reasons. Their biggest growth was after the 1939-45 war. My favourite cocktail was a Mother-in-Law, 'old' (ale) and 'bitter'. + a Mild beer cocktail?
c1960. KEG BITTER: Fashion arrives for these draught beers, which had been pasteurised, and were easier to keep than cask beers. A keg is a sealed container with the pasteurised beer dispensed into the glass using carbon dioxide, delivered by bought-in gases. By 1970, 90% of British pubs were serving only keg beers.
1980s. LAGER HOTS UP: Lager sales start to fizz after hot summers in the late 70s when ale served in pubs was un-chilled. Sales of UK-brewed and imported lagers surge.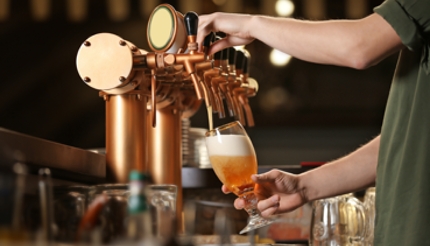 1990s. OLD STYLES REVIVE: India Pale Ales and porters, which had almost died away, are revived by fresh interest in beer styles and ingredients. Seasonality, so popular with brewers in the Middle Ages, bursts onto the scene with lighter coloured 'summer ales', heather beers, fruit beers, and winter beers often spiced like a Christmas pudding. Pubs and supermarkets add encouragement.
2002. PROGRESSIVE BEER DUTY: This gave smaller brewers of under 30,000 hectolitres (increased to 60,000 hl in 2004) a rebate on their excise duty, helping small craft brewers to compete in the market.
2003. BEER ACADEMY: www.beeracademy.org was formed by fifty breweries to create the world's first generic beer school to help educate the trade and consumers about 'beer'. 15,000 'students' have drunk of its beer knowledge.
2004. BEER & FOOD: The pairing of Beer & Food probably started with the Milk Marketing Board's 'Ploughman's Platter' in the 1960's. Pairing had been a big thing in America since the 1980s; and many top restaurants are now taking beer seriously and to create beer lists matched to their foods. Michel Roux Jr, Raymond Blanc, Sriram Aylur…
2014. NEW BEER STYLES: India Pale Ales which are dark? An oxymoron, maybe, but all that juicy marmalade like hop on the malty chocolate base is a gullet-opener.. And so many microbreweries are brewing lager! Why not? And with a whole range of hops and cereals and yeasts.
2015. KEG REVIVAL: Microbrewers used to brew cask ales; but many are now converting to keg, in the belief that it can keep its shape better for a modern palate; and show hops, cereals and yeasts as never before, and with zinging freshness.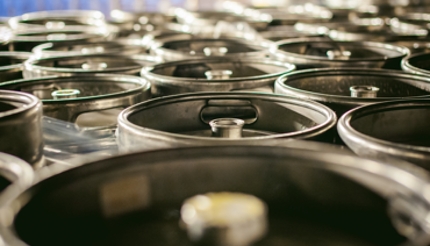 2016. CAN REVIVAL: Who would have believed that the beer can, first championed here by Felin Foel brewery of Wales in the 1930s, suddenly goes sexy. Lighter, more chillable, safer at festivals, more recyclable, easier in fridges, and – some would say – a better flavour guardian for the beer.
2017. HOPS & SOUR BEERS: Experimentation with hops sees mouth-puckering intensities and unimagined flavours. Orange, lemon, lychee, blackcurrant, mint (allegedly), herbs, liquorice, geranium. And our beers have well and truly arrived, following the Belgian 'gueuze' beer's new celebrity status, with wild yeasts creating wacky brews with shades of lean old cider and vinegar. And growing fast and appearing on the shelves of supermarkets.
2018. CEREALS & MALTS: These could be the next big thing. Not just Maris Otter and Golden Promise malts; but beans, and other cereals and seeds. These could bring texture and mouthfeel as well as flavour.
The Beer Awards is a new beer competition run by the world's leading experts in drinks competitions, The IWSC Group. Entry deadline: 19th September.