It's famed for its nightlife – and now Barcelona is getting seriously into the natural wine scene with some brilliant wine bars. Barnaby Eales takes a tour
Barcelona has been re-energised by a diverse new wine culture. Specialist wine bars, bistros and shops have opened over the past three years in every neighbourhood. Tastings, wine fairs and pop-up events are flourishing. Tourists and locals enjoy a vast range of styles of wine produced by a new generation of vineyards in Catalonia and across Spain, revitalised over the past 20 years with modern techniques and a resurgence of local grape varieties. At the same time, the emergence of natural wines – wines from organically or biodynamically grown grapes, with little intervention in the winery, with low levels of sulphur and no additives – has emerged to captivate the next generation of wine drinkers. Provenance is the watchword. People want locally made, environmentally friendly wines expressing regional typicity and terroir. With the proliferation of natural wine bars, existing tapas bars and restaurants have adjusted their wine lists to embrace natural wine.
Bar Brutal
Neighbourhood: El Born
Brutal means mind-blowing or amazing. Bar Brutal buzzes with natural wine enthusiasts as well as the beau monde of Barcelona – models, artists and studiously hip tourists. Beards and tattoos abound. The artwork – a fork plunged into a brain, pig's heads, surreal sculptures – is wacky, the atmosphere just the right side of chaotic. Brutal is the name of a natural winemakers association – their wines are on the by-the-glass list, alongside the most sought-after Spanish, Catalan, Italian and French natural wines. Bar Brutal is co-owned by Venetian twins Stefano and Max Colombo and Cuvee 3,000, a wine distributor in Barcelona. "We had a rocky start, but now our natural wines are in demand around the city, and last year we were contracted to supply wines to Radiohead," Stefano tells me. Wines are paired with deliciously fresh, seasonal Mediterranean dishes. The list changes weekly.
Reservations recommended. For opening times and the address see: www.cancisa.cat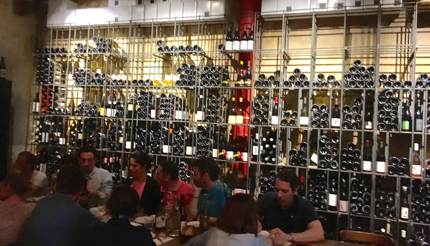 Cal Marino
Neighbourhood: Poble Sec
In search of a distinct Spanish wine experience, I head to Celler Cal Marino, just off the charming Plaza del Sortidor, in the trendy neighbourhood of Poble Sec. Here they concentrate on the best wines emerging from Catalonia and across the country, including the Balearic and Canary Islands – you won't find Rioja or Ribera del Duero. It's clean and spacious, with a rustic vibe (barrels converted into tables). The reasonably priced wines are stacked clearly on shelves on walls, showing the diversity of the offering. Celler Cal Marino's owner, Edu Borrell Francesch, is an engaging character and his establishment attracts a thriving mix of locals and international tourists. I try a fresh, balanced Gatzara Blanc de Noirs 2015, a white wine with autumnal colour, made from the local red grape Trepat. Accompanying the wines are Rollo de Cecina, smoked beef like bresaola, papas arrugados, a delicious potato dish from the Canary Islands with three different sauces, Piruletas made from langostine, olives and tomatoes, aged goats cheese, Porchetta and freshly cooked croquetas. There's live music on Sundays at midday.
No reservations taken. For opening times and address see website here: www.calmarino.com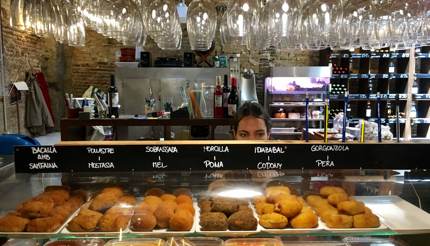 La Gresca Bar
Neighbourhood: Eixample
La Gresca Bar is a salubrious establishment where the wine and cuisine is all about simplicity and precision. I order a glass of LLunatic, a young, ripe stone fruit flavoured blend of Macabeo and Vinyatera, one of Catalonia's rescued indigenous grape varieties, and spot the locally revered chef-patron of La Gresca, the bearded Rafa Peña, bustling around his open kitchen. La Gresca is one of the latest hip wine bars focusing on natural wines. It's a narrow building and the atmosphere is vibrant. The wine list is extensive and international. The food, like the wine, is organic. My wine washes down an excellent burrata, the local mozzarella-based dish, buried beneath roasted pumpkin topped with a layer of fresh spinach leaves. Peña, who has an artistic sensibility about him, says he serves contemporary, but "not too modern, rustic 'medio-racion' dishes", a halfway house between tapas and a main dish.
Reservations recommended. For opening times and address see: www.gresca.net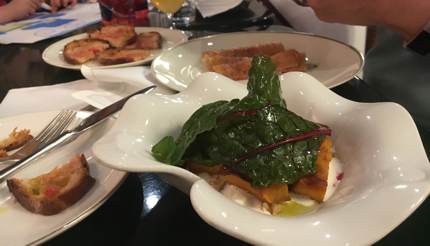 L'Anima del Vi
Neighbourhood: El Born
L'Anima del Vi (the Soul of Wine) is a point of reference for the city's buoyant natural wine scene. When oenologist Benoit Valée and his wife Nuria (a violinist), launched the place in 2010, it was Barcelona's first natural wine bar, sourcing directly from producers in Spain, France, Italy and Portugal. This bar will explode any preconceptions you have about wine. Try the dry La Boheme 2015 from Muscadet, whose freshness and weight hold a depth of pure flavours including ripe pair: an atypical example of a wine the region is known for. Next is the mind-blowing biodynamic Vieux Sage a 100% Syrah from Domaine Close de Grillons in the Rhone, a beautifully restrained spicy wine with intensely pure flavours of ripe strawberries and red fruits.
A range of small Mediterranean dishes including charcuterie, patés and cheeses comes with the wines. Picasso's spine-chilling Guernica hangs on the wall; L'Anima del Vi is a serious wine experience but an informal one. It's quiet, until two jazz musicians come in and start playing the house piano and a guitar. And so the night wears on.
For opening times and the address see: www.lanimadelvi.com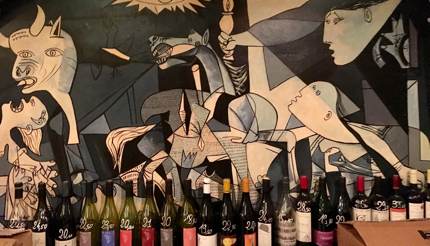 Bar La Volatil
Neighbourhood: Sant Antoni
This contemporary establishment features a green-tiled bar and wall décor including the phrase: "Girls just wanna have wine!" Opened in July 2015 by the sibling sommeliers Susana and Victor Company, La Volatil offers several wines by the glass, and a list of more than 150 bottles. The wines are predominately natural, and are selected from a wide range of countries. After a first glass of a dry and harmonious Palomino on the terrace, Susana picks out some outstanding wines, including the bone-dry flinty 2015 Calcinaires from Domain Gauby in Catalonia North in France which has floral and white peach notes and the delicate Altaroses 2015 by Joan D'Anguera made locally in Monstant from Garnatxa grape which has pure notes of cherries and ripe red fruits. Next, our group of 12 try the intensely pure and voluptuous Chato Paquita 2015. Bursting ripe fruit, it's made by Eloi Cedo, from a blend of local grapes. Accompanying the wines are some deliciously fresh contemporary Catalan tapas.
For opening times and the address see: www.lavolatil.com