It's not only music, art and dance. The food at Womad's delicious – and as entertaining as anything on stage. Alicia Miller pulls on her wellingtons…
We all know that there are certain places you should never expect good food. Football matches, trains and service stations to name a few. And you can add music festivals – a typical scenario is queuing for 45 minutes for soggy chips while some sweaty drunk guy in glitter asks repeatedly if you've seen his friends. Granted, in recent years there's been a proliferation of 'foodie' festivals – weekends where big-name chefs charge £17 for a salad (as if you were in their London restaurant, not standing in a muddy field). But I'm referring to real music festivals, where people go to listen to great music. To expect to eat decent food at one of these old-school events can seem an impossible dream.
Tasty, unpretentious and affordable
Enter Womad. The Peter Gabriel-led World of Music and Dance – a 'real' music festival since 1982 – features eclectic global acts from India, Uganda, Curaçao, Arizona (and all points in between) which take over the bucolic fields of the rambling Charlton Estate in Wiltshire every summer. It's not hardcore: there's a spa, and a kiddie area, wine bars, and an enchanted woodland with huts offering spoon-carving lessons. But it's a lesson in unstuffy quality: affordable, chilled-out and musically exciting, people come to hear the likes of the Afro Celt Sound System, a trippy blend of Irish and West African meets electronic music, or Nigerian afrobeat superstar Seun Kuti and his band Egypt 80. You might not know some, or even any, of the performers, but it's so well curated that doesn't matter. Everything's good. Ditto with the food: you might not find the superstar chefs, but pretty well the lot is tasty, unpretentious, and unlike most festivals, good value.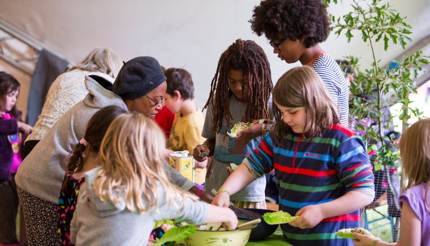 A whirlwind of subcontinent deliciousness
Like the music, the food is global. Take the Madras Café, in a big white tent. A Womad staple, it's been here since early days. Enter and you'll be swept into a colourful whirlwind of subcontinent deliciousness, with fragrant chais, belly-warming (and filling) vegetarian thalis for £8 and £2 mango lassis, all prepared by chefs flown in from Kerala. And for added goodness, it's run by volunteers, with proceeds going to charity Action Village India. So fill your boots.
Masala-laced curry with fresh Cornish mackerel
But don't fill up – because you'll need to save room for another Womad staple, The Goan Seafood Co's masala-laced curry with fresh Cornish mackerel, an authentic taste of the southern Indian region given a Brit twist. Oh, then there's the handmade organic crumpets topped with Cornish Brie and homemade chipotle at Truly Crumptious. And, my personal favourite, the late-night treat of Madrid-standard churros from the Churros Brothers. Pick up a selection of crispy ribbons (at £4 a portion, you can get two), dip them deep in silky Spanish Valor hot chocolate, and try not to feel naughty. I recommend extra napkins – and if you're planning on hitting the late-night dance scene at Molly's Bar, steaming cups of their Allpress coffee too.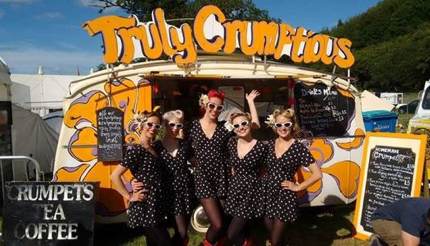 Applewood-smoked ribeye in chimichurri sauce? I'll take three
Still hungry? Good, because word is that there's some tasty new vendors to tuck into this year. Humble Pie, a traditional meat pie specialist from Sussex, is planning a proper East London-style pie and mash house built out bits from a real pub – I've got my eye on their chicken, leek, ham hock and aged cheddar pie which is only £5.50. I will also be hovering around the new Nomad Caravan, which is reported to be grilling all sorts of delicious things. Applewood-smoked ribeye steak smothered in chimichurri sauce? I'll take three.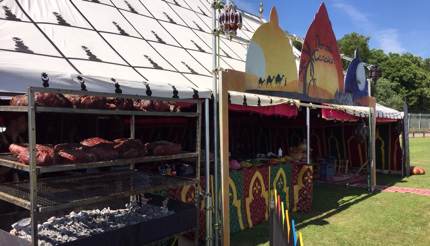 One of the only festivals with two types of Viognier
Of course, you'll be wanting a drink. And Womad's got that sewn up too. Aussie wine producer Yalumba has an excellent line-up of organic and vegan wines – with options beyond just 'red' or 'white'. This will be one of the few music festivals you ever attend where there's a choice of two types of viognier. On sunny afternoons (we hope), you can sip chilled glasses of pear-scented Y Series Pinot Grigio for a very fair £4 a go – or just go the whole hog and drain a bottle of their eminently drinkable, strawberry-blush Rogers & Rufus rosé for £15. The juicy Yalumba Bush Vine Grenache is made for pizza, though there's also a merlot and shiraz to choose from. The brilliant Tasmanian sparkling wine, Jansz, is also on the roster.
Kangaroo salad from the Spooky Men's Chorale
But the best thing about food at Womad is that it's entertainment too. On the Taste of the World stage, a leafy nook strewn with rainbow bunting, musicians turn chef, playing a few tunes then cooking their favourite dish. It's blissfully laid-back – and audience members get to eat the lot. Last year I saw a bonkers Quebecois band cook up something with a vat of maple syrup. This year, you'll find me in the front row while Spanish folk quintet Viguela whips up a tortilla, and the brilliantly-named Spooky Men's Chorale from Australia puts together a warm kangaroo salad. I'll be eating as much as I can… because I've got two more festivals to go to this summer, and I'll bet you a gorgeously sloppy chicken burrito from Flaming Cactus (a bargain £6.50) that neither one will be nearly as delicious as Womad.
Womad takes place from 27-30 July at Charlton Park, Wiltshire
Alicia Miller is assistant editor at the Sunday Times Travel Magazine