Is there anywhere more beautiful, or more welcoming, or simply more fun to be than Margaret River? Christina Pickard doesn't think so
When it comes to the history of the world, half a century isn't much. But to the Margaret River region of Western Australia, it's a lifetime. In 50 years, Margs (as it's affectionately known) has transformed itself from a remote outback town into a food and wine lover's paradise. Few places on earth boast such synthesis between farmland and woodland, beach culture and fine dining, where groves of majestic Karri trees preside over rolling rows of vines, and barefoot backpackers share surf breaks with world-renowned chefs. Then, of course, there's the wine. Ever since the first winery, Vasse Felix, was founded in 1967, Margaret River's reputation for long-lived Cabernet Sauvignon and complex, textured Chardonnay has gone from strength to strength, helped in part by its seemingly unending succession of good vintages.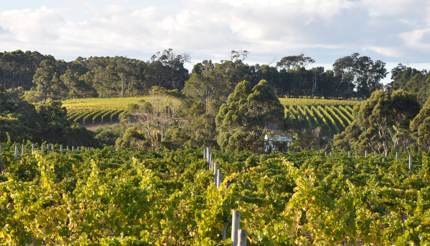 Combine the beautiful weather with stately, spare-no-expense tasting rooms, renegade winemakers creating funky new labels, 'beer bogans' crafting small batch brews in what has become the most concentrated brewing area in Australia, epic food and music festivals, and a plethora of outdoor activities and Margaret River truly provides something for everyone, in a corner of the world that seems as pristine as it was 50 years ago.
Where to Eat:
Aussies take breakfast seriously, and 'brekkie' at Morries Anytime, in the heart of Margaret River town, is the perfect immersion into the lifestyle. A well-made coffee is sacred, avocados ('avos') go with just about anything, and brekkie cocktails are highly encouraged, especially at the weekend. Morries delivers all of the above in a relaxed, airy setting that'll tempt you to stay for lunch, dinner, and late night drinks at the bar.
If time is short, consider a lovingly made takeaway coffee or gluten-free muffin at the relatively new Sidekick Cafe, just down the road from Morries.
Lunch and/or dinner at a winery is a must. Margaret River is a region founded and still funded in big part by Western Australia's wealthy families – doctors, lawyers and beef industry billionaires (not to mention growing investment from the Chinese), so no expense has been spared in ensuring the wining and dining experience is top notch. (The steak is outstanding, of course.)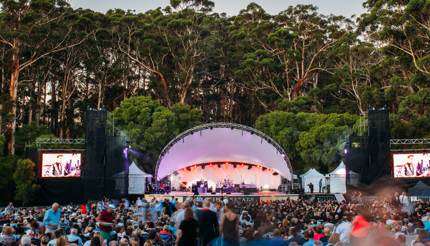 Of the more established Margaret River wineries, Vasse Felix, Leeuwin Estate, and Cullen Wines all provide unforgettable dining experiences with pastoral vineyard vistas, ultra-fresh 'paddock to plate' produce (much of Cullen's is biodynamically grown right on the farm), and 'library' tastings of back vintages of wines. Don't miss Vasse Felix's Heytesbury Chardonnay, Cullen's Diana Madeline, and anything from Leeuwin Estate's Art Series.
Newer to the scene, Knee Deep Winery's cosy restaurant is perched so close the vineyards you can practically reach out and pluck the grapes – a juicy amuse bouche to kick off a multi-course 'Trust the Chef' feast of mainly local, seasonal dishes. The setting at Wills Domain is more sweeping, with rolling, vine-lined hills and glimpses of the Indian Ocean, paired to beautifully prepared share plates like cured Kingfish/macadamia/fingerlime, and Greenlip abalone/smoked pork/ginger custard.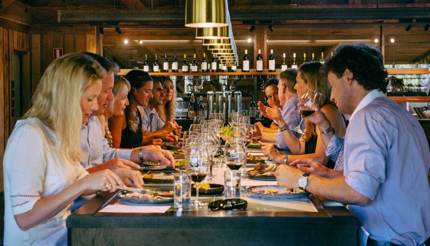 Wind down after dinner in a more casual setting: Settler's Tavern is an unassuming pub in Margaret River town with a surprisingly thrilling wine list and live music most nights.
'This place is an institution for both locals and visitors,' says Rachael Niall, owner of Budburst wine bar in Perth. 'I love [owners] Karen & Rob Gough's warm hospitality and their truly amazing wine list, which champions local producers but also features a cool balance of interstate and international labels – the choice is endless.'
Where to Drink:
Besides the wineries mentioned above, Cape Mentelle, Moss Wood, and Woodlands Winery are all Margaret River stalwarts setting the quality benchmark for the entire region. Less famed but of equal quality, Stella Bella Wines, Windows Estate and Clairault Streicker Wines are three more to put on your list.
The small-scale renegade winemakers are also worth a look; producers like Si Vintners, located south of Margaret River town in Rosa Glen, who make wild natural wines from the beautiful, biodynamically farmed vines surrounding their house (tastings by appointment only). On the other end of the region, Ben Gould of Blind Corner is pushing the envelope with his ever-changing range of natural wines farmed by hand from his organic vineyards. His cellar door is opening in December 2017. Nearby, Marq Wines is the brainchild of Mark Warren, one of the region's renowned oenology professors. His range of wines from alternative varieties and winemaking techniques make for a palate-expanding experience.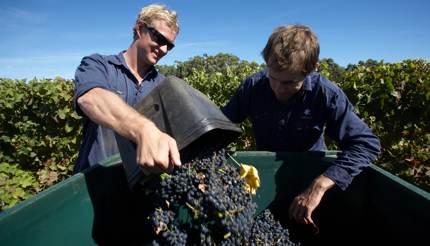 Feeling wined out? There's always beer. Margaret River's beer culture is strong and rapidly getting stronger. Eagle Bay Brewing Co, The Beer Farm, Brewhouse Margaret River and Colonial Brewing Co are just some of the excellent spots to grab a pint. Spirits are also on the rise, from stand alone distilleries like The West Winds Gin, which infuses local ingredients like wattle seed and Australian bush tomato into their range of gins, to winemakers donning distiller's caps like Greg Garnish of Harman's Estate who, controversially (literally, the country of Peru has lodged legal action against the winery), has made Australia's first Pisco.
Where to Stay:
Renting a whole house or apartment is a popular choice amongst city-dwelling weekenders. Sites like stayz.com or the more upscale www.privateproperties.com.au are great places to search. For a farm stay experience, Petra Olive Oil Estate and Burnside Organic Farm are both excellent options. The former offers pet-friendly, modern apartments with views of olive groves, and the latter eco-friendly bungalows and tours of a working biodynamic farm. If you're looking for luxury, Smith Beach Resort provides breathtaking ocean views on the northern end of the region, while Cape Lodge, slightly closer to Margaret River town, offers more secluded decadence: spa treatments, cooking classes, and an excellent restaurant nestled within 40 acres of parkland.
More to do:
Release your inner outdoors(wo)man! With a climate like Margaret River's, you can play outside most days of the year.
'I would start with a hike through some of the amazing bush, followed by a swim at Prevelly Beach,' says Emma Farrelly, the beverage manager at the State Buildings restaurant complex in Perth.
Tour one of the region's 150 limestone caves (Jewel, Ngilgi, Lake, and Mammoth are some open to the public), embrace the region's maritime culture with visits to working lighthouses, Cape Naturaliste and Cape Leeuwin, or browse a gallery like Wilyabrup Dreaming Pottery & Gallery in this art-loving town.