It's a development that will have any self-respecting Scot spluttering into their porridge; their iconic single malt whisky industry is facing a challenge – from the French.

Although the country is more closely associated with wine and cognac than whisky, the French are the biggest consumers of whisky in the world – far bigger than the Brits – knocking back over two litres per person per year, according to Parisian retail consultants Bonial.
And to meet that demand, France has a small, though rapidly growing whisky industry, largely centred in Alsace and Brittany. It is convinced that it will soon be producing single malts to rival anything made north of the Border.
The Warenghem Distillery makes its richly flavored Armorik malt whisky near the coast, in Lannion. And no one would blame you for thinking that Glann ar Mor is somewhere in the Highlands, but it's actually in Côtes-d'Armor in Brittany.
"France is the world champion," Le Figaro proclaimed earlier this year. The consultants said that whisky had become something of a "democratic" drink in France, enjoyed by all social classes. It is the most widely consumed spirit at home, but is also ever more popular in bars and cafés.
Whisky dominates French spirits
Whisky sales now top £1.6bn a year in France and continue to increase in value, despite the fragile state of the nation's economy. It accounts for over 38% of the spirits market, putting it streets ahead of more traditional drinks such as pastis, which has around 25% share, and Cognac with a paltry 0.5%
Brands on par with Scottish
The French are confident they will soon be competing on a par with their Scottish and Irish counterparts, even though the domestic industry is currently very small, only producing around 700,000 bottles a year. This compares to the 86.5 million bottles of Scotch imported from Scotland each year, according to the Scotch Whisky Association.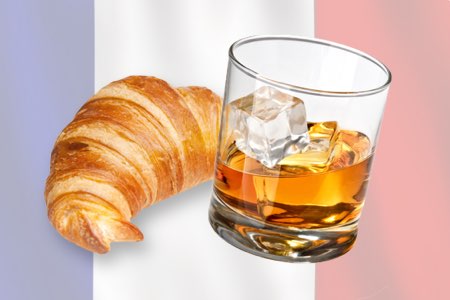 "Within 15 years the world's best whiskies will be French," claimed Nicolas Julhès, the head of the Distillerie de Paris. "We will be able to stop copying the Scots to bring a real French style. We have the greatest specialists on the ageing [of alcoholic drinks] who have always worked in wine and Cognac."