From rye bread to liquid bread, here are top ten must-tries in Riga, where Nordic and Eastern European influences create a delightful melting pot of flavour
Potato may be "the second bread" for Latvians, but don't underestimate this Baltic country's creativity when it comes to food and drink. Its capital city, Riga, gives us a cuisine that is equal parts traditional and modern – you can buy rye bread baked the old fashioned way as easily as you can enjoy smoked trout at an upscale international bistro. Alongside the usual hearty meat dishes, Riga offers exciting beverages too while munching on fresh cheese and sampling rich beet soup will leave you craving fare from Riga's massive central market for many years to come.
Rye bread
Rye bread is emblematic of Latvian cuisine, and an essential companion to most meals. Dense and dark, this food staple has been around for over a thousand year and even holds a special place in Latvian superstition. You should never place a loaf of bread bottom side up, for instance, or you'll experience hunger.
Where to try: Pick up a loaf at Rigensis (Tirgoņu iela 8), a cosy bakery in the heart of the Old Town.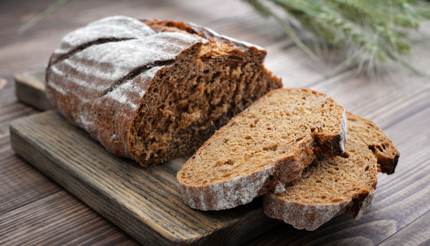 Jāņi Cheese
A traditional Latvian speciality, this sour-milk cheese is the culinary highlight of the midsummer solstice celebration in Riga. It's made from curd and fresh milk, but eggs and butter are often mixed in for extra creaminess. Caraway seeds give the cheese its recognisable taste, while its round shape conjures up the image of a glowing sun.
Where to try: For a fresh and authentic sample, stroll through the city's central market (Centrāltirgus, Nēģu iela 7) where vendors sell endless varieties of the coveted cheese throughout the year.
Smoked Fish
Riga has no shortage of delicious fish. You'll spot plenty of pickled fish served cold, but there's a fine selection of smoked fish too, harvested from the Baltic sea and Latvia's inland waters. Think pollock, salmon, cod, and trout cured to perfection for a positively mouth-watering taste.
Where to try: If you're willing to splurge, dine at Le Dome (Miesnieku iela 4) for a gourmet fish feast.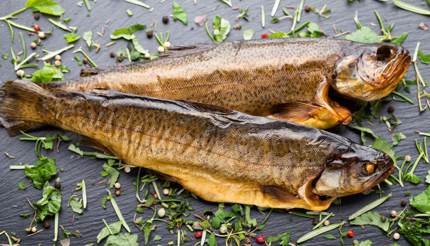 Aukstā Zupa (Cold Beet Soup)
Don't let the peculiar pink hue deter you from trying this savoury soup. Riga's quintessential summer refreshment is made of shaved beetroot, gherkin and yoghurt. The savoury mix is often served with a hard-boiled egg and seasoned with Latvia's favourite herb – dill.
Where to try: Visit Pelmeni XL (Kaļķu iela 7) for a cheap and authentic bowl of soup from the self-serve buffet.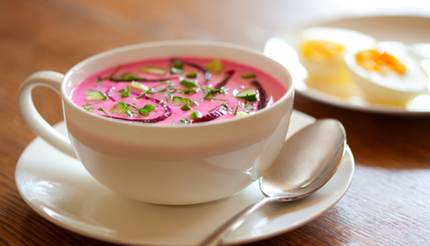 Karbonāde
As the nation's most popular meat, pork comes in all shapes and sizes in Latvia's capital. Karbonāde is the Latvian version of schnitzel. Pork is pounded until tender then breaded and fried. This dish is typically paired with potatoes and cabbage and smothered in a creamy mushroom sauce.
Where to try: Dubbed the 'best bar ever' by tourists and locals alike, Folkklubs Ala Pagrabs (Peldu iela 19) offers classic karbonāde at their Old Town location.
Pīrāgi
These crescent-shaped Latvian pastries are filled with onion and chopped bacon. Eaten as a snack, particularly on special occasions like summer solstice, these doughy treats are irresistibly flaky.
Where to try: Visit Martina Bekereja (Vaļņu iela 28) where you can pīrāgs come in various sizes.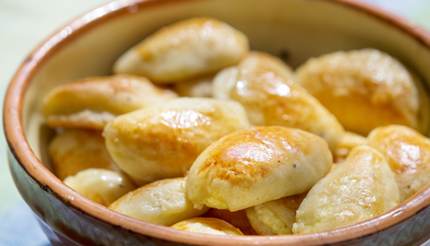 Alexandertorte
Designed to commemorate Russian Tsar Alexander III's visit to Riga in the late 19th century, this beloved cake joins raspberry or cranberry jam with gooey strips of dough. It typically follows lunch or dinner for a sweet dessert, but capital dwellers love to pair it with tea at nearly any time of the day.
Where to try: Ciemakukulis (Nometņu iela 9) serves some of the best cakes in Riga in a quaint setting.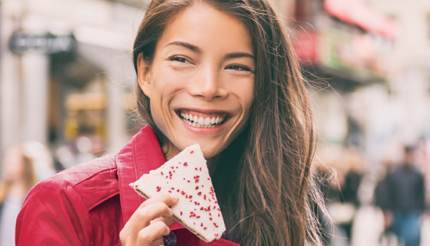 Black Balsam
Riga has brewed this highly alcoholic herbal liqueur since the 18th century. Known for its dark hue and bittersweet taste, Black Balsam boasts a 45% abv that gives it a medicinal flavour if downed neat. The vodka and herb mixture is fermented locally in oak barrels, creating a distinct Latvian booze.
Where to try: Stop by Black Magic Bar (Kaļķu iela 10), where the liqueur is served with blackcurrant juice, baked into dark chocolate tortes or drizzled on homemade ice cream sundaes.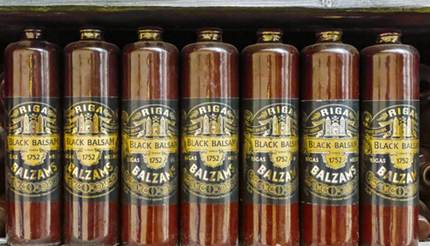 Kvass
A popular beverage among the Baltic states, Kvass is fermented from black rye bread and considered a low alcoholic drink (0.5 – 1.0%). Its flavour is usually enhanced with fresh strawberries, raisins or mint, and its golden-brown colour makes it a recognisable favourite in a busy market setting.
Where to try: Vendors sell kvass on almost every street corner in Riga, especially in the warmer months when the drink makes for a thirst-quenching refreshment. Head to Lido Vērmanītis (Elizabetes iela 65) in the Central District to experience a Latvian chain restaurant that's served a speciality brew of kvass for years.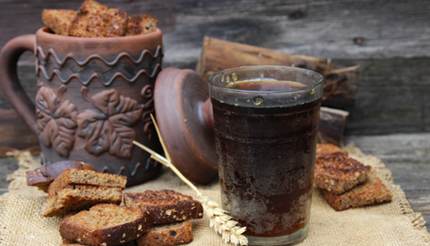 Aldaris beers
Founded in 1865, Aldaris is one of Riga's oldest and largest breweries and crafts a variety of beers, from lagers and pale ales to Baltic porters. All are worth sampling but if you're looking for a local taste, try the Mežpils Porteris, which has hints of coffee, caramel and fruit.
Where to try: On the outskirts of Riga, Aldaris breweries run a Beer Museum (Alus Muzejs; Tvaika iela 44) that surveys the history of Latvian brewing and offers interactive beer-making exhibits. After exploring, you can sip on a beer inside the attached brewery.