For many working adults, eating at least five portions of fruit and vegetables a day is a real challenge. Some of us reach for a can of tomato juice simply because it says '1 of Your 5 A Day' on the label, while others add a banana in their breakfast cereal. These are all practical methods, they just aren't exciting. This is where Smoothies can help.
A smoothie is easy to make, delicious to drink, but the biggest surprise is how good we look and feel after getting our 5-a-day by drinking a cup or two homemade smoothies every day. If you are already a smoothie fan, you know what we are talking about. If you haven't tried smoothie on a daily basis, we can safely predict that once you start the regime and see the results yourself, you will become a smoothie aficionado too.
On the internet you can find smoothie recipes for treating symptoms relating to eczema, rheumatoid arthritis and even gastroesophageal reflux, some endorsed by medical professional bodies while others are shared by people who have benefited from trying them. We read many articles with interest and tried many recipes ourselves. Here are the top 5 smoothie recipes that require 5 ingredients or less, easy to make and are good for you.
Smoothie for energy & vitality
1 banana
1 apple
1 lemon
3 tablespoons of rolled oats
1 cup of milk
Delicious and filling, this smoothie uses inexpensive and easily available ingredients which help to power you through a busy morning. It is packed with manganese, potassium, vitamins A B, C, among other goodness. Add some honey if you like it sweet.
Iron-boosting smoothie which may help anaemia sufferers
1 cup of spinach

Fresh tofu

1 carrot
200g of tofu
1 cup of milk
1 tablespoon of honey
Although tofu isn't the most delicious food, it is a good source of protein and contains all eight essential amino acids. It is also naturally gluten-free, low calorie and almost has no cholesterol. You can add a tablespoon of peanut butter if you aren't allergic to peanuts.
While researching and making this smoothie, we found that tofu has negligible amounts of salicylates. Salicylates are linked to eczema; food like tofu which has low salicylates are good for eczema sufferers. If you have eczema and would like to try the above recipe, we would recommend blending 1 cup of spinach, 1 banana, 200g of tofu and 1 cup of water instead (no carrots and honey).
Smoothie for rheumatoid arthritis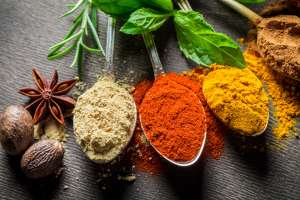 Having heard much about the anti-inflammatory properties of turmeric and ginger in recent years, finding a tasty smoothie for rheumatoid arthritis is an easy task. The one that we like the most is called Tame the Flame Smoothie from Dr Oz, a surgeon, professor and TV personality in the US.
Smoothie that fights depression and anxiety
Let's be clear – there is no specific diet that has been proven to relieve depression. What we are discussing here is creating a smoothie from food rich in omega-3 and food high in vitamins B and D to help your mind remain alert and active (click here and here for two depression related articles on webMD.com, one of the many sites that we did our research on). After a few trials and errors, we like the combination of walnut, cantaloupe, kale, lime and milk best.
1/2 cup walnut
1/2 cup cantaloupe
1 lime
1 cup kale
1 cup milk
A year of Smoothies
Imagine our delight when we came across this site that has a smoothie recipe for every month of the year! So far we have tried the recipes from January, February and May (we skipped ahead, sorry) and love it.
Smoothies have helped us to get the recommended five portions of fruit and veg a day. We hope it can help you too.