In winter, when temperatures plummet and howling winds rattle the windows, it is time for a bowl of soup that can warm your soul and nourish your body
For those looking to try new recipes, here are some of our favourite winter soups from around the world.
Ginseng chicken soup
Long touted for its many health benefits, ginseng is a much-loved product in Asia. In this article by webmd.com, the benefits of ginseng listed include boosting one's immune system, decreasing the number and severity of colds in adults, improving mood, as well as treating a range of illnesses (although the evidence is not conclusive).
Using ginseng to make nourish soup is common in countries like China and South Korea. If you are keen to give it a go, the recipe is rather straightforward:
50g dry ginseng pieces
One chicken
80g red dates (optional)
50g goji or wolfberries
1L of water
Put all the ingredients in a pot, bring to a boil, then simmer for 2 hours. Sprinkle a pinch of salt and enjoy.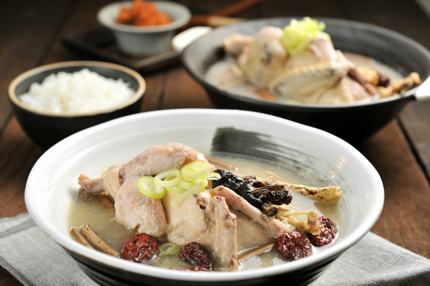 Kharcho (Georgian lamb and rice soup)
For those looking for something hearty after a day of skiing or shovelling snow, then Kharcho is a chunky soup that packs a punch. The secret ingredient is tklapi (cherry plum puree), which gives you a pleasant note of sourness and makes the soup taste exotic. If you can't find Tklapi, a suitable substitute is tamarind paste.
This Kharcho recipe from thespruceeats.com is seriously good.
1 ½ lb lamb shoulder meat (trimmed of fat and cut into small cubes)
¼ cup flour
50g butter
1 large onion, finely chopped
3 cloves garlic, finely chopped
2 tbsp tomato paste
8 cups water or stock
200g tklapi
½ cup rice
¼ cup dill (chopped, for garnish)
Salt, to taste
Dredge the meat in flour, fry them in batches and set them aside. Fry onion and garlic until lightly brown. Put the meat back into the pan, add tomato paste, water, and a pinch of salt. Bring to a boil and remove any foam. Reduce the heat and simmer for 1 ½ hours. Then add tklapi and rice, return to a boil, reduce and simmer for another 20 minutes, occasionally stirring to prevent the rice from sticking to the bottom of the pan. If it is too thick, add some water or stock.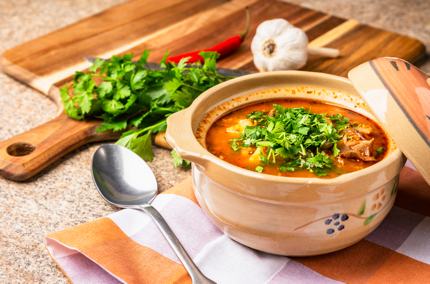 Chupe de Camarones (Peruvian shrimp chowder)
Readers living in North America are familiar with corn chowder and clam chowder, while the Peruvians prepare their chowder with shrimp heads and shells, pureed and strained to get the full flavour.
Here is a good recipe from food.com:
2 lbs shrimps, with shells and heads
4 cups water
2 tbsp olive oil
½ red onion, finely chopped
1 tbsp aji panca chilli paste
1 tbsp aji amarillo chilli paste
1 cup peas, either fresh or frozen
¼ cup rice
1 ear of corn, cut into small chunks
1 lb potato, peeled and cut into small pieces
½ cup queso fresco (white cheese), finely chopped
1 cup evaporated milk
1 tbsp fresh oregano, chopped
3 eggs
Salt, to taste
Boil the shells and heads, pureed and strained. Add water to make 4 cups.
Heat olive oil in a large pot, fry onion, garlic, aji panca and aji amarillo. Add shrimp broth to the mixture and bring to a boil. Stir in peas, rice and corn, reduce the heat and simmer for 10 minutes.
Add potato and salt, continue cooking till potato is tender. Add shrimp and queso fresco. Simmer for a few further minutes.
Stir in evaporated milk and oregano. Continue cooking and stirring. When the soup begins to boil again, crack the eggs into the soup and mix them well.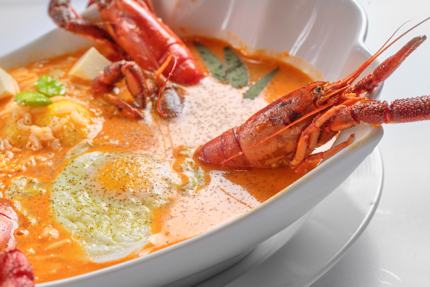 Vegan detox soup
Veganism has gained an army of followers worldwide and it is time we give vegetables special mention that they truly deserve.
Making vegan detox soup is easy – you start by frying chopped onion, garlic and 1 tbsp of chopped fresh ginger, then you can add any vegetables that you like, season it with salt, pepper, turmeric, cayenne pepper and cinnamon. Add water, bring it to a boil and simmer until vegetables are soft. You can squeeze in lemon juice at the end to lift the flavour to another level.
You can experiment the recipe by adding lemongrass, turmeric, and fresh chilli too.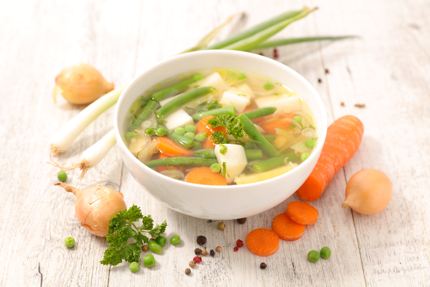 Zupa Ogorkowa (Polish dill pickle soup)
Winter, the months from December to February, has a string of festivals that often sees us indulge in eating and drinking. If heaving drinking results in unpleasant hangovers, then perhaps it is time to reach for the cupboard and make pickle soup – as pickle juice is said to contain electrolytes and probiotics that can help to restore our body and good for our gut.
Making dill pickle soup is easy:
1 large onion, finely chopped
2 cloves garlic
2 carrots, cut into small chunks
2 celery sticks, cut into small chunks
1 potato, cubed
1 small jug of dill pickles, cut into small chunks
Hot water
Fry onion, garlic until they are soft, then add the rest of the ingredients, bring to a boil and simmer for an hour.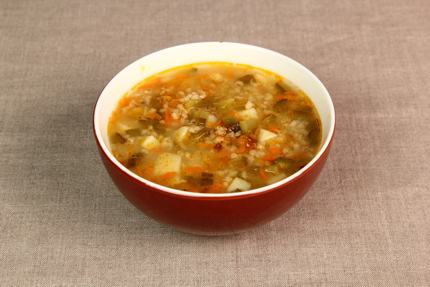 Enjoy.
This article was initially posted in 2017 and updated on 19/12/2019.
If you enjoyed this article, check out: