Near Cape Town lies the melting pot of Stellenbosch, from midnight hikes to wine cupcakes, Stellenbosch is a leading foodie and wine tourism destination
Stellenbosch is a historic town about an hour's drive away from Cape Town. This picturesque corner is one of the world's leading wine tourism destinations with over 150 wineries dotted across its rolling hills and grassy meadows. Read on to discover what's new in Stellenbosch.
Western cape water crisis under control – dam levels hit 70%
Harsh droughts over several years had a severe impact on the water supplies in Cape Town and surrounding areas, so much so that a 'Day zero' was predicted, referring to the day when the city would run out of water completely. However, a combination of water-saving lifestyles and heavy seasonal rains have improved the area's water stores immensely, with the storage capacity of dams has increased from 25% to 70%. This is good news to residents and visitors alike and allows the internationally-renowned Winelands surrounding Stellenbosch continue to play host to foodies and wine connoisseurs from around the world.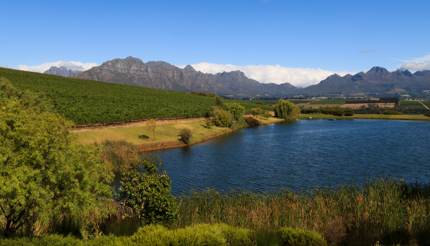 Restaurants & Food
Bertus Basson opens his 6th restaurant in the Winelands
With the opening of his sixth restaurant – Eike, – the unstoppable, multi-award-winning chef Bertus Basson is showing no signs of stopping any time soon. This time round he's focusing on South African heritage, taking classic traditional tastes and combining them with his famously fierce creativity. Eike was inspired by one of Basson's lifelong dreams, and it shows in the dishes he's serving which range from satisfyingly warming to curiously entertaining. The cosy dining room offers an intimate atmosphere, seats just 30 diners and serves a fixed menu for dinner only. It's tucked away in a historic building on Dorp Street, but it's well worth taking the time to find.
George Jardine adds another restaurant to his lineup
Chef George Jardine is something of a permanent fixture in top 20 chef lists in Stellenbosch, well-known for his restaurants Jardine and Jordan. His newest restaurant to grace Somerset West is named Seven, and harks back to the dishes that made Jardine what he is today. With a small menu dictated by local and seasonal South African produce, a night at Seven is dominated by simple but delicious flavours. The wine list is equally impressive, showcasing vintages from the Jordan wine estate and a few s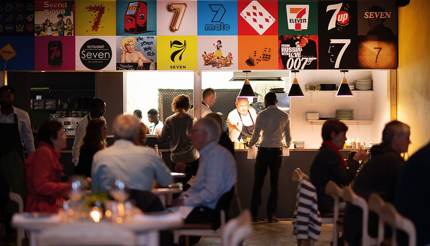 elect choices from other wineries. It's small but refined, so pick well.
Stellenbosch wine estate unveils Gåte to the world
In time for the upcoming South African summer season, Quoin Rock Wines are topping off their relaunch with a brand-new restaurant. Under the Michelin-starred eye of chef Rikku Ò'Donnchü, Gåte will act as the perfect complement to the new guest areas and brand new tasting centre of the estate. Thanks to some avant-garde food and a truly spectacular wine-list, it looks set to become a destination to mark on the sightseeing list for foodies all over the world. Relax in the warm South African evening, enjoy the majestic sight of the Simonsberg Mountain looming over the peaceful Knorhoek Valley, and watch the sunset with a glass of internationally recognised wine.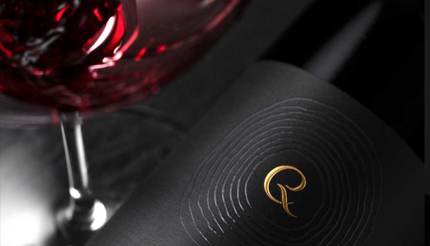 Fynbos-flavoured cupcake wine pairing now available at Stellenbosch winery
Delheim Wine Estate has added a new offering to its popular wine-tasting line-up. Already famous for pairing dainty cupcakes with wine, the estate has now introduced a new twist with a nod to the Cape's famous Floral Kingdom. The Delheim wine and fynbos cupcake pairing includes an entirely new array of fynbos-inspired cupcakes, specially crafted to showcase the wines of the eco-friendly farm. Flavours include a fynbos Cape coast honey cupcake with honey cream cheese frosting; the honeybush cupcake made with honeybush tea leaves; the buchu cupcake made with a tincture from Durban-based herbal lab Phyto-Force; and a classic rooibos featuring rooibos espresso topped with cream cheese and cinnamon icing.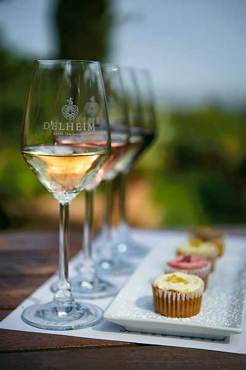 Attractions in Stellenbosch
Hiking and Biking
The region has miles upon miles of developed mountain biking tracks, allowing for both guided bike tours as well as hiking trails in the Jonkershoek Mountains and on many wine farms. Bikes and guides can be rented from Stellenbosch Trail Fund and Adventure shop.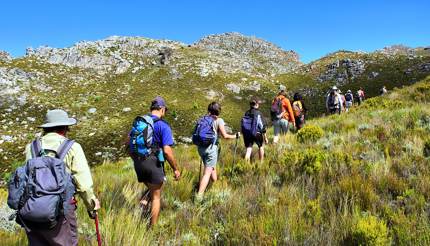 Scooter rides down the mountain
Experience the beauty of the alpine-like mountains surrounding Stellenbosch in a fun and active way. Scootours Stellenbosch offers eco-friendly guided tours through Jonkershoek Nature Reserve on Swiss-designed, non-motorized mountain scooters. Stunning views, majestic mountains and endless downhill slopes are what Scootours Stellenbosch is all about.
Guided E-bike wine tasting tours
Vine bikes offers tours of Stellenbosch wine farms on an electronically powered bike. Similar to the normal version, the only difference is these e-bikes have a motor to assist your pedaling, meaning you spend less time cycling and more time soaking up the gorgeous scenery that you'll be riding through. The tour will also take you to a number of state-of-the-art wine farms, where you'll spend 45 minutes sampling some of the best wines in the region.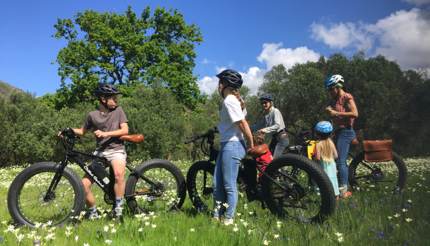 Throw caution to the wind
If you're still not decided, then there is the option of simply turning up and seeing what's happening. 10km (6 miles) out from Stellenbosch, outdoor adventure company Dirtopia organizes regular mountain bike events, fun trail runs and hike events for active and outdoor lovers. They also offer a popular Wine Walk to Warwick, and for those looking for some truly spectacular views take a look at one of their Full Moon Hikes. There's not many better sights in the world than a moonlit view of the Cape Peninsula, Table Mountain looming in the background.
Events & festivals in Stellenbosch
Stellenbosch Street Soirees – monthly starting 28th November 2018
These popular Stellenbosch Street Soirees spill the town's unique food and wine culture onto its oak-lined streets, for locals and visitors alike to sip, savour and share in the vibrant spirit of this 'forever young' town. Happening in the town's bustling Drostdy Street, cars make way for a merry crowd to mingle, indulge in Stellenbosch wines and snack on gourmet bites by famed resident foodies. Live music adds feel-good vibes to this sensory 'pavement playground'. Each event features a different selection of cellars, eateries and music. Stellenbosch Street Soirees dates for the 2018/2019 season: 28 November, 12 December 2018, 16 & 30 January, 13 & 27 February, 13 & 27 March 2019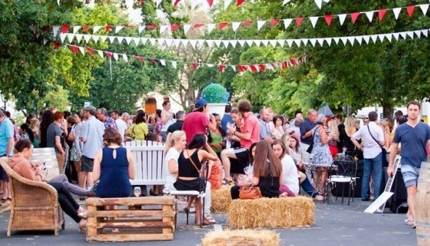 #artystellenbosch: Last Thursdays Stellenbosch
Calling all art lovers, this is an invitation that cannot be refused: Last Thursday is a free gallery-hopping event which takes place on a monthly basis, offering tourists and locals alike an opportunity to take in all the creative craft the town has to offer. With an emphasis on new talent, local galleries showcase the best of the Stellenbosch University Visual Arts Department, which you can enjoy with a glass of wine if it takes your fancy. Expect full access to the numerous and diverse galleries in and around the historic town centre, as well as restaurants and bars abuzz with jovial company as the town opens up from 5pm.
Our latest blogpost is live on #Stellenblog Find out where art & wine meet in #visitstellenbosch https://t.co/QXHQAINBDe #artystellenbosch pic.twitter.com/TyhgwcgvCF

— #visitStellenbosch (@StellenboschExp) July 31, 2017
Woordfees Festival: March 2019
Stellenbosch comes alive with a dash of creativity and plenty of activity when the annual Woordfees strolls into town. Also known as the 'Word Festival', this 9-day celebration is packed with poetry, stories, live music performances and art exhibitions, all highlighting original South African written, visual and performing arts. Originally set up by the University of Stellenbosch, it has an impressive reputation that attracts enthusiasts from all over the country.
Where to stay in Stellenbosch
Historic Lanzerac wine farm and country hotel reopens after fire
The victim of an extensively damaging fire, the 5-star Lanzerac Hotel and Spa has since reopened following a year-long restoration project. The grand hotel and wine estate are known for lush vineyards and breathtaking views of the towering Jonkershoek Mountains. Dating back to 1692, the property comprises 53 individually designed bedrooms and suites, a luxurious spa and a wine tasting centre, all steeped in history.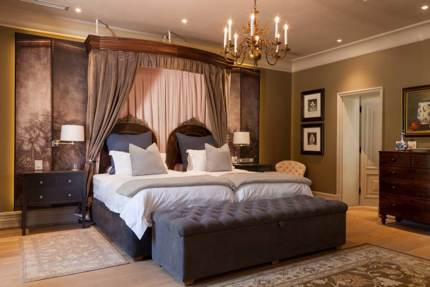 Delaire Graff Lodges & Spa expands its luxurious accommodation offering
Why not set up in style in one of Delaire Graff Estate's new Superior Lodges? Each one accommodates two adults, boasting a heated plunge pool and panoramic views across the valley and the estate's vineyards. If you're really looking to go all out then the Owner's Villa will take up to eight guests in sumptuous comfort, decked out with all the trimmings you could ask for.
Before you, see: