The spirit of Christmas doesn't dictate what you must eat to celebrate the birth of Christ, so we're here to share some alternative festive spreads
Food is one of the great joys of Christmas but eating the same time-honoured dishes every year can get a little dull. This year, why not mix it up with some inspiration from other countries, cultures and time periods? From meat-free menus to medieval delicacies, these alternative Christmas dishes and epicurean customs are deliciously different.
A fishy idea
The fish symbol, known as ichthys in Greek, was used by Christians to represent Christ as early as the first century. Considering the importance of fish in Christianity, you may be surprised to learn that only a few countries incorporate fish into the festive spread today. Among them are catholic families in southern Italy, Poland, Slovakia, and the Czech Republic, where Catholicism requires followers to abstain from meat on Fridays and holy days – on this occasion, the holy day means Christmas Eve.
There are three advantages of having fish or seafood as your festive centrepiece. The first is that they make a lighter meal. The second is they cook quickly, meaning you don't have to toil away in the kitchen for hours. The third is there are many creative ways to cook them – you can cure a salmon with salt and citrus, bake a whole seabass with lemon and herbs, encrust fish with puff pastry, deep-fry prawns or calamari, barbecue lobsters, make a big pot of seafood stew, or impress everyone with a seafood platter – the options are endless.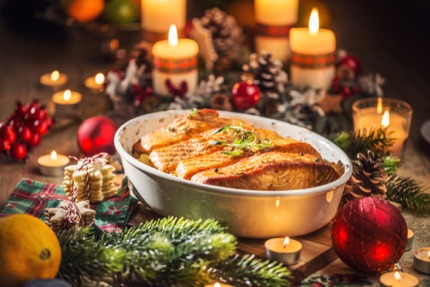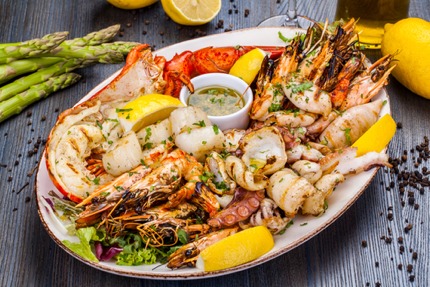 Vegan ventures
Eating less meat or abstaining from meat altogether is one of the best things you can do for the planet. Accordingly, an increasing number of families are embracing vegan and vegetarian Christmases.
Vegan alternatives to a turkey centrepiece include root vegetable pie, nut roast, and lentil bake. But the real winner in our book is a whole roasted cauliflower – this centrepiece is not only gorgeous to look at, but it delivers caramelised crunchiness at the top and soft, buttery texture nearer to the base, an absolute celebration of vegetables.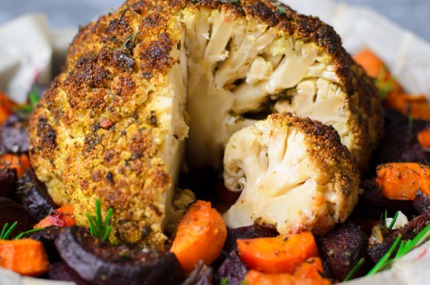 A twist on turkey
If you want to do something new but can't tear yourself away from the Christmas turkey tradition, consider cooking the bird in a different way. For instance, take some inspiration from South American countries like Peru and Ecuador. Turkey is a luxury for many families in that part of the world, and those who can afford it will stuff the bird with ground beef, bacon, almonds and raisins, along with onion, garlic and parsley, and then roast it to perfection. This heady mix of sweet and savoury stuffing adds big flavour to the otherwise mild-tasting turkey.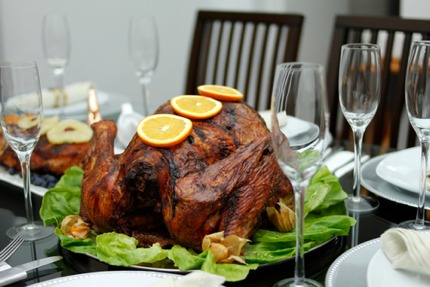 Alternatively, you may take a leaf out of a Chinese recipe book and marinate your turkey with honey, dark soy sauce and cooking wine – in just the same way you would prepare a Peking duck – and serve it with hoisin sauce and Chinese pancakes.
You can also go down the Indian spice route – using plenty of cumin, turmeric, garam masala and chillies to flavour the bird and give your taste buds a good workout.
Mix up the meat
Ham and turkey aren't the only meats associated with Christmas. In Denmark, duck (stuffed with onions, prunes, and apples) or apple pork (fried pork belly with apples) forms the centrepiece of the festive spread.
In Germany, roast goose, known as Weihnachtsgans locally, grace the dinner table of most families. The lavishly glazed goose is served alongside red cabbage and Spätzle (a type of pasta) or Knödel (boiled dumplings).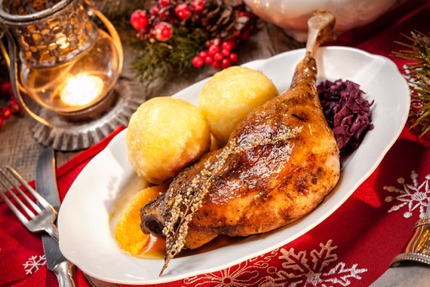 Another delightful surprise comes from Ethiopia. In this predominately Christian country (most are Orthodox Tewahedo Christians), Christmas is celebrated on January 7th, the day when Christ was born according to the Julian calendar, which predates the Gregorian calendar.
Christmas is the time when you'll find families making kitfo, Ethiopian beef tartare made from chopped raw beef and seasoned generously with hot chilli powder. Kitfo is served with kocho, a chewy bread made from False Banana.
Another Ethiopian treat is doro wat (spicy chicken stew) – you control the amount of spiciness by adding or reducing berbere, referring to a blend of spices and hot peppers. Of course, you can't forget about injera, a type of sourdough pancake that accompanies every Ethiopian meal. Injera is delicious, nutritious, and great for mopping up the sauce of doro wat.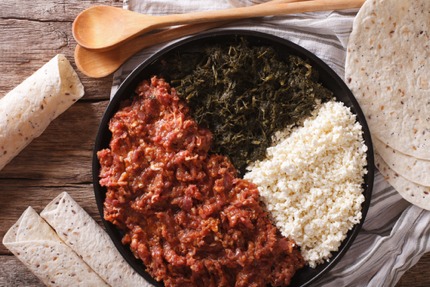 Can't cook? Don't cook
If the idea of slaving away over a hot cooker for most of Christmas Day doesn't appeal to you, take inspiration from the Japanese and eat out instead.
According to this BBC article, 'an estimated 3.6 million Japanese families treat themselves to Kentucky Fried Chicken, in what has become a nationwide tradition.' Yes, Japanese families book a slap-up chicken dinner at KFC and the celebration is so popular that they even have a name for it – Kurisumasu ni wa Kentakkii, or Kentucky for Christmas.
Apparently, the idea started when a KFC manager in Japan named Okawara overheard foreigners talking about how they missed having turkey for Christmas. Brilliantly, he came up with the Party Barrel marketing plan that featured happy families gather around barrels of crispy fried chicken during Christmastime. The idea took off and has now morphed into 'Kentucky Christmas dinner packages' where you can order a whole roast chicken, plus wine and cake.
Oh, who wouldn't like that?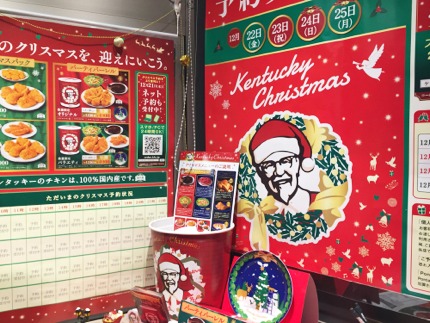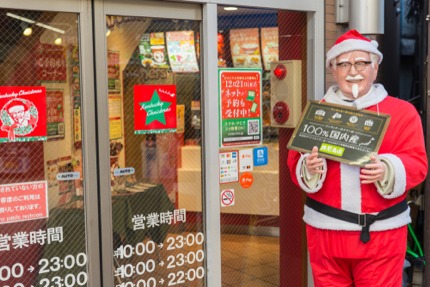 Sweet treats from around the world
For those who are keen to go on a culinary adventure and try something new this Christmas, it is worth checking out a new dessert recipe from another country also.
In south-eastern America, sweet, crunchy and very easy-to-make pecan pralines are probably the most popular treat. In Greece, families round off the meal with spiced melomakarona cookies, soaked in honey and topped with walnut, with cups of steaming coffee. In Britain, families tuck into a rich fruit cake or a Christmas pudding, made with dried fruit, flour, eggs and spices. Puerto Rico has its coconut pudding (called tembleque) and Portugal its fried dough filhós.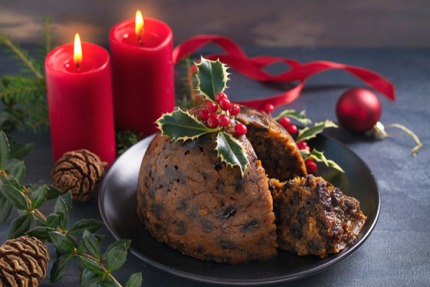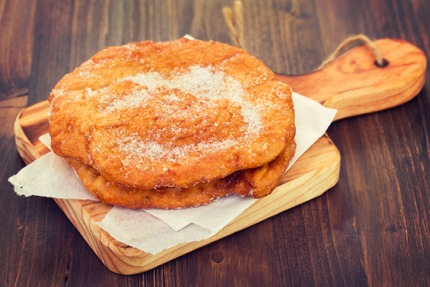 But nowhere does decadent desserts like Provence in France, where Christmas dinner is followed by 13 desserts, in reference to Jesus and his 12 apostles. What desserts make up the 13 vary from home to home, although they usually have figs, raisins, walnuts and almonds, the four ingredients that are tied to the local Four Beggars folklore. In Aix-en-Provence, they also include calissons, a delicious mix of candied fruit and ground almond, topped with a thin layer of royal icing.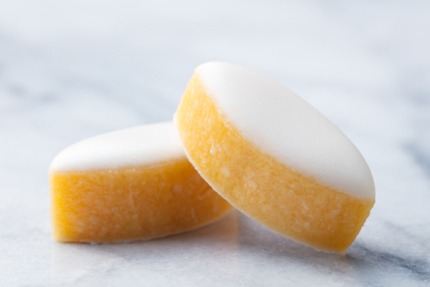 Divine drinks
The traditional Christmas dinner would have looked very different in medieval times. Some recipes from history don't translate well – deer offal or roasted boar would probably put many people off today – but wassail, the spiced cider invented by the Anglo Saxons centuries ago, still makes Christmas cocktail menus today. For a good wassail recipe, check out this BBC Goodfood page.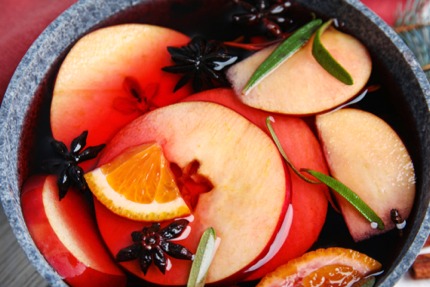 Alternatively, give Christmas a tropical touch with a round of coquitos – eggnog-style cocktails with a coconut base that hail from the Caribbean island of Puerto Rico. Or swap the mulled wine for a Mexican Ponche Navideño. Made from tequila, rum or brandy, it's flavoured with orange juice, sugar, apples and raisins for a fruity festive boost.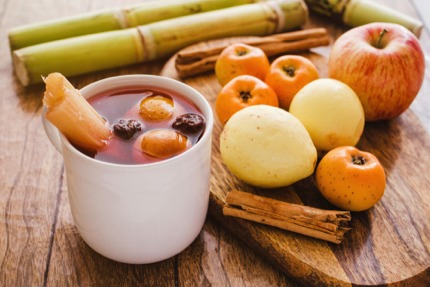 Choose another day for your Christmas meal
December 25th is when millions of Christians around the world come to celebrate the birth of Jesus Christ, but historians and scholars have long argued that Jesus wasn't born on that particular day.
Some historians believe that Jesus was born in September, since shepherds were still in the fields tending to their flocks when Mary gave birth. On the other hand, renowned astronomer Dave Reneke had a theory that Jesus was born on June 17th, according to this article on the Telegraph.co.uk. Reneke's argument is helped by computer models which showed that Venus and Jupiter came together to form a bright light in the sky on that day in year 2 BC, and that light could be the Star of Bethlehem that guided the three wise men to baby Jesus in the manger.
Since no one really knows when Jesus was born, you can choose to celebrate the birth of Christ and enjoy a festive spread whenever you are up for it. After all, we are supposed to embrace the spirit of Christmas (love, kindness, generosity and forgiving) year-round, not just on a single day.
You may also like: