Italian wines are varied and popular, and this expert guide helps you understand Italian wines from 20 different regions and recommends the best ones to try
With an impressive 702,000 hectares (1,734,680 acres) given over to vineyard cultivation, Italy produces more wine than any other country in the world. The output in 2018 was 54.8 million hectolitres, equivalent to 2,200 Olympic-sized swimming pools. Italian wines are varied too – there are around 350 varieties, despite some wine sellers may quote three times that amount.
Famous Italian red wine varieties include Barolo, Chianti, Cirò, Montepulciano d'Abruzzo, Sassicaia, Valpolicella, Vino Nobile di Montepulciano, among others.
When it comes to famous Italian white wine, most of us would immediately think of Pinot Grigio and Sauvignon, but in-the-know buyers would also seek out Franciacorta, Lison, Orvieto, Soave, Verdicchio, and Vermentino. We will cover them in this article.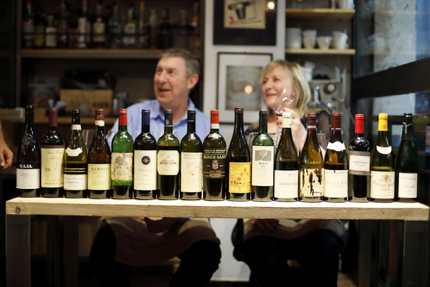 Reading Italian wine labels
First things first – before delving into the nitty-gritty of wine regions and grape varieties, it helps to understand the labelling of Italian wine. Most wine labels contain the name of the winery (and sometimes also the vineyard where the grapes were produced), the vintage and an abbreviation or phrase that indicates which category the wine falls into.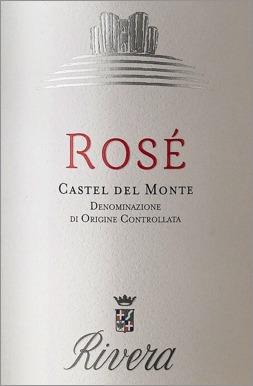 There are four major categories of Italian wine:
Vino da Tavola (VdT): This translates as 'table wine' and its production is largely unrestricted by rules and regulations. It tends to be weak, acidic and unspectacular.
Indicazione Geografica (IGT): This refers to wine produced in a specific area but doesn't meet the strict regulations necessary to be labelled DOC or DOCG. 'Super Tuscans' is a famous example.
Denominazione di Origine Controllata (DOC): The equivalent to the French AOC (appellation d'origine contrôlée), DOC wines are produced in specific geographical regions of Italy. On top of that, they must be made following rules that strictly protect traditional regional wine-making practices. There are currently over 300 labels that carry this appellation.
Denominazione di Origine Controllata e Garantita (DOCG): This category includes only the crème de la crème of Italian wine, with stringent rules controlling allowable yields and other production factors. DOCG wines must also be tasted by a government-licensed committee before bottling. There are only around 74 Italian DOCGs.
You might also come across a few other terms on an Italian wine label that require interpretation. These include 'riserva' (a wine aged for significantly longer than average), 'superiore' (a high-quality designation) and 'classico' (wines from a zone within a particular region).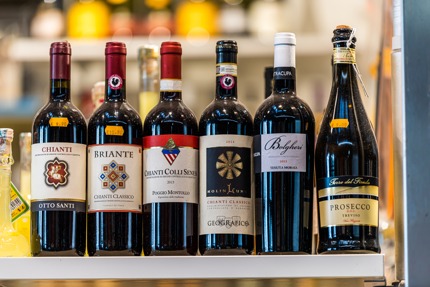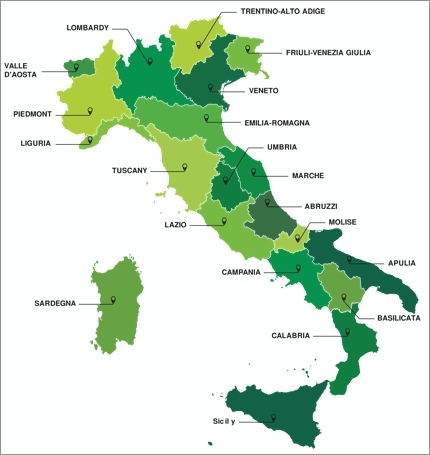 Italy's wine regions
Grapes are cultivated across Italy, but some regions are better known than the others. We will review wines from all 20 Italian regions in alphabetical order below.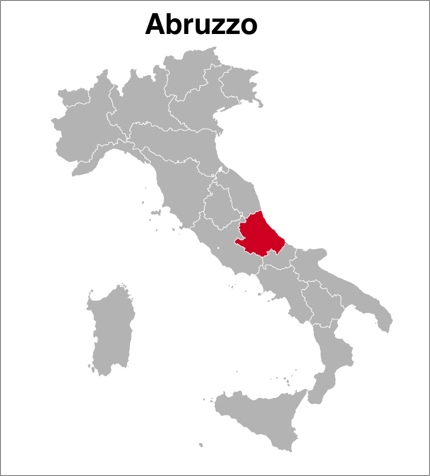 Abruzzo
Popular grape varieties in Abruzzo: Montepulciano, Trebbiano, Pecorino, Pinot Grigio
The region of Abruzzo stretches from the Apennine Mountains to the Adriatic Sea, featuring a heady mix of wild highlands, deep valleys, and sandy to pebbly beaches. There are four provinces within the region, namely L'Aquila, Pescara, Teramo and Chieti.
When it comes to wine, Abruzzo was once known for bulk production over quality, but this is changing slowly as the producers here seek to embrace the region's rich culinary tradition at a deeper level. The Chieti province is the main wine-producing area, offering an impressive range of high-quality wines. The coveted Montepulciano d'Abruzzo DOC is by far the most famous red wine in this region. Not to be confused with the town Montepulciano in Tuscany that produces Vino Nobile di Montepulciano, Montepulciano d'Abruzzo tends to be full-bodied with pleasant notes of plum and blackberry.
Trebbiano d'Abruzzo, once considered cheap white plonk, has also enjoyed a renaissance in recent years. It is often pale, with flavours of citrus, and easy-drinking.
Our recommendation is Montepulciano D'Abruzzo DOC from Cantina Zaccagnini.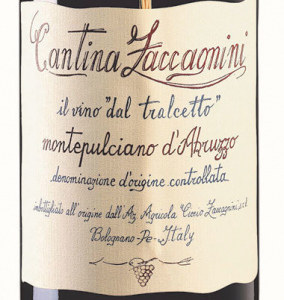 ---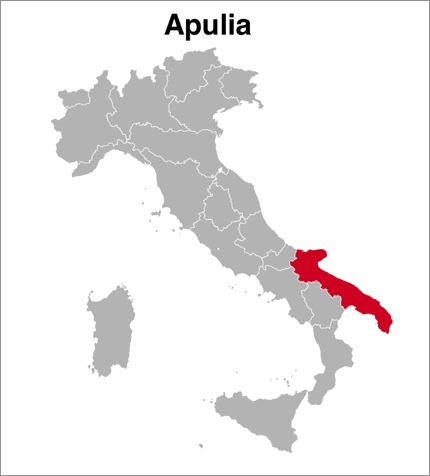 Apulia (Puglia)
Popular grape varieties in Apulia: Primitivo, Negroamaro, Malvasia, Verdeca, Bombino Bianco, Uva di Troia
If you're looking for an easy introduction to Italian wine, Apulia or Puglia is a good place to start. This sunny region produces full-bodied reds that pair well with a large variety of foods. Better still, Apulian wines are incredibly affordable.
Salice Salentino DOC, made from a blend of Negroamaro and Malvasia Nera grape varieties, is one of the notable reds. This velvety red is powerful and carries a seductive hint of spices. A good recommendation is Salice Salentino Riserva from Francesco Candido.
Primitivo di Manduria, produced in the provinces of Taranto and Brindisi, offers red wines that vary from dry to semi-sweet. The Primitivo grape is related to the famous Zinfandel grape, so sometimes you may see producers labelling it as such. Check out Primitivo di Manduria DOC from Produttori Di Manduria if you're looking for a decent bottle.
In-the-know oenologists, however, will search for Castel del Monte DOC, named after a 13th-century citadel built by Emperor Frederick II, now a UNESCO World Heritage Site. Small vineyards here produce mainly red (made from the ancient mauve-skinned Uva di Troia variety), but it is the rosé that we particularly like. Cantine Rivera is arguably the most famous winery and the go-to brand for many enthusiasts. Their dry, light and fruity Castel del Montel DOC rosé, made from 100% Bombino Nero grapes, is crisp and refreshing, with a palate of full fruit.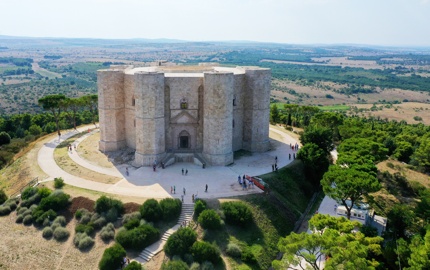 ---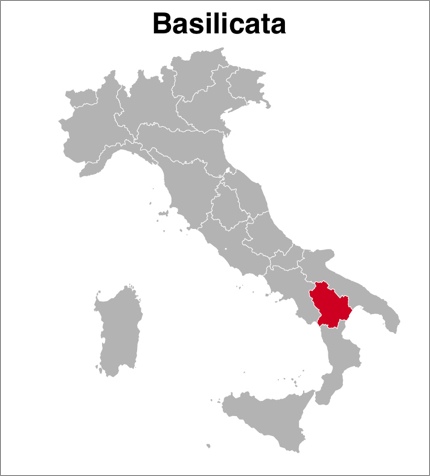 Basilicata
Popular grape varieties in Basilicata: Aglianico, Greco, Malvasia, Moscato, Primitivo, Sangiovese
Basilicata might not be a big name in wine circles, but in this mountainous region, wines have been made for over a thousand years.
Aglianico del Vulture DOC is the pride of Basilicata. As the name implies, this red wine is made from Aglianico grapes on the slopes of Mt Vulture, an extinct volcano, located some 56km (35 miles) north of the city Potenza. Thanks to the region's Mediterranean climate and mineral-rich volcanic soils, Aglianico del Vulture is often noted for its eminent tannins when young, but as it matures, it develops a good degree of complexity. Due to these characteristics, the vines have been nicknamed "Nebbiolo of the South".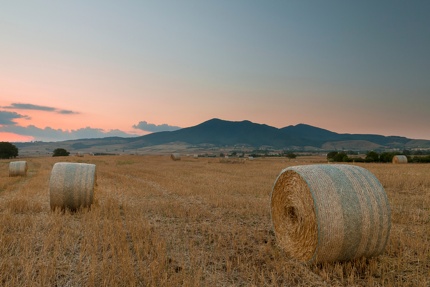 ---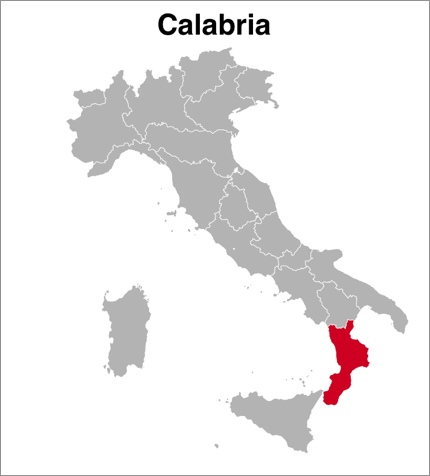 Calabria
Popular grape varieties in Calabria: Nebbiolo, Gaglioppo, Sangiovese, Greco Bianco, Mantonico
Often called the 'toe' of Italy's boot, Calabria is famed for its stunning coastlines and marvellous beaches. But once you head inland, you'll soon be charmed by a patchwork of vineyards and farmlands.
Calabria is notable for its red wines made from Gaglioppo grapes – legend has it that Gaglioppo is a descendant of an ancient variety used to make Cremissa, the wine used to toast the champions at the ancient Olympic games. Today, Gaglioppo is used to make Cirò, a full-bodied and well-structured red that is extremely delicious, but remains underrated.
Cirò pairs well with two spicy Calabrian dishes – 'nduja (a type of spreadable sausage) and sardella (cured sardine). The locals here love spicy food so much that they integrate pepperoncino (Calabrian hot pepper) into almost every dish, including 'nduja and sardella, and the fiery flavour is best soothed by a glass of Cirò.
Apart from Cirò, Calabrian is also noted for Greco di Bianco from vineyards at the very tip of the peninsula. Greco di Bianco is a strong, sweet, amber-coloured white dessert wine.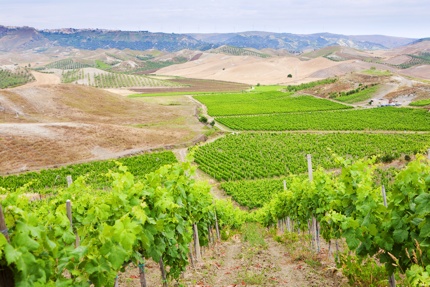 ---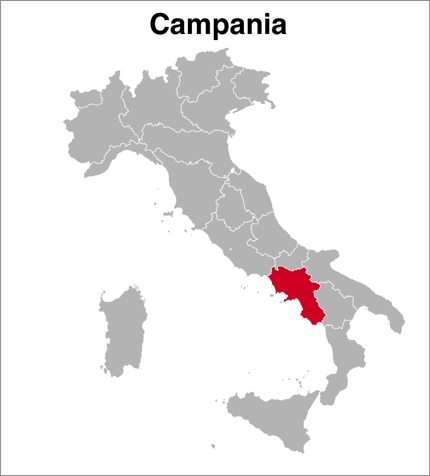 Campania
Popular grape varieties in Campania: Aglianico, Fiano, Falanghina, Greco di Tufo, Piedirosso
Naples, the regional capital of Campania, is famous for its sun-ripened tomatoes, buffalo mozzarella, and pizza Margherita, which features the two former ingredients prominently. Campania wine is equally famous too, thanks to the winning combination of volcanic soils, hot summers and mild winters.
The must-try wine from Campania is the red and white Falerno (aka Falernum), a wine mentioned in numerous ancient chronicles. According to Villa Matilde, the go-to vineyard for Falerno, the wine-making technique used to produce Falerno had disappeared by the early 20th century, but that didn't stop Franceso Palo Avallone, a lawyer from Nepal, and his friends, including professors in the Department of Crop Sciences at the University of Naples, to research and identify the grape varieties that produced the legendary Falerno. They succeeded, and Villa Matilde was born, dedicating itself to this legendary wine.
Falerno red is usually made with 80% Aglianico and 20% Piedirosso. It is deeply-coloured, full-bodied and finely balanced. On the other hand, Falerno white must have a minimum 85% of Falanghina (although in Villa Matilde, they use 100% Falanghina), making it a dry and highly flavourful wine.
The Aglianico grape variety (and its robust tannin characteristics) also helps to put Campania on the map with Taurasi and Aglianico del Taburno, two award-winning red wines that take several years to mature.
When it comes to white wine, apart from Falerno white mentioned above, it is worth trying out Fiano and Greco di Tufo.
---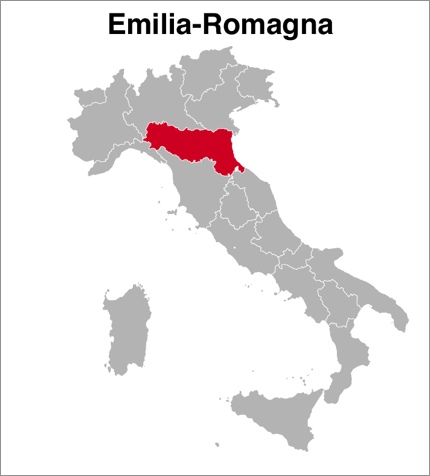 Emilia-Romagna
Popular grape varieties in Emilia-Romagna: Lambrusco, Sangiovese di Romagna, Albana di Romagna, Trebbiano, Malvasia
The sprawling region of Emilia-Romagna lies between the River Po (to its north) and the Apennine Mountains (to its south). While its fertile lowlands are used for wheat and corn, its mountain slopes are ideal for growing grapes, so much so that it has about 20 different DOC zones and two well-known DOCGs: Albana di Romagna and Colli Bolognese Classico Pignoletto.
Lambrusco, a red wine made from grapes of the same name, is arguably the most famous product from this region. Lambrusco from the DOC zones tends to be drier, and has the semi-sparkling style achieved through the Charmat method whereby the wine goes through its secondary fermentation in large steel tanks to produce a massive amount of bubbles. Our favourite is Lambrusco Grasparossa from Cantina Di Soliera, a sparkling red wine with a hint of sweetness, balanced by vibrant acidity.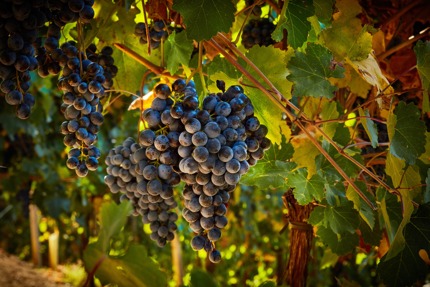 When it comes to white wine, the two notable varieties are Albana and Trebbiano. Albana grapes can produce either dry or semi-sweet wines with an abundance of peach notes. Trebbiano grapes, on the other hand, are often used to make easy-drinking table wines, as well as Armagnac and Cognac.
---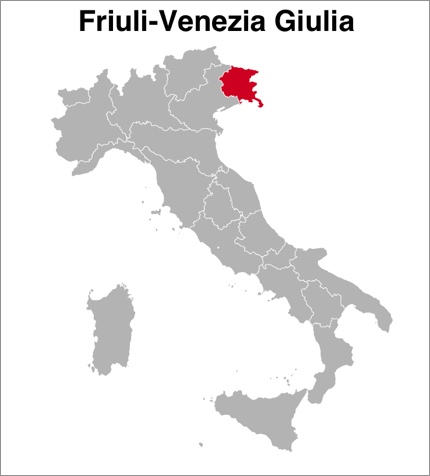 Friuli-Venezia Giulia
Popular grape varieties in Friuli-Venezia Giulia: Sauvignon, Pinot Grigio, Chardonnay, Ribolla Gialla, Tocai Friuliano, Merlot
Tucked into Italy's far north-eastern corner, Friuli-Venezia Giulia borders Austria to the north and Slovenia to the east. This hilly region with large plains is highly suitable for growing white wine grapes.
There are plenty of small, single estates planting a variety of grapes here, from ancient cultivars like Ribolla Gialla to familiar names like Sauvignon Blanc. Among these estates, there is one inspiring winemaker named Josko Gravner who deserves a mention, particularly for fans of Orange wine (aka skin-contact white wine or amber wine).
In 2000, Gravner travelled to Georgia to learn about the ancient wine-making technique which emphasises on two things: the production must follow the lunar cycle and the wine must ferment in large terracotta pots known as qvevri or amphora buried underground. Gravner imported a few pots from Georgia and began making wine the ancient way. Since then, his influence has reached far and wide and, in more ways than one, he has helped to popularise orange wine. If you would like to know more about orange wine, follow the link to the article "An introduction to orange wine".
Apart from orange wine, Friuli-Venezia Giulia has about 12 superior white wines with DOC titles and three with DOCG titles, including:
Colli Orientali del Friuli Picolit DOCG – probably the most famous sweet Italian white wine, it is made with primarily Picolit grapes and has a rich flavour and delicate taste.
Ramandolo DOCG – Made from sun-ripened Verduzzo grapes, Ramandola is a delicious wine with a fine balance of tannins and sweet notes of apricot.
Lison DOCG – Lison is the local name for Friuliano grapes and they produce a dry white with pleasant herbal aromas.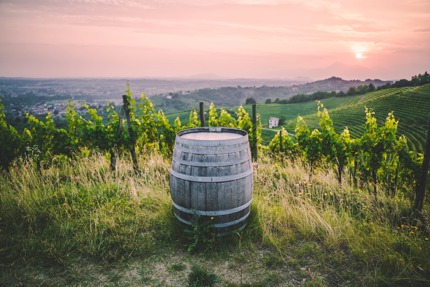 ---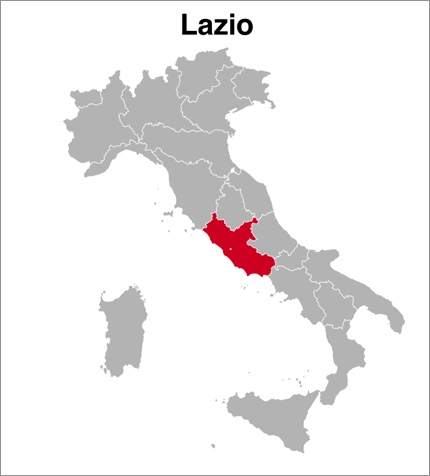 Lazio
Popular grape varieties in Lazio: Malvasia, Trebbiano, Merlot, Cabernet Sauvignon, Sangiovese
Home to Rome, the Italian capital, Lazio produces a small amount of palate-pleasing wines. The best known of these is probably Frascati – a crisp, easy-to-drink white wine from the Frascati township. Keep a lookout for Frascati Superiore DOCG, which generally has a higher alcohol content and a lusher palate of scent and flavour. The wine is best drunk during the following harvest (the harvesting year begins on Nov 1), so it isn't for long-term cellaring. One good recommendation is Frascati Superiore DOCG from Casale Marchese which pairs well with seafood dishes, fresh goat cheese and oven-baked pizza.
Lazio also has a fascinating story behind the Est! Est! Est! di Montefiascone wine. Legend has it that a German nobleman named Johannes Fugger (or Defuk) travelled to Rome in the year 1111 to meet Pope Paschal II. A great admirer of good wine, Fugger sent his servant Martino to go ahead and mark 'Est' (meaning 'is' in Latin) above the door of taverns that served good wine. When Martino arrived in Montefiascone, a hilltop village about 100km (62 miles) north of Rome, he was so overwhelmed by the quality of the local wines in one particular pub that he marked, 'Est! Est!! Est!!!' on the door to convey his appreciation. When Fugger visited Montefiascone, he loved the wine so much that he returned to live in the area. When Fugger died, he was allegedly buried in Basilica of San Flaviano and the locals have since celebrated the anniversary of his death by pouring a bottle of Est! Est!! Est!!! wine over his tombstone.
Today, a few vineyards are producing Est! Est!! Est!!!, including Famiglia Cotarella, Cantina Stefanoni, Cantina di Montefiascone and Villa Puri Terre de, among others.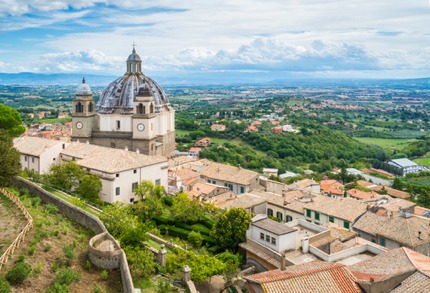 ---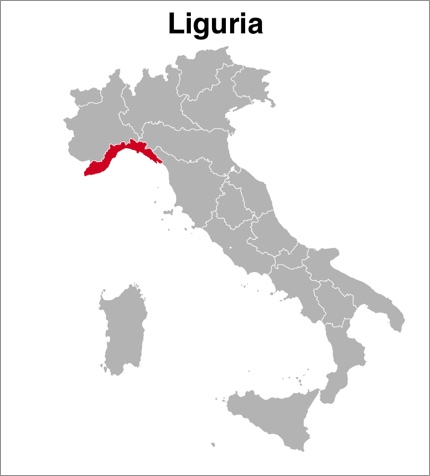 Liguria
Popular grape varieties in Liguria: Vermentino, Pigato, Rossese, Albarola, Nebbiolo
Occupying the Mediterranean coast between Tuscany and the French border, Liguria is one of Italy's smallest regions. The most famous site in the region is the Cinque Terre (meaning 'Five lands'), referring to five seaside villages with cliff-hanging houses and terraced slopes. The cuisine here puts an emphasis on fresh seafood and aromatic pesto, both are best accompanied by its dry white wine.
Indeed, the Cinque Terre area has a long and distinguished history of viticulture – and now holds a DOC title. Vines were introduced here by the Etruscans (an ancient tribe); and since the Roman times, artisanal producers have been growing (primarily Vermentino grapes) on this narrow coastal stretch, producing small batches of excellent white wines that are reminiscent of seaside summers. A good recommendation is Vermentino Colli di Luni DOC from Cantine Lunae Bosoni.
Near the French border, pockets of vineyards in the Riviera Ligure di Ponente DOC area also produce a flavourful red wine from Rossese grapes, as well as a crisp, easy-drinking white made from Pigato (local name for Vermentino). A good recommendation is Rossese Barbadirame Dolceacqua Superiore DOC.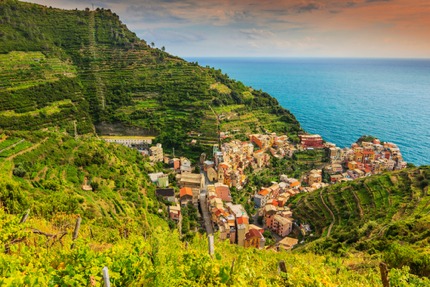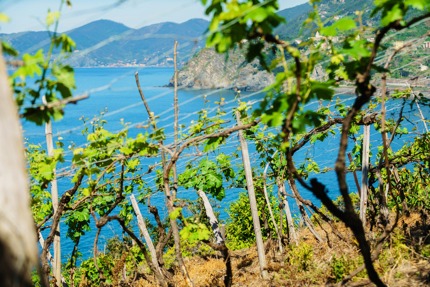 ---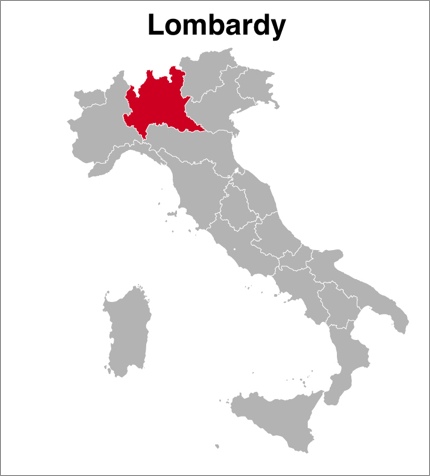 Lombardy (Lombardia)
Popular grape varieties in Lombardy: Chardonnay, Nebbiolo, Barbera, Pinot Nero, Croatina, Verdicchio
Lombardy is a wealthy industrial region of Italy, and it is also culturally rich – the region has about 500 museums and over a million cultural heritages. When it comes to wine, producers in Lombardy prefer quality over quantity, earning themselves five DOCG, 21 DOC and 13 IGT appellations.
Franciacorta DOCG is the pride of Lombardy. This sparkling wine is widely considered as Italy's finest. The principal white grape varieties are Chardonnay and Pinot Bianco, and the harvest must be done by hand and whole-pressed.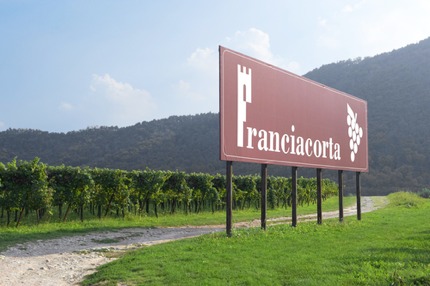 Oltrepò Pavese DOC is another important wine zone. Vineyards here sit between the Apennines and the low-lying land around the Po River, enjoying a microclimate that suits the production of Pinot Nero (Pinot Noir).
Leonardo da Vinci once said that Valtellina 'makes powerful wines', so it is only right that we mention this mountainous wine region about 100km (62 miles) northeast of Milan. Valtellina is divided into two zones: Valtellina Rosso DOC and Valtellina Superiore DOCG. The main grape variety for Valtellina Rosso DOC is Nebbiolo (or locally known as Chiavennasca). The wine is slightly tannic, often fragrant, and sometimes with a delicate hint of wood.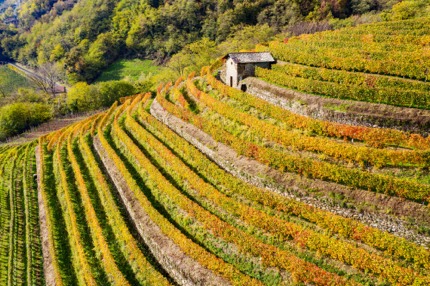 ---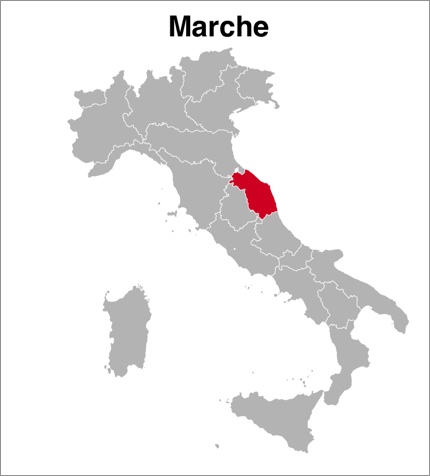 Marche
Popular grape varieties in Le Marche: Verdicchio, Sangiovese, Montepuliciano, Trebbiano, Malvasia
Sandwiched between the Apennine Mountains and the Adriatic Sea, Marche or Le Marche is a region in Central Italy where its rolling hills are ideal for growing wine grapes.
The most famous wine from Marche is arguably Verdicchio, a crisp and aromatic white wine made from the grape variety of the same name. The wine is best paired with a local fish stew known as brodetto – the classic version has some 14 types of fish and shellfish, although you're likely to get less than this amount when ordering at a restaurant. If you're keen to try some Verdicchio, a good recommendation is Verdicchio di Matelica from Cantine Belisario.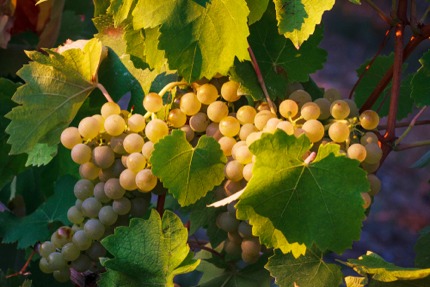 Another white wine worth mentioning is Bianchello del Metauro, made from Bianchello grapes from vineyards along the Metauro River. The cultivation of Bianchello (aka Biancame) grapes is said to have started some 1,500 years ago.
As for red wines, Rosso Conero and Rosso Piceno are two with DOC appellation and well worth a sip. Rosso Conero is made of Montepulciano grapes and maybe with a small percentage of Sangiovese. This full-bodied wine pairs well with grilled meats. Rosso Piceno, on the other hand, is largely made of Sangiovese, with a satisfying dry taste.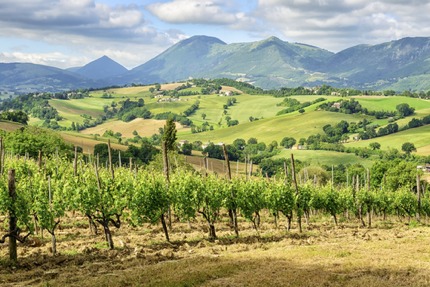 ---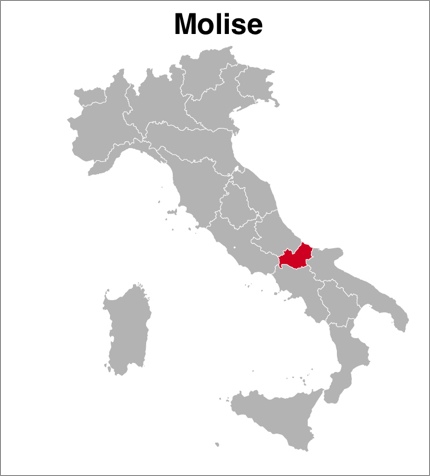 Molise
Popular grape varieties in Molise: Montepulciano, Sangiovese, Aglianico, Tintilia, Pinot Grigio, Falanghina
A small region situated between the Apennine ridge and the Adriatic Sea, Molise is mainly an agricultural area dedicated to growing olive and wheat, as well as farming sheep.
Notable local wines are Biferno DOC and Pentro DOC. Both of which can be red (rosso), red reserve (riserva), white (bianco) and rosé (rosato). Biferno red is very promising; made of primarily Montepulciano grapes (80%), Aglianico (15%) and others (5%), it is rather bold, ripe and juicy, especially if you allow it to mature gracefully.
---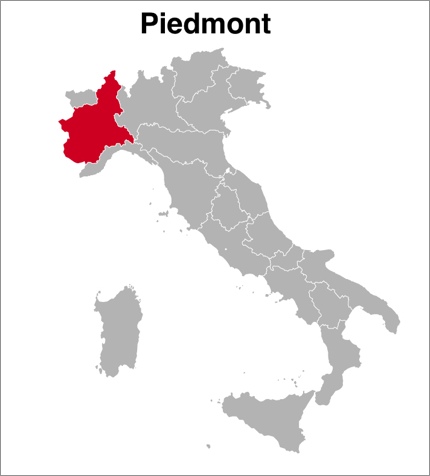 Piedmont (Piemonte)
Popular grape varieties in Piedmont: Nebbiolo, Barbera, Dolcetto, Freisa, Moscato, Cortese, Arneis, Erbaluce, Favorita
Nestled at the foot of the western Alps, Piedmont borders Switzerland and France. The name Piedmont means foot of the mountain, and on the hilly slopes of Le Langhe and Monferrato, small, family-owned terraced vineyards produce exceptional wines, many bear the DOCG appellation.
The Nebbiolo black grapes, locally known as Spanna, are behind three of Piedmont's DOCGs: Barolo, Barbaresco, and Gattinara. Powerful and well-structured, Barolo (grown around the municipality bearing the same name) is often described as one of Italy's greatest red wines. The wine must be aged for at least 38 months, but it can go for longer, softening the tannins in the process and giving you a more refined bouquet. A good recommendation is Barolo Serralunga DOCG by Ettore Germano.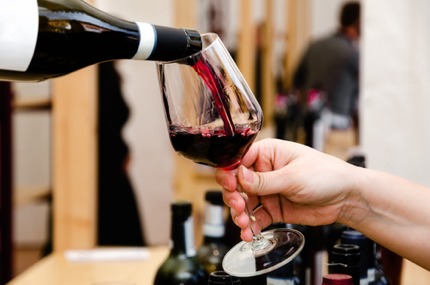 Barbaresco may not enjoy the same fame as Barolo but is nonetheless an elegant wine with beautiful notes of berries.
Gattinara is another bold red wine with high tannins and acidity. All three reds (Barolo, Barbaresco and Gattinara) are highly suitable for long ageing.
Undoubtedly, Piedmont is famed for its reds, but it also has a small number of white wines based on Cortese and Arneis grapes – including Gavi and the sweetly fizzy Moscato d'Asti.
---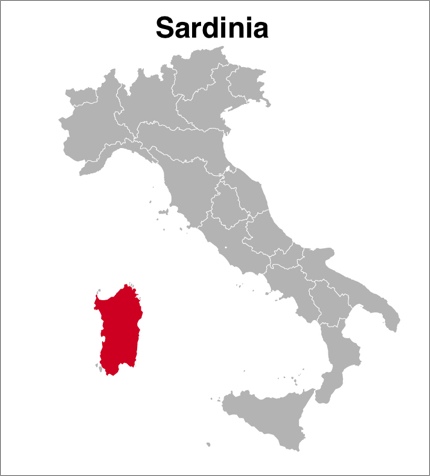 Sardinia (Sardegna)
Popular grape varieties in Sardinia: Vermentino, Grenache, Carignano, Monica, Torbato, Nuragus, Moscato
The beautiful Italian island of Sardinia has a postcard-worthy patchwork of secluded beaches, soul-soaring mountain scenery and unspoiled villages. The dining scene here is also exciting – you get grilled lobsters, clam soup, spaghetti with sea urchins, as well as a wide variety of meat dishes, including porceddu, roasted suckling pig wrapped in aromatic myrtle leaves.
When it comes to wine, the island's most prolific grape varieties are Cannonau (otherwise known as Grenache), Vermentino and Carignan. Accordingly, many wine buyers look for Cannonau di Sardegna DOC, Vermentino di Sardegna DOC, Vermentino di Gallura DOCG (from the slopes in north-eastern Sardinia) and Carignano del Sulcis DOC.
Excitingly, there's also a flush of native varieties that are well worth sampling but rarely found away from Sardinia. They include Monica, Nasco, Nuragus, Torbato and Samidano.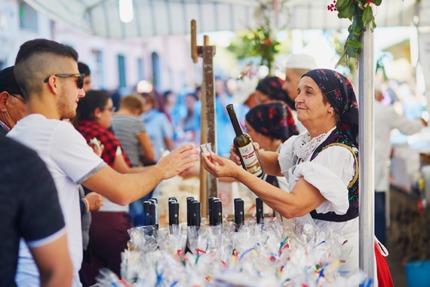 ---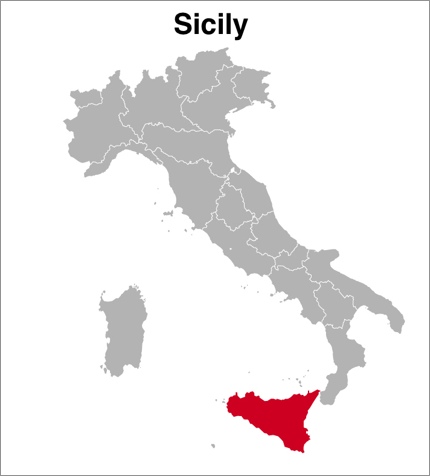 Sicily (Sicilia)
Popular grape varieties in Sicily: Nero d'Avola, Frapatto, Nerello Mascalese, Grillo, Cattarratto
The largest island in the Mediterranean Sea, Sicily enjoys a classic Mediterranean climate, with long summers and plenty of sunshine. That's what draws crowds of admiring tourists to this balmy area of Italy – and it's also what makes the region ideal for viticulture.
The island has long been associated with Marsala wine, a fortified wine made popular by an English merchant John Woodhouse when he introduced this sweet-tasting wine to the British public in 1773.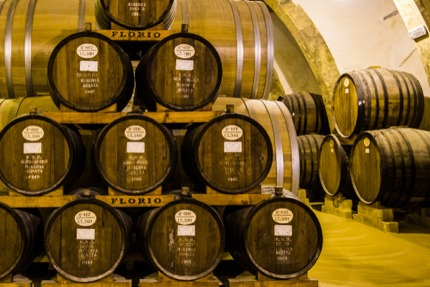 Following the decline of Marsala, vineyards in Sicily started to produce cheap table wine in large quantity to satisfy those with undiscriminating palates. Thankfully, the producers soon questioned the practice and have been working hard to focus on quality over quantity.
The dark-skinned Nero d'Avola is the most popular grape variety. Traditionally, it is used as a blending grape but in recent years, some wineries have begun to market this highly versatile varietal. Young Nero d'Avola tends to have high tannins and red-berry flavours. As it ages, the wine turns elegant with clean herbal notes.
Etna Rosso DOC and Etna Bianco DOC, referring to the red and white wines produced from the slopes of Mount Etna, are well worth a try. Etna Rosso DOC is made from a combination of Nerello grapes and has a mineral-edge characteristic. Etna Bianco DOC, on the other hand, is made from the Carricante grape variety. The wine is fresh and balanced, with a good citrus aroma.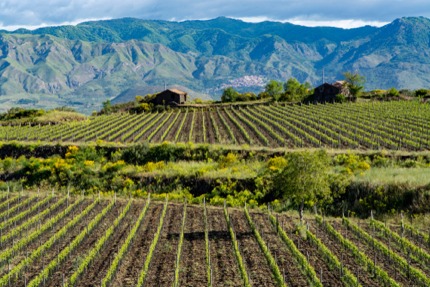 ---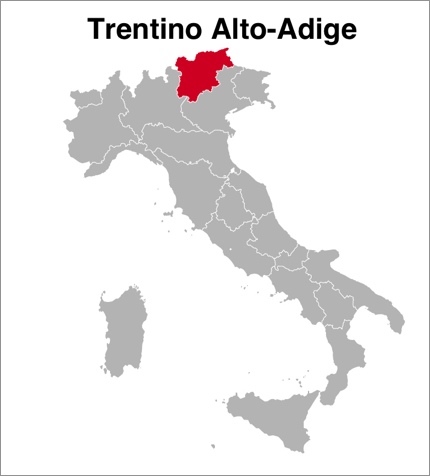 Trentino Alto-Adige
Popular grape varieties in Trentino Alto-Adige: Pinot Grigio, Chardonnay, Pinot Noir, Gewurztraminer, Lagrein, Sauvignon Blanc
Situated in the very north of Italy, most visitors come to Trentino Alto-Adige to explore the Dolomites – the spectacular limestone peaks that march across north-eastern Italy. But the Trentino autonomous province is also responsible for some great Chardonnay and Pinot Blanco. In the Trento commune, look out for Trento Spumante DOC (not to be confused with Trentino DOC which applies to the entire Trentino province). Spumante is a high-quality sparkling wine produced using the same method as what Champagne producers would use in France. Altogether, there are three types of Spumante – Bianco (white), Bianco Riserva (aged for a minimum of 36 months) and Rosato (rosé) – all of them are superb when pairing with apple strudel and zelten, a type of fruitcake made in the region.
When it comes to the red varietals, you get Merlot, Cabernet, Lagrein and Pinot Noir, but our favourite is definitely Teroldego Rotaliano DOC, made entirely from the ancient Teroldego grapes grown around the area known as Campo Rotaliano. This full-bodied ruby-red wine has pleasant tannins with ripe fruit aromas.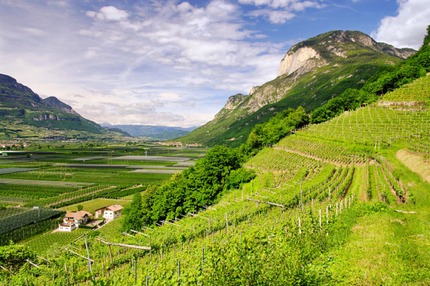 ---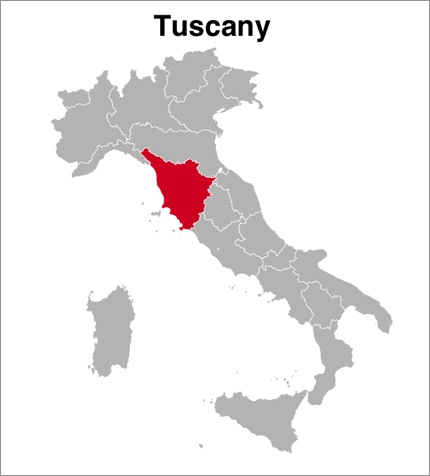 Tuscany (Toscana)
Popular grape varieties in Tuscany: Sangiovese, Trebbiano, Malvasia, Merlot, Cabernet, Canaiolo, Colorino
There are many reasons to fall in love with Tuscany – you can visit the splendid Florence, the cradle of the Renaissance, stroll through the medieval piazza of Siena, scuba dive along the Maremma coast, lose yourself amid the soft rolling hills in Val d'Orcia, or simply enjoy great food and great wine generously spread across farmhouse tables in the hills of Chianti. Undoubtedly, it is the latter that really pulls on the heartstrings.
Chianti is perhaps the most famous Tuscan red wine, made from a blend of varieties of which Sangiovese is the principal. The Chianti wine zone is actually very large, consisting of the Chianti Classico DOCG zone (covering nine municipalities between Florence and Siena) and the Chianti DOCG zone, which is further divided into seven sub-zones – Chianti Colli Aretini, Chianti Colli Fiorentini, Chianti Colli Montalbano, Chianti Montespertoli, Chianti Colli Senesi, Chianti Colline Pisane and Chianti Rùfina.
All quality Chianti Classico wines bear the famous Gallo Nero logo – a black cockerel in the centre surrounded by the words Chianti Classico Dal 1716. These wines are usually enjoyed two to seven years after the harvest year and as it ages, you can expect the tannins to soften and the bouquet becomes more polished. Our recommendation is Chianti Classico from Barone Ricasoli, one of the famous producers in the region. This ruby-red wine has aromas of cherry, vanilla, liquorice and hints of spices.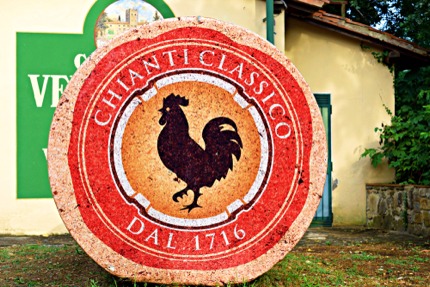 If you've been buying Italian wines for a while, you'd probably have heard of 'Super Tuscans', a term used to describe Tuscan wines that did not follow the appellation requirements. It began with a producer named Mario Incisa della Rocchetta who started growing Cabernet Sauvignon in the territory of Bolgheri and using them to make Sassicaia. Mario stored a few cases each year in his cellar and he soon found that the ageing process refined the wine considerably. In 1968, the first commercial batch was released. Critics were impressed and thus born was the first 'Super Tuscan'. Today, Sassicaia and its other super cousins (Ornellaia and Tignanello) have their own IGT (Indicazione Geografica Tipica) designation, giving creative producers the freedom to blend grapes from different zones and produce exceptional wines.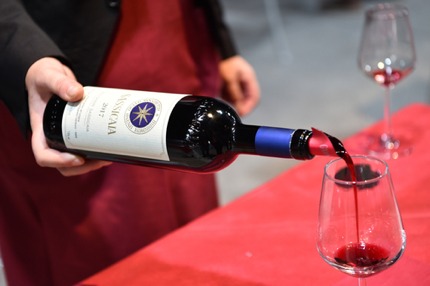 Of course, we can't forget about Vino Nobile di Montepulciano DOCG when mentioning classic Tuscan red wines. Not to be confused with Montepulciano d'Abruzzo, Vino Nobile di Montepulciano is from vineyards surrounding the medieval hilltop town of Montepulciano, about 50km (31 miles) southeast of Siena. The wine is made primarily with the Sangiovese grape variety, plus a small mix of Canaiolo and Mammolo. The wine must be aged for a minimum of two years before release (three years for the riserva wines), of which at least a year must be spent in oak barrels. Thus, the wine is intense, well-balanced, and brimming with flavours of dark cherry. If you're keen to try a decent bottle, we'd recommend Vino Nobile di Montepulciano by Salcheto.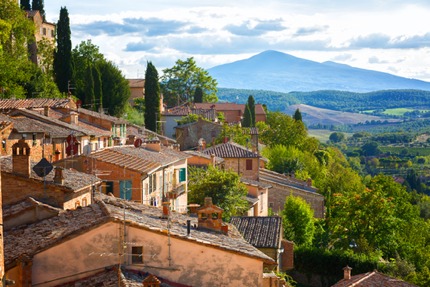 While Tuscany is largely known for its red wines, a small pocket of vineyards around San Gimignano, a walled village about 52km (32 miles) northwest of Siena, use the Vernaccia grape to make Vernaccia di San Gimignano. This white wine is fresh, slightly acidic, and with a distinctive bitterness in the aftertaste, and it enjoys a DOCG appellation.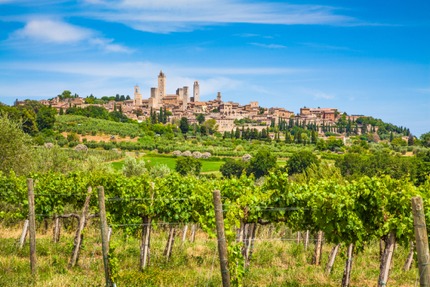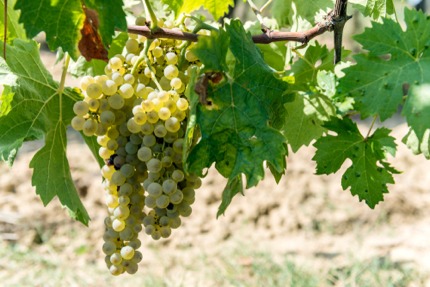 ---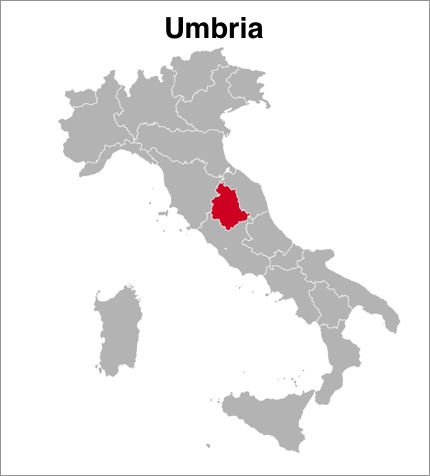 Umbria
Popular grape varieties in Umbria: Procanico (Trebbiano Toscano), Grechetto, Malvasia, Sangiovese, Ciliegiolo, Cabernet, Sagrantino
Surrounded by Tuscany, Marche and Lazio, Umbria has a good mixture of hilly terrains and fertile plains that are suitable for olive and grape cultivations. The best-known wine is a white Orvieto DOC, named after a commune that sits on a massive volcanic butte. Made from a blend of mainly Procanico and Grechetto, plus a mixture of other grapes, Orvieto is available in two styles – Abboccato (semi-sweet) and Secco (dry). The former is the original version and still cherished by some people, but as consumer tastes have largely changed, the light and dry version is what people are after now.
When it comes to the red variety, Sagrantino di Montefalco DOCG is noteworthy. This powerful wine is made from the native Sagrantino variety which is packed full of tannins, as a result, some people dislike the tight taste that may pucker one's mouth, while others simply love the assertiveness of this wine. Ageing does help to produce a more refined wine.
---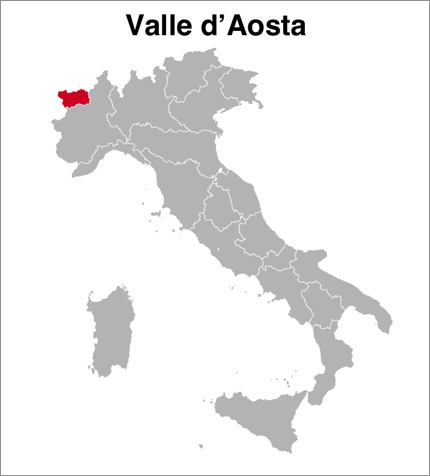 Valle d'Aosta (Aosta)
Popular grape varieties in Valle d'Aosta: Chardonnay, Pinot Blanc, Fumin, Dolcetto, Nebbiolo (Picotendro), Pinot Noir
The smallest region in Italy, Valle d'Aosta is sandwiched between France and Switzerland. The region produces a small amount of wine with names that most people have never heard of – but it doesn't mean the quality is compromised, quite the opposite in fact, as small producers here take great pride (and time) to produce excellent wines.
Donnas DOC, from the terraced vineyards across four municipalities, is a worthy red made from Nebbiolo grapes (locally known as Picotendro). The wine is usually velvety, sometimes has a bit of a bitter aftertaste, and pairs well with the region's star dishes like Carbonade Valdostana (beef stew) and Mocetta (venison ham).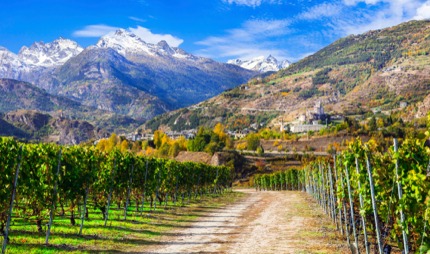 ---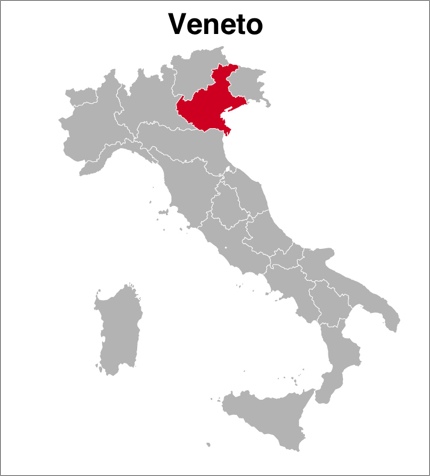 Veneto
Popular grape varieties in Veneto: Valpolicella, Prosecco (Glera), Garganega, Trebbiano di Soave, Pinot Grigio, Corvina, Rondinella, Merlot, Cabernet
Veneto has a world-famous regional capital, Venice. In late medieval Europe, Venice was a bustling port and a thriving cultural hub. Today, it is one of the top tourist destinations, drawing an estimated 25 million tourists each year. Away from this island city, the low plain extends towards the Po valley, before reaching the Carnic Alps, eastern Dolomites and Venetian Prealps.
The region is famed for the Valpolicella wine-producing zone in the east of Lake Garda. The Valpolicella DOC red is usually made from two grape varieties – Corvina Veronese and Rondinella. The wine is gentle with a fresh fruit taste and aroma and is often enjoyed young (usually within a year of release).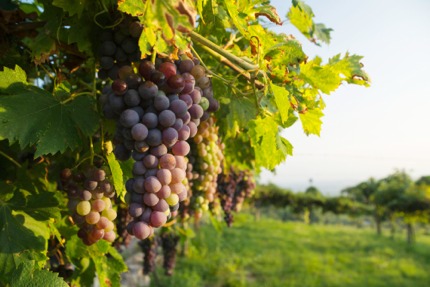 The smooth and fresh Valpolicella is in stark contrast to another red that Veneto is famous for – Amarone della Valpolicella DOCG. This wine, made from partially dried grapes, can be dense and tannic; occasionally, you may even taste the bitterness (the word amaro means bitter) in this complex wine.
Soave, located east of Verona, is another important wine zone, producing the famous dry, crisp white Soave DOC with flagrant orange-zest flavours. Much of Soave today is made with primarily Garganega grapes, with a small percentage of Trebbiano di Soave and/or Chardonnay.
There are also two sub-zones designated for Soave Classico DOC and Soave Colli Scaligeri DOC respectively. We particularly like Soave Classico, an elegant white, usually with layers of stone fruit and citrus flavours.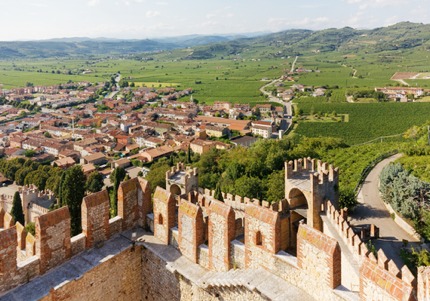 Prosecco is also produced in the Veneto region. The name Prosecco refers to the village Prosecco (now part of Trieste) and also the grape variety (now known as Glera, making room for the designated geographical area). Prosecco can be still (tranquillo), semi-sparkling (frizzante) or sparkling (spumante). The still form is rare, while the sparkling version is most popular. Within the DOC zone, there are also two sub DOCGs – Conegliano Valdobbiadene Prosecco DOCG and Colli Asolani DOCG (or Asolo DOCG).
Conegliano Valdobbiadene Prosecco DOCG, as the name suggests, covers the vineyards between Conegliano and Valdobbiadene. Conegliano is also home to the Cerletti Enological School, whose mission is to teach, experiment, and promote wine-making. Check out Valdobbiadene Prosecco Superiore DOCG by Villa Sandi – this Prosecco has a great amount of pressure and bubbles, yet it is easy on your wallet.
You may also like: