Soaring in popularity over recent decades despite being widely misunderstood, punchy orange wine pairs handily well with full-flavoured foods
Fans laud it as unusual, funky, dynamic and unbelievably flexible. Critics scoff, however, depicting an overpriced cider that's little more than an ill-conceived Instagram fad. Welcome to the peculiar world of orange wine – a place where this robust-tasting wine has provoked strong and divided views.
Before we could even attempt to talk about orange wine, it's important to clear the air first – orange wine is not made from oranges but from white grapes. It doesn't come from the Orange wine region in New South Wales, Australia, nor is it a blend of red and white wine. Also, don't confuse orange wine with vino de naranja from Andalucía in Southern Spain either – with vino de naranja, white grapes are macerated with bitter orange peel, a vastly different production technique from how an orange wine is made.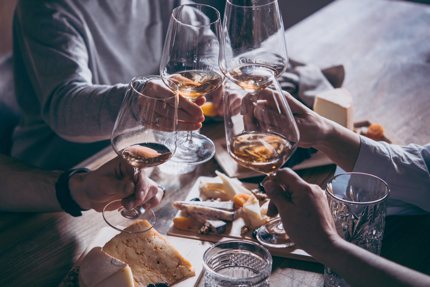 How is orange wine made?
Conventionally, white grapes are usually fermented without the skins to make the white wines we are familiar with. With orange wine, the crushed white grapes are partially macerated with the skin intact – or with skin contact as experts would say – before being pressed off. It is this contact of the skin that imparts the aroma and a desired level of tannins, while the organic compounds of the skin (including phenols and carotenoids) work their magic to produce an uplifting orange hue naturally.
The skin contact period could be short (as little as 12 hours) or long (as much as 12 months), although most producers tend to allow 10 to 60 days. The longer the contact, the deeper an orange wine's rich, beautiful colour will eventually turn out.
Consequently, orange wine is also known as amber wine, skin-contact wine.
Sometimes, you may also hear ramato (the Italian word for auburn or copper, although connoisseurs would rush to point out that ramato should only refer to wine made with Pinot Grigio grapes from Friuli, Italy).
Where is orange wine made?
The technique of making orange wine is thought to be millennia-old and originated in the country of Georgia, located at the eastern end of the Black Sea. Georgia is widely known as the 'cradle of wine' as its winemaking traditions are said to be dating back at least 8,000 years. Throughout the centuries, Georgian winemakers would ferment local grape varieties (mainly Rkatsiteli and Mtsvane Kakhuri) in huge, lemon-shaped, beeswax paper-lined terracotta pots called qvevri (or kvevri) which they then sealed and buried underneath a stone floor or into the ground. Sometimes the word amphora is also being used to describe the pot. In addition, the Georgian winemakers would follow the lunar cycle faithfully – for example, you sow during the new moon phase and you bottle during the full moon phase.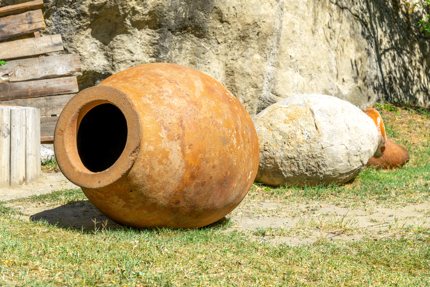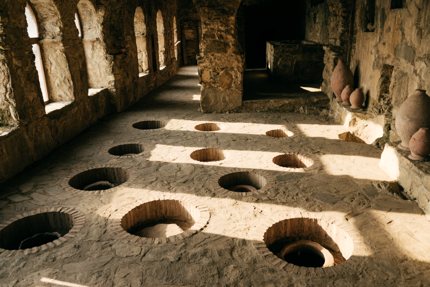 In more recent times, winemakers in Italy's north-eastern region of Friuli-Venezia Giulia, along with the region of Goriška Brda in Slovenia just across the border, have begun making orange wine, mostly using Friulano, Ribolla Gialla or Pinot Grigio grapes, and sometimes sweeter Muscat grapes. Among these winemakers, Josko Gravner, from Collio Goriziano in Friuli-Venezia Giulia, is credited as the man who brought orange wine to popularity in the last two decades. It all started with him visiting Georgia in the year 2000 and learning about the age-old techniques. He went back to Italy, imported a few qvevri from Georgia and began making wine the ancient way. His first few batches of orange wine, brilliantly hued and highly structured, impressed critics and also inspired other winemakers. And so, a new wave of orange wines was born.
It's worth mentioning that the actual label of 'orange wine' is believed to have only emerged in 2004. Working in a Sicilian cellar, British wine importer David Harvey simply described what he saw – and the term caught on as a convenient, catch-all term.
Today, producers outside of Georgia, Italy and Slovenia are jumping on the bandwagon; consequently, you will find a good range of orange wines in countries from Austria to Australia. In Australia, wine experts have mentioned to us the Sauvignon Blanc grape variety is highly suitable for making orange wine.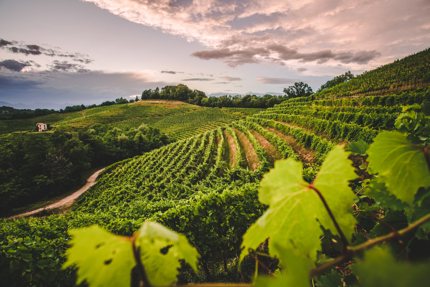 How does orange wine taste?
Orange wines vary in taste as much as whites or reds, but there are a few consistent points. A slightly nutty bouquet is regularly described, while on the palate one should expect intense, savoury and faintly fruity notes, plus a tannin level akin to a lighter red wine and even a slight sourness.
If a bottle's label details the length of skin contact, that will provide a clue about how the orange wine tastes; essentially, less contact equals a lighter, mellower style. On the other hand, a longer period of maceration may produce unusual, very astringent results – cidery, odd-smelling and best reserved for zealots.
Orange wines' growing popularity means the drink is commonly found in wine bars. So, if you're unsure about where to start, consider visiting a wine bar and enlisting an expert host to make some suggestions, or to put together a tasting flight.
Alternatively, you can also try out these brands that we recommend:
Made from the white Rkatsiteli grapes and followed the traditional qvevri method, this award-winning wine has an attractive combination of strength and elegance. It is rich on the nose, while the palate is earthy, with a lovely tannin that carries everything through. Its alcohol content is 12.5% and the price is £14.49. Follow this link to purchase.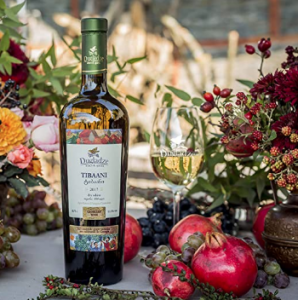 This is another wine from the Dugladze winery. The juice of white Rkatsiteli grapes is fermented in a qvevri and sealed underground for six months before bottling. It is a young but confident wine with delicious colour and power. Palate is citrus. Its alcohol content is 12.5% and it is sold for £12.49. Follow this link to purchase.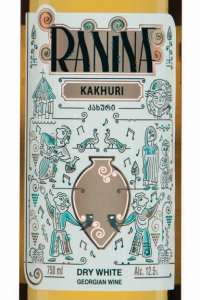 Made with Hungarian Leányka grapes in the region of Eger, the process involves the grapes macerated with the skin contact for three months, before ageing in an open tank for another three months. This wine is well-structured but doesn't overkill, delicate yet persistent. We definitely get the mineral tension but also get soft apricot entry. The alcohol content is 11.5% and the price tag is £27.95. Follow this link to purchase.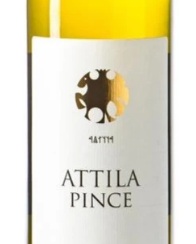 What to pair orange wine with?
Orange wine embraces the qualities of both red and white wines; accordingly, it is capable of a relatively rare feat in the vino world: complementing a wide range of food and flavours.
As orange wine has the structure of red wine but without its heaviness, experts like to pair it with red meats, fatty fish, mature cheeses and deep-fried dishes. It also goes really well with flavourful dishes like Indian Jalfrezi curry, Spanish paella, Moroccan lamb tagine, and crisp Chinese pork belly.
Having said that, if you get a bottle of orange wine that is young, you may opt to pair it with a lighter dish.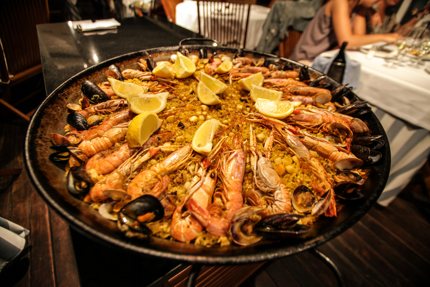 How to serve orange wine?
The perceived wisdom is to serve orange wines slightly chilled or at cellar temperature – aim for about 12-14°C (53-57°F). It also helps to decant the wine for about 15-30 minutes before serving. The addition of oxygen softens and smooths the tannins.
Is orange wine a type of natural wine?
This is where it can get very confusing quickly because most people seem to define the word 'natural' differently. For a start, it is incorrect to assume that all orange wines are made with grapes from Biodynamic vineyards, referring to organic farming at a more spiritual level. Perhaps it is best to use the term 'additive-free' or 'minimal intervention' when it comes to orange wine, as most winemakers tend not to add sulphites nor laboratory yeasts in their orange wines – the vinification process relies on naturally-occurring yeasts on grape skins instead. Some also do not control the temperatures during fermentation or even filter the wine.
While minimal intervention in the production of orange wine is the norm, there isn't a strict requirement which every producer must adhere to. In a way, it is pretty much up to the winemakers to be creative and decide how they should approach the artisanal winemaking in producing their favourite orange wine.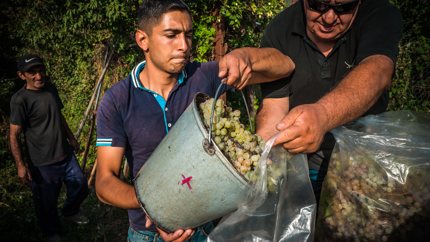 You may also like: