Canned meat is having a moment during this COVID-19 pandemic. As consumers load up on pantry staples, we think it's time to explore the eccentric world of Spam
The ingredients listed on a can of Spam seem straightforward enough, consisting of pork (89%), starch, water, salt, ham (2%), sugar, stabiliser (Trisodium Diphosphate), flavourings, antioxidant (Sodium Ascorbate), preservative (Sodium Nitrate).
These ingredients are almost identical to a regular pack of ham you'd get from a supermarket shelf. Yet arguably, Spam has a great deal more divided opinion than ham. Its fans would proclaim that the pink luncheon loaf has a distinctive flavour that even professional chefs cannot easily replicate. Its critics, however, attest that Spam is disgusting, a pinkish mystery that should never be eaten.
Love it or hate it, there is no denying that Spam has an enduring pop-cultural effect. The humble tinned meat even has a dedicated museum in Minnesota, USA. And if you've seen Spamalot the award-winning musical comedy, you can probably guess that the canned meat was the inspiration. The original Spam sketch, first televised in 1970, made a light-hearted reference to the prevalence of Spam in the UK.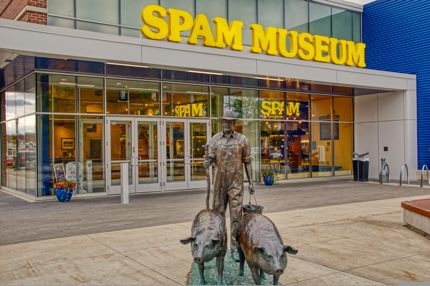 A brief history of Spam
Spam was created on July 5, 1937 by Jay Hormel of Hormel Foods Corporation of Minnesota. Hormel was looking for ways to sell the under-used shoulder joints of pigs. At that time, the US was still plodding through the Great Depression, unemployment rates were high and economic hardship was evident. Spam, being cheap, filling, versatile and having a long shelf life, conveniently met the demands for inexpensive meat products.
During World War II, Hormel shipped up to 15 million cans of meat per week overseas, much of which was Spam. Many soldiers complained about being forced to eat it for breakfast, lunch and dinner – with Spam slyly concealed in stews, sandwiches, as an accompaniment to powdered eggs, or rolled into meatballs. Unbeknown to these soldiers, while there were genuine Spam products among some divisions, much of the 'Spam' cooked up by army chefs was not Spam, but a generic, government-made version that didn't contain ham, and was overcooked and heavily salted to withstand extreme weather occurring anywhere from sweltering Southeast Asia to subfreezing winter months in Northern Europe – all the places which the meat, along with the soldiers, might be sent to.
Some soldiers hated the product enough to skip meals and found other uses for Spam instead. They realised that the gooey coating of the meat could be applied as a skin conditioner, a gun oil substitute, made into a candle (when mixed with gasoline), and as waterproof dressing for boots and tents, among other uses.
Today, the gooey coating is hardly visible in a can of Spam. This is because in 2009, Hormel added potato starch to the recipe – the starch traps the water molecules in the meat, thereby removing the gelatine-like layer created during production.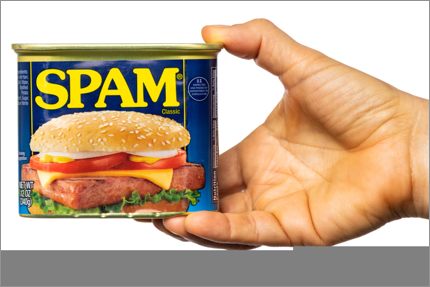 What's in the name?
As legend has it, Hormel held a competition to name the new product. Ken Daigneau, whose brother was a Hormel VP, gave the name Spam and was awarded US$100. Till this day, no one, bar a few Homel executives, knows what it actually means, though some have suggested it might stand for 'spiced ham'.
Spam's popularity
Today, there are 15 different varieties of Spam products sold in 44 countries. They include Spam with Bacon, Spam Hot & Spicy, Spam Teriyaki and Spam Jalapeño. Not keen on a block of meat? Then treat yourself to a slice of Spam Single or a fragrant tub of Spam Spread (made with Spam and chicken). If you like to have it with cheese spread, opt for Spam Mezclita – this winning combination of spiced pork and cheese spread is hugely popular in Puerto Rico.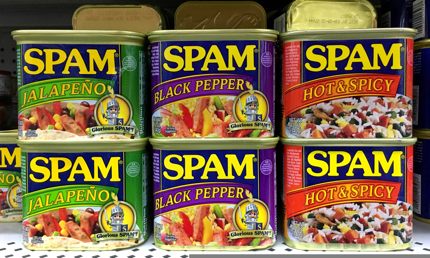 According to the Spam website, there are 12.8 cans of Spam products eaten every second. To put this into context, if you have taken three seconds to read from the beginning of this article to this line, there have been 38.4 cans of Spam opened and enjoyed by various people within the same period. It's rather mind-boggling, isn't it? And we have to bear it in mind that the number excludes other brands like Princes, Tulip, Chung Jung One (a Korean brand), MaLing (a Chinese brand), among others.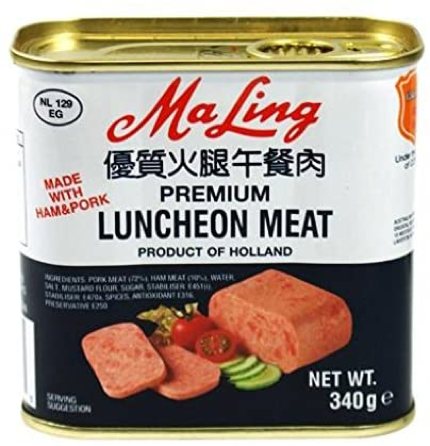 Spam around the world
Anyone for Spam fritters? Sushi? Army stew? Dinner is but one tin away.
Hawaii
The state of Hawaii is said to consume more Spam than any other US states, eating seven million cans of Spam products every year. Nicknamed the 'Hawaiian steak', Spam has made its way from fast-food joints – McDonald's and Burger King here have Spam on the menu – to fine-dining restaurants. Nonetheless, the most popular Spam dish is Musubi – sushi rice is topped with a slice of crisp Spam and wrapped with a ribbon of nori (seaweed). Rumour has it that even President Obama, who grew up in Honolulu, is a fan of Musubi.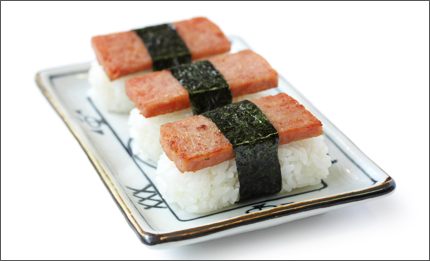 Guam
Guam is another island that loves Spam products, so much so they consume 16 cans per person per year on the average, and that doesn't include other brands of tinned-ham like Libby, Armour and Tulip, according to a report from Pacific Daily News, the island's newspaper. Even the six McDonald's on the island are said to go through 400 cases of Spam per month.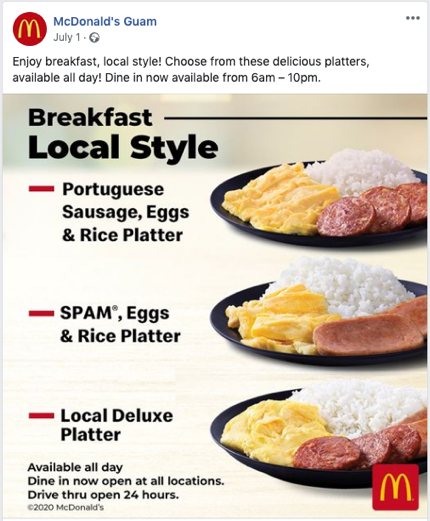 South Korea
In South Korea, Spam isn't a poor man's meat but a treat, so special that it is the choice of holiday gifts during Lunar New Year and Chuseok (Autumn festival) holidays. Here, Korean families would pay about 30,000 won (US$26) for a standard Spam gift set that contains nine or ten cans. If you opt for a bigger or fancier packaging, be prepared to pay at least 40,000 won (US$35) for each gift set. According to a 2019 article in The Korean Herald, Spam has "sold around 1.2 billion 200-gram cans of Spam in the product's history – the equivalent of 24 cans for each person in Korea."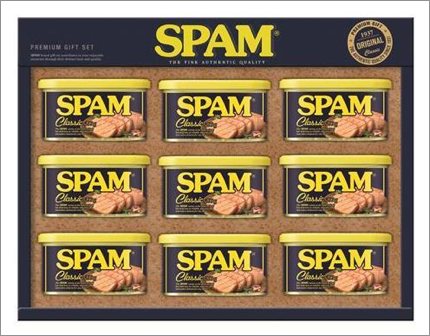 The Philippines
Spam is also a hit in the Philippines, with an estimated 1.25 million kilos sold each year. The most popular Spam-based dish is Spamsilog, a hearty breakfast of Spam, sinangag (fried rice) and itlog (fried egg), giving you enough carbohydrate and protein to power through the day. In Mandaluyong, a city in Metropolitan Manila, there is even a 'Spam Jam' restaurant that features the meat in every dish – not unlike the Monty Python Spam sketch that many of us love dearly.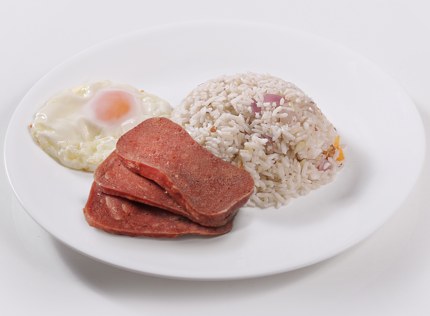 Can you keep Spam indefinitely?
It's interesting to see that Spam tends to be hugely popular in an island-state or an island-nation, and that's largely due to its long shelf-life and versatility. And now with this COVID-19 pandemic, demand for canned products, including Spam, has soared across the globe, as movement restrictions see people stay home and cook more, leading to them buying pantry staples like Spam, which are inexpensive, can last for a period of time and be made into tasty meals easily.
But how long could you keep the cans before having to consume them? On the Spam.com official site, it says "While the keeper of an emergency underground bunker might have you believe Spam products offer eternal freshness, there is, in fact, a limit to their goodness. On the bottom of every can of Spam product you'll find a 'best by' date. This is the date Hormel Foods recommends using the product by." In other words, you can't keep them forever and expect the meat inside to retain the same freshness.
On the internet, however, there are plenty of people believing that it is generally safe to consume a can of Spam within five years after the 'best by' date, provided that the can is not bulging or damaged in any way.
Whatever your choice, we hope a tin of meat can help you to serve up comfort food that affords solace without burning a hole in your pocket.
Bon Appétit.
You may also like: