From authentic Amsterdam street food "war fries" to "wrong coffee", here are our top 10 things to try in Amsterdam and where to find them
It's probably fair to say that Dutch cuisine is not world renowned, but Amsterdam, its capital city, is home to some mouth-watering treats – yes, really. Don't worry if Dutch fare hasn't crossed your foodie radar yet, we're sharing our top 10 food and drinks for you to try in the cosmopolitan city of Amsterdam.
Pancakes
Dutch pancakes (pannekoeken) are simple to make and can be topped or filled with a variety of options, everything from cheese and bacon to banana and chocolate sauce. Thinner than American pancakes, but still thicker than French crêpes, they are often eaten as a main course and frequently served at children's parties.
Where to try: The Pancake Bakery (Prinsengracht 191) boasts an extensive pancake menu, offering a multitude of sweet and savoury options. As a former 17th century warehouse belonging to the Dutch East India Company, the building still houses many of its original features such as exposed brick walls and wooden beamed ceilings. This gives it a cavern-like atmosphere that will transport you back in time while you attempt to eat the massive stack of pancakes sitting before you.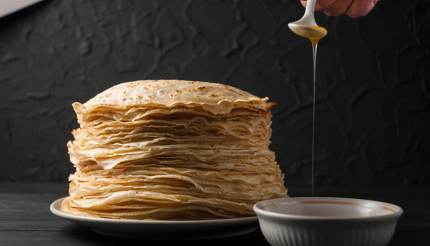 Fries
You can't go wrong with a decent portion of fries, and Amsterdam has no shortage of places where you can indulge in this crowd favourite. For an authentic Dutch experience, order a patatje oorlog, or "war fries", served with Dutch mayonnaise (creamier and a tad sweeter than other varieties), raw onions and Indonesian satay sauce (a thick peanut sauce with a spicy kick).
Where to try: A massive selection of sauces and great prices make Vleminckx (Voetboogstraat 33) the place to go for some proper Dutch fries. Don't be put off by the queue though, as service is pretty quick.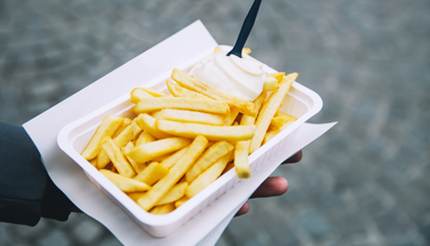 Croquettes (Krokets)
Dutch croquettes, or krokets, are a textural marvel: crunchy on the outside and deliciously smooth on the inside. Traditionally created as a way of using leftover meat, the dish exploded in popularity during WWII. Krokets typically contain beef (rundvleeskroket) but can include anything from vegetables to prawns.
Where to try: Eetsalon Van Dobben (Korte Reguliersdwarsstraat 5-7-9) is a city institution. Hidden on a side street off Rembrandtplein, it's a favourite among locals and a popular place for some comfort food before a boozy night out. Order a broodje kroket met een glas melk (croquette sandwich with a glass of milk) if you want to eat the authentic Dutch way.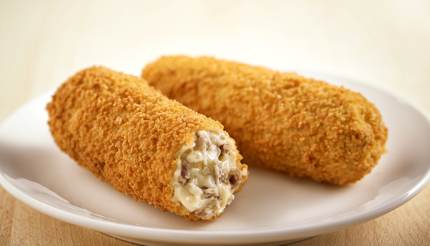 Stamppot
No Dutch winter is complete without a hearty stamppot. Commonly made from potatoes mashed with vegetables such as cabbage, endive or spinach and paired with smoked sausage, this dish will definitely please your palate. Originally regarded as peasant food, Dutch families across the country now eat stamppot with great gusto.
Where to try: Moeders, or mothers in English (Rozengracht 251) is home to excellent stamppot, served with either smoked sausage and bacon or grilled vegetables and feta cheese. Aptly named, photographs of mothers cover the restaurant's interior; bring a snapshot of your own mom and they'll add it to the collection.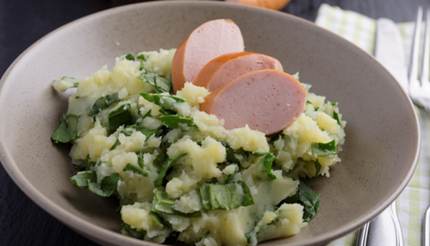 Herring
Slippery, salty and fishy, herring may not be on everyone's must-try list. For the Dutch, however, herring is more than just a pickled snack, it's a way of life. Fishmongers and fish stands throughout the city often sell the delicacy with a generous helping of raw onions. There's only one way to eat it: grab it by the tail, tip your head back and gobble it down.
Where to try: You can find herring on pretty much every street in Amsterdam. Stubbe's Haring (Singel Haarlingersluis 1013), a quaint wooden stand across from Amsterdam's central station, has supplied fresh fish to Amsterdammers for generations.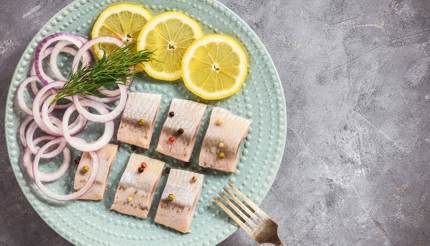 Brunch
From quirky, independent cafés to boat-based eateries, enjoying brunch in Amsterdam is an experience unlike any other. The city's millennials have turned it into a weekend ritual. With a wide variety of food, from eggs and avocados to pancakes and porridge, the city caters to everyone during this tempting time of day.
Where to try: For those looking to explore Amsterdam's canals as they chow down on some excellent grub, try Gs Brunch Boat (pick up: Keizersgracht 177). A range of tasty egg dishes and classy cocktails are on offer, all to be consumed while cruising along some of Amsterdam's most picturesque waterways.
Apple pie (appeltaart)
Apple pie is as traditional as Dutch cuisine comes, tracing its existence back to the Middle Ages. Made with a lattice upper crust and usually served with ice cream or whipped cream, a slice of appeltaart is the perfect afternoon indulgence.
Where to try: Singel 404 (Singel 404) is an unassuming little café perched on the Singel canal. While the interior is basic, the shop's apple pie is anything but. Each generous slice is filled with chunky apples, sweet raisins and a dash of cinnamon to create a delightful Dutch treat.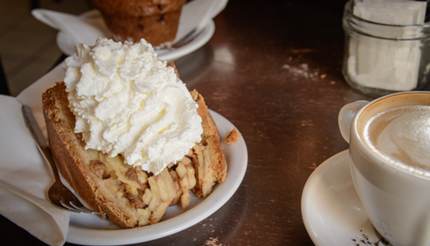 Stroopwafels
One of the most popular and well-loved Dutch sweets is the humble yet delicious stroopwafel, or "syrup waffle". The oldest known recipe is attributed to Gerard Kamphuisen, a baker from Gouda who recorded his tasty invention in 1840. Stroopwafels are now enjoyed around the world and make a scrumptious addition to a cup of coffee or tea.
Where to try: The Original Stroopwafels stand at the Albert Cuyp market (Albert Cuypstraat) prepares fresh stroopwafels made to order. Two thin waffle layers are sandwiched together with a syrupy caramel – it's gooey, warm, and probably one of the best things you'll ever eat.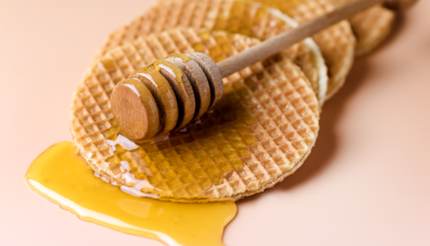 Coffee
Amsterdam runs on coffee. The Dutch love this bitter black liquid so much that, on average, they drink about 8.4kg per capita, and the city boasts enough cafés and coffee houses to keep any caffeine addict happy.
Where to try: Do as the locals do and order a koffie verkeerd, or "wrong coffee". It's labelled this because, at a 50/50 coffee to milk ratio, the drink contains more milk than is considered 'normal'. Get your koffie verkeerd at CT Coffee and Coconuts (Ceintuurbaan 282-284), a re-developed art deco cinema now serving excellent beverages and freshly baked pastries.
Beer
The Dutch are beer connoisseurs, and their capital city is awash with local specialities such as Amstel, Heineken and Brouwerij 't IJ. Ask for a biertje and you'll get a small glass of beer with a decent sized head. This foamy layer protects the beer from becoming too oxidised and losing its flavour.
Where to try: Many bars in Amsterdam have local Brouwerij 't IJ beers on tap, but why not head straight to the source and visit the brewery (Zeeburgerpad 55) in Amsterdam East instead? Since it's located next to the city's biggest windmill, you won't miss it.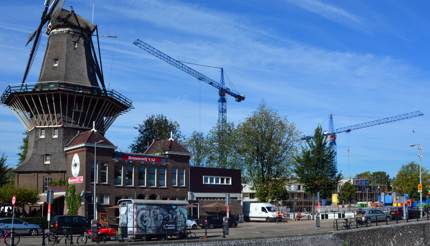 Bonus feature:
Unusual dining
Want to try something different? Amsterdam is a city full of unconventional eating experiences. Whether you want to dine in the dark or eat reclaimed produce, Amsterdam certainly delivers on the interesting foodie factor.
Where to try:
For those eager to eat more sustainably, Instock (Czaar Peterstraat 21) is a stylish, modern restaurant with a unique selling point. The chefs rescue ugly, bruised and unwanted, but perfectly edible, food from supermarkets across the Netherlands. This reclaimed food is then transformed into an imaginative and tantalising menu that varies according to what's been salvaged that week. Yes, it's a true challenge for the chefs, but it gives them the space to be creative. After all, where else could you eat a baked kiwi with a pineapple and beer sorbet or drink beer made from rescued potatoes? Alternatively, if you're not concerned about seeing what you eat, Ctaste (Amsteldijk 55) is the place for you. With a surprise menu that will appease even the pickiest eater, this is an experience you'll never forget.
Before you go, check out: