Zesty and colourful, Lima's cuisine will leave any traveller in taste bud bliss with traditional Peruvian dishes and decadent street food selections
Tantalising spices, distinctive ingredients, and welcoming atmospheres define a Lima dining experience. From carts stationed on sidewalks selling wallet-friendly deep-fried morsels to high-end establishments serving roasted meat, any foodie can find the ultimate meal during their visit to Lima. For some suggestions on the best of Lima's culinary offerings, read our picks below.
Cuy
Don't be afraid – it's just a guinea pig. Though the deep-fried or spitted rodent may be a little too adventurous for some foreigners, Peruvians consider it a delicacy and only indulge in the tender rabbit-like meat on special occasions. Because tourists routinely consider cuy to be a necessary experience on their tour of Lima, many restaurants offer this peculiar dish.
Where to try: Panchita (Calle 2 de Mayo 298)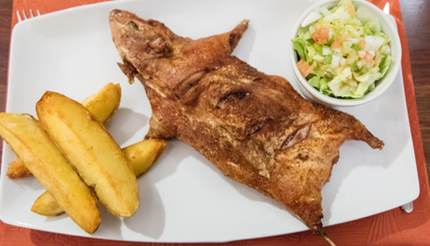 Ceviche
The quintessential Peruvian dish, ceviche features fresh raw fish marinated in citrus juices, chilli and onions, and is commonly served with a side of roasted corn and vibrant sweet potatoes. This light, healthy lunch is a must on a Lima holiday.
Where to try: For authentic ceviche that won't break the bank, head to Mercado de Surquillo (Surquillo 15047) for a vivacious fish and meat market with vendors that serve this classic dish. Taste more expensive ceviche at Chez Wong (Enrique León García 114), which critics hail as the best in Lima.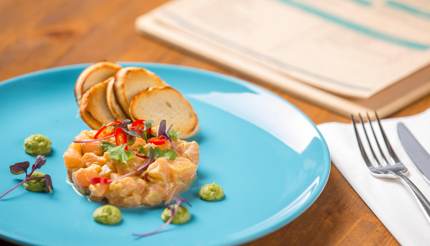 Lomo saltado
Much to the surprise of many visitors, a variety of international cuisines call Lima home. As a result of a large wave of Asian immigration throughout the 19th century, Chinese-Peruvian fusion proliferates throughout the city today. One of the most popular Chinese dishes available in restaurants includes lomo saltado, a stirfry of beef and vegetables served with a side of chips and fried rice.
Where to try: Hikari Pollos (Av. La Mar 2339)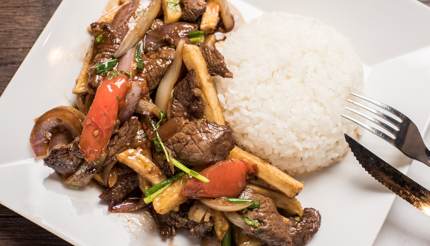 Sanguche de Chicharron
Lima isn't known for its healthy food options or vegetarianism, so it's no surprise that sanguche de chicharron ranks as a favourite among locals. Succulent pork and refreshing salsa encased in warm bread makes for the ultimate sandwich after a long day of sightseeing.
Where to try: El Chinito (Calle Grimaldo del Solar 113), aka king of sanguche de chicharron, is a family-run restaurant that's been in business for 56 years and provides its customers with delicious pork sandwiches daily.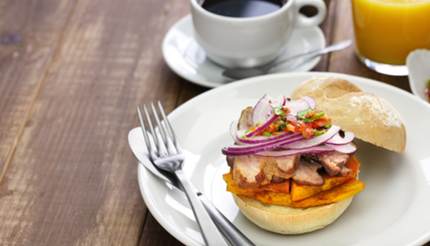 Aji de Gallina
Aside from being an eye-catching shade of bright yellow, this Peruvian classic uses aji amarillo chillies to create a beautiful, creamy chicken stew commonly served with boiled eggs, potatoes, olives, and rice.
Where to try: Aji de gallina permeates almost every menu in Lima, but Huaca Pucllana restaurant (Cuadra 8, Calle General Borgoño) offers a simple and traditional version worth tasting.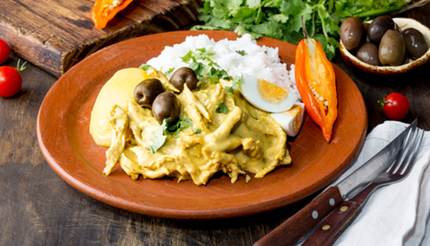 Anticucho
Lima's street food has heart, literally. Anticucho, or garlicky grilled beef heart on skewers, makes up a large part of Peru's casual snack menu. Said to date back to the time of Spanish conquerors, many believe slaves created the dish as a result of only having access to the parts of the animal their owners didn't want. Other foods similar to anticucho feature chicken sweetbreads and tripe.
Where to try: La Tía Grimanesa in the Miraflores District (Av. Ignacio Merino 465) is a cart turned restaurant that sells some of the best anticucho in the city.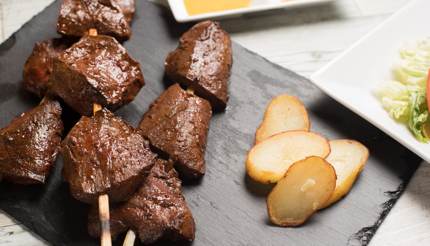 Causa
A bright potato speciality layered with chicken, seafood, avocados, and mayo, this delicious tower separates itself from other Peruvian side dishes with its artful presentation.
Where to try: Mi Causa (Av. Mariscal La Mar 841)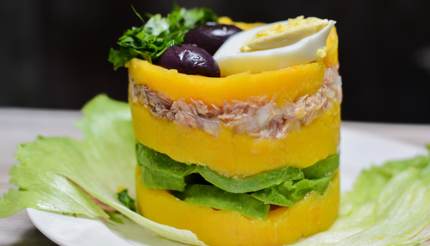 Picarones
Doughnut-shaped sweet treats made from mashed sweet potato and squash topped with cinnamon and sticky syrup. A flavourful, cheap street snack likely to satisfy any sidewalk patron.
Where to try: Street vendors sell picarones from small carts, frying them right in front of eager customers. Try the carts at Parque Kennedy in Miraflores (Diagonal 18) where you can watch the much-loved local cats frolic around while munching on these tasty treats.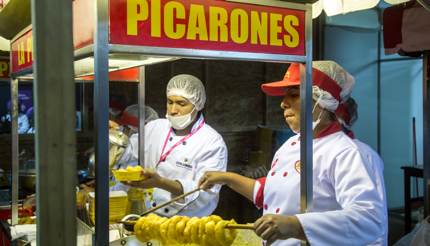 Pisco Sour
If a pisco sour isn't in the mix during a night out, then something's wrong. Pisco, Peru's national brandy, originates from the Ica region and tastes different depending on distilling and grape harvesting techniques. A pisco sour involves a mix of pisco, egg white, lemon juice, Angostura bitters, and a touch of simple syrup. Where to try: All bars in Lima will have a pisco sour on their drinks list, so finding the cocktail should be easy. For a special pisco experience, head to Antigua Taberna Queirolo (Av. San Martin 1090), a tavern that's been around since 1880 and boasts its own brand of pisco.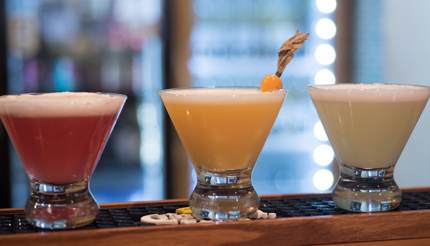 Inca Kola
To commemorate Lima's 400th birthday in 1935, José and Martha Lindley created a unique, bubble gum flavoured soft drink. Today, Inca Kola is the most popular soda in Peru. This bright yellow beverage is the perfect compliment to any meal.
Where to try: You can purchase Inca Kola in any restaurant or convenience store around the city.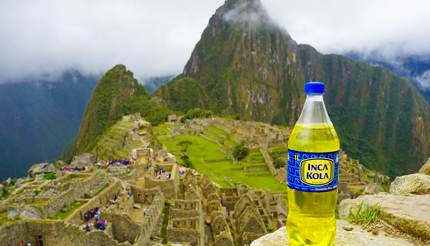 Before you go, check out: