A vibrant city brimming with life, art, culture and an exciting culinary scene, Berlin is a mecca for foodies the world over
This vibrant city is brimming with life, art, culture and an exciting culinary scene. Not only will you find great eats, from classic German favourites to Turkish, Arabic, Vietnamese and Italian food, Berlin is also home to a myriad of vegan-friendly restaurants serving creative and delicious meals. Lovers of fine dining are spoilt for choice, with Berlin boasting the most Michelin starred restaurants in Germany.
Currywurst
The currywurst is simply pork sausage, deep fried, cut into slices and topped with tomato sauce, Worcester sauce and a sprinkling of curry powder. This local classic is often served with French fries (Pommes) or bread rolls (Brötchen). Experience this explosive medley of flavours and see why it is Berlin's most iconic street food.
Where to try: Currywurst stands are all over the city but you can try it at the iconic Konnopke's Imbiss (Prenzlauer Berg), Berlin's first and most famous currywurst stand. If you like a spicy version, head to Curry & Chili (Wedding). Curry 36 (three locations including one in Europaplatz) is also highly popular.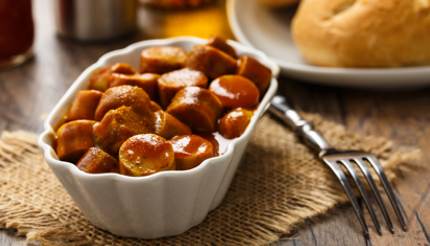 Döner Kebap
This tantalising combo of well-marinated grilled meat (chicken, lamb or beef), vegetables and sauce stuffed inside fluffy Turkish bread is said to have been created in Berlin by a Turkish immigrant. It makes a delicious and quick meal.
Where to try: There is pretty much a Döner stand on every street in Berlin. Some favourite places are Adana Grillhaus (ManteuffelStraße), IMREN GRILL (Karl-Marx-Straße) or MUSTAFA'S (Kreuzberg).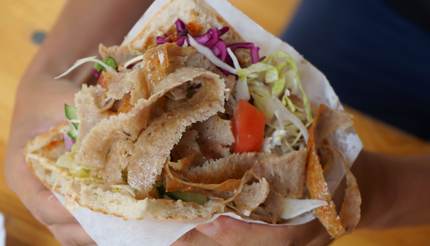 Schnitzel
Before you start ordering, know that 'Schnitzel Wiener art' is pork and 'Wiener Schnitzel' is veal escalope that's been hammered to a thickness of about 4mm, turned in flour, eggs and breadcrumbs and then deep fried till golden and crispy. Even though it originated in Austria, the schnitzel is just as popular in Germany.
Where to try: You can try the highly rated Wiener Schnitzel at Resturant Schneeweiß (Simplonstraße 16). If you're shopping at KaDeWe mall, drop by the food court located on the sixth floor for their excellent version of Wiener schnitzel.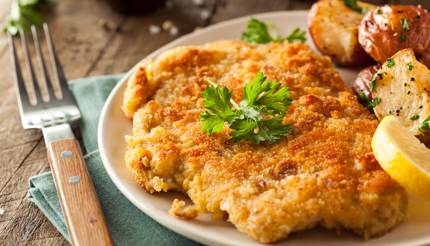 Konigsberger Klopse (Meatballs)
The humble dish of Königsberger Klopse is a Prussian speciality and though it might not look particularly appetizing, is a surprising, delicious delight. The secret to a great Königsberger Klopse is in the sauce, which is a creamy mixture of capers and lemon. Typically served with boiled or mashed potatoes, a perfectly executed dish can leave a lasting impression.
Where to try: Zur Letzten Instanz (Waisenstraße 14-16), the oldest restaurant in Berlin makes a great rendition of this dish.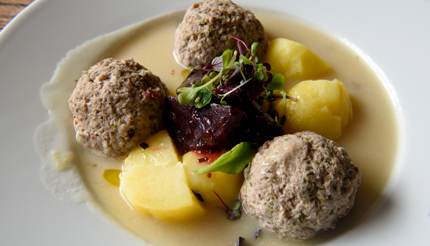 Eisbein (Pork Knuckle)
Pork knuckles, especially baked till crispy, feature heavily in German cuisine. However, in Berlin, the knuckle is boiled or steamed for several hours, usually in sauerkraut, until the meat is so tender it falls off the bone. Eisbein is generally served with potatoes and Berliners also eat it with pea puree.
Where to try: Try out this authentic delicacy at Zur Haxe (Erich-Weinert-Straße 128) which is renowned for their succulent rendition of this Berlin classic.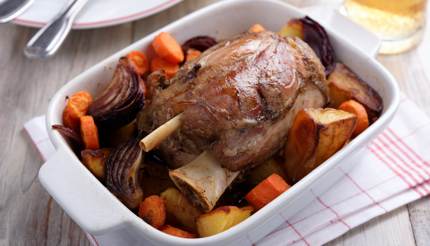 Berliner Pfannkuchen (Doughnut)
Berliner Pfannkuchen is a traditional German pastry similar to a doughnut filled with marmalade or jam and dusted with icing sugar. These days, they are filled with chocolate sauce, custard, coconut, pistachio and so forth, but can even feature experimental savoury fillings like bacon.
Where to try: Bäckerei Siebert (Schönfließer Str. 12) is one of the oldest bakeries that make these popular sweets. If you prefer non-traditional ones, head to Brammibals (Maybachufer 8) for their creative and vegan-friendly doughnuts.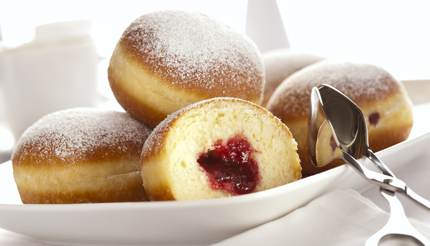 Senfeier (mustard eggs)
A classic household favourite, Senfeier are hard-boiled eggs served with warm potatoes and covered in a creamy mustard sauce. While they may look simple, they're a robust and flavoursome side dish that truly packs a punch.
Where to try: Senfeier is popular everywhere, particularly in lunch canteens, however for a dining experience that encapsulates this dish, Schoneberger Weltlaterne (Motzstr. 61) is an excellent venue.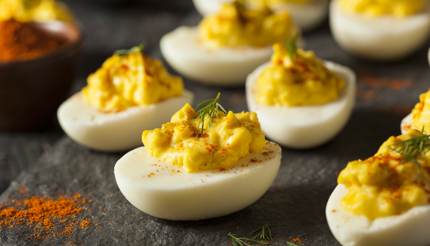 Vegan Food
The vegan food scene in Berlin is incredibly vibrant and offers a bounty of excellent places to eat. With vegan iterations of currywurst, shish kebab, schnitzel, burgers, Vietnamese Pho, croquettes and more, Berlin is a mecca for vegan cuisine and sees non-vegans regularly enjoy its offerings.
Where to try: If you're looking for a good and economical meal, try Momos (Chaussee Str. 2), Pêle-Mêle (Innstr. 26, Geygerstrasse), Backbord Vegan (Reichenbergerstr. 57) or Tutti Island (Zossener Str. 17). Other restaurants to try include 1990 Vegan Living (Krossener Str. 19) or La Stella Nera (Leykestraße 18) for pizza.
Künefe
This irresistible Turkish dessert is a huge favourite in Berlin. The Künefe is a Levantine cheese pastry soaked in sweet, sugar-based syrup and topped with pistachio bits. Be sure to eat those prepared fresh on the spot to fully enjoy the wonderful flavours.
Where to try: The best Künefe in town is available at Hasir (Adalbertstraße 12, Kreuzberg) or IMREN GRILL (Karl-Marx-Straße).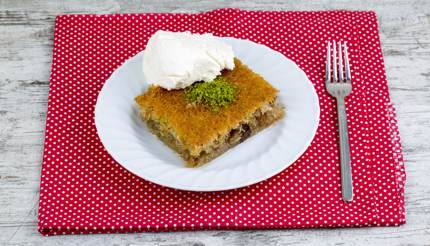 Apfelstrudel
Even though this dessert originated in Austria, it is immensely popular in Berlin. The crust, made from thin layers of flaky pastry, is stuffed with tart apples and cooked with sugar, raisins, and cinnamon. Served with a scoop of vanilla ice cream, it makes a sweet and satisfying snack.
Where to try: Café Haus Koch (Alexander Platz 7) and Cafe Einstein Stammhaus (Kurfürstenstraße 58) are popular places to try.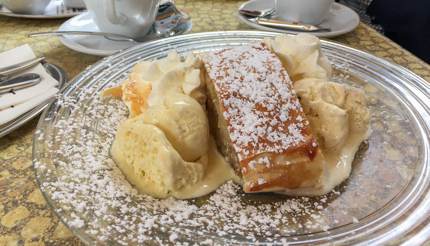 Berliner Weiße
This traditional drink combines a sour, cloudy wheat beer with a schuss (shot) of red raspberry or green waldmeister syrup, and is the ideal Berlin summer drink. The city is also popular for concoctions including Fassbrause (Soda made from fruit, spices and malt extract), Gespritztes (half beer, half Fassbrause) or Radler (half beer, half orange or lemon/lime soda).
Where to try: If novelty is what you're after, go to Strandbar Mitte (Monbijoustraße 3B), Berlin's first 'beach bar' with real palm trees. It is the perfect place to hang out in summer!
Before you go, check out: