In a city jam-packed with over 20 million people and almost as many food stalls, how do you even begin selecting from the mind-boggling array of food?
We have done the legwork for you and pinned down some of the tastiest that food the incredible city of Mumbai has to offer.
Street food:
Pav Bhaji
The idea of a spicy, thick vegetable curry served with soft bread rolls may not sound exciting, but there's a reason why Pav Bhaji is so popular in Mumbai. The curry is a delicious combination of all sorts of vegetables cooked in a special blend of spices until thick and aromatic. Typically eaten with butter-fried, pillow-soft bread, this will dance on your tastebuds and delight your senses.
Where to try: It is sold at Sukh Sagar at Chowpatty and Cannon Pav Bhaji opposite CST station. You can buy this at numerous street stalls across the city too.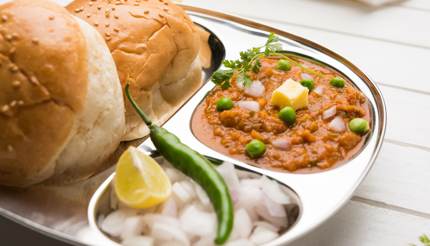 Vada Pav
An icon in Mumbai, this dense, tasty burger is loved by tourists and locals alike. Sandwiched between two buns sits a deep-fried, spiced potato patty that's dressed in layers of spicy garlic and sweet, green chutneys that add depth and tang. A dish you could eat daily, this is a staple of Mumbai cuisine that will have you coming back for more.
Where to try: While it can be found on any street corner, Aaram Vada Pav at Capital Cinema, opposite CST station is famous for its large vada and soft pav served with onions and red garlic chutney.
Misal Pav
By now, you will have realized that Pav is the local term for bread. Misal Pav is a fiery stew made of potatoes, freshly ground spice paste and sprouted beans, served with toppings of fresh coriander, chopped onions and lemon juice. Eaten with soft bread rolls toasted with butter, Misal is another irresistible snack you can't miss.
Where to try: Vinay Health Home along Charni Road and on street stalls across Mumbai.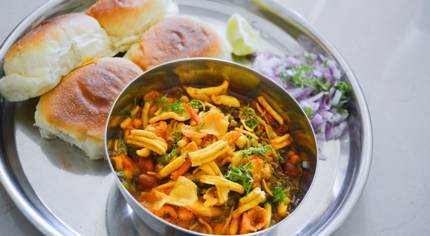 Chaat
Feeling peckish? Try some chaat – a combination of crisp, crunch, spice and tang snacks that consists of fried dough, potatoes, vegetables, lentils and spices. The variations are endless – some of the most satisfying iterations include Bhelpuri, Dahi puri, Pani puri and Sev puri.
Where to try: While they are available in many street stalls, you can also find a wide selection at Bandra Karachi sweet house (Shop No. 13, Home Land Apartments, Lane Opp Bandra Medical Stores), Elcho's (Bandra West), or Punjab sweet house (Shop no. 3 & 7, Dheeraj Arcade).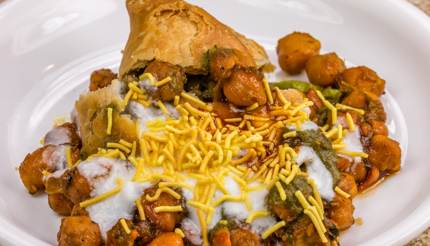 The Bombay Grilled Sandwich
The locals have put a unique twist on the grilled sandwich and made it into the iconic Bombay Sandwich. Piled between two slices of toasted bread are layers of vegetables like potatoes, cucumber, tomatoes, peppers, onion, beets and cheese. Served with a green coriander-mint-spice chutney sauce and tomato sauce, it's easy to see why this mouthwatering mixture is a hit with the locals.
Where to try: The ubiquitous sandwich is available at stalls across the city. Try Jay Sandwich in Bandra West (known for their cheese masala toast) or Raju Sandwich at Churchgate.
Must try cuisines:
Coastal food
The coastal city of Mumbai is well known for its seafood dishes, featuring catch of the day plucked fresh from the ocean each morning. Besides enjoying fish and squid cooked in a plethora of ways, you should try the garlic butter crab that Mumbai is renowned for.
Where to try: Trishna (New Link Rd, Azad Nagar, Andheri West) and Mahesh (Juhu Tara Rd, Juhu) are famous for their seafood dishes and nice ambience. Pradeep Gomantak in Fort is a smaller restaurant that serves good coastal food at reasonable prices.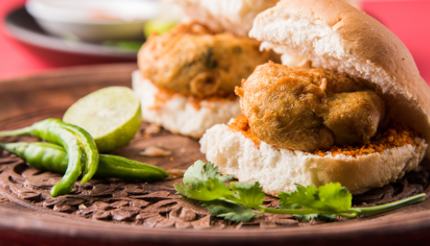 Baida roti and Bori Muslim food
Carnivores will enjoy the meat heavy dishes that come from the Bori Muslim community. One local favourite is the baida roti, which is flatbread filled with cooked aromatic minced meat, then coated in egg and deep fried until golden brown.
Where to try: Available across stalls in a particularly congested area of Mumbai called Mohammed Ali Road or Bhendi Bazaar.
Gujarati food
Gujarat is a large community in Mumbai and their cuisine features the creative use of local vegetables and mild spices to create palate-pleasing dishes of high nutritional value. A distinctive feature is the blend of flavours in Gujarati Kadhi, Dhokla and Fafda, where sweet notes dominate most dishes.
Where to try: The most famous Gujarat restaurant is Swati Snacks with outlets in Churchgate and another near Bhatia Hospital. Do try the panki (a savoury pancake with sauce and chilli on the side) and the Fada Ni Khichdi, made from cracked wheat, vegetables and spices.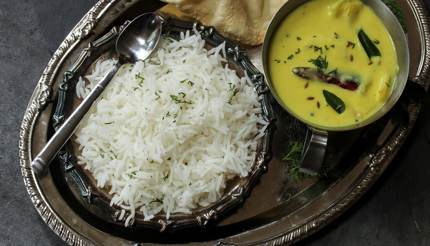 Kerala Thali
Kerala is a state in India with its own unique cuisine. A thali is an inexpensive and satisfying smorgasbord of dishes served on a large platter, which features a mound of rice and bread surrounded by an assortment of curries, gravies, sauces, pickles, curd and desserts.
Where to try: Hotel Deluxe in Fort serves an awesome version of Kerala Thali presented on an enormous palm leaf.
Desserts and drinks:
Falooda
Falooda is a drink and dessert mixed into one. This refreshing dessert is made from mixing rose syrup, vermicelli, basil seeds and milk. It is often served with ice cream, which makes it even more decadent.
Where to try: Badshah's at Crawford Market is as well as Haji Ali Juice Center in Haji Ali are popular places for falooda.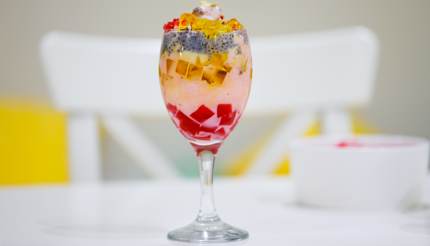 Before you go, check out: