Singapore is one of the world's best destinations for keen foodies. Its diverse culture and ethnicity have shaped this vibrant city into a food paradise
Here, eating is an obsession and people are willing to queue in line for the best food, sometimes for hours. From wallet-friendly local delicacies to Michelin-starred cuisine, it is impossible to sample everything the city has to offer, so let us help by shortlisting some of the best eats you should not miss.
Laksa
This spicy, coconut milk based noodle soup is such a popular breakfast and lunch staple that it's available at almost every food court in the city. The rich and aromatic taste of laksa makes it very palatable, even to tourists. Slurping up the slippery rice noodles makes it loads of fun to eat too.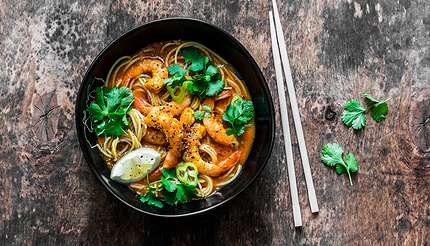 Where to try: Everyone in Singapore has a favourite or thinks they know the best laksa, the fact is there are just too many good options to choose from.  One of the most popular stalls known for the rich and delicious soup is 328 Katong Laksa (Joo Chiat).
Hainanese chicken rice
Another national dish in Singapore is the ubiquitous chicken rice. What's special about the Hainanese chicken rice? The chicken is expertly poached to ensure that the meat is cooked perfectly and remains tender and succulent. Served with fragrant rice and a spicy chilli sauce on the side, it makes for a delicious and satisfying meal.
Where to try: This dish is judged not only on how well the chicken and rice are cooked, even the chilli is subject to scrutiny. Because of this, it's hard to please the locals, particularly when it comes to picking the best one. A safe bet is Tian Tian Chicken Rice, famous for their perfectly poached chicken and aromatic rice. If you are still hungry after polishing off a plate, try a roast chicken, which offers another insight into Singapore's sublime culinary scene.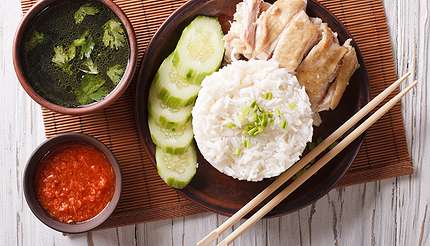 Nasi Lemak
What started out as a simple, traditional Malay coconut-rice dish is now a decadent meal served with fried chicken or fish, fried egg, ikan billis (deep fried anchovies) and peanuts, topped with a generous serving of sambal chilli sauce and sliced cucumbers. Most stalls also offer a wide selection of delicious add-ons, such as tiger prawns, and it is easy to end up piling your plate with too much food.
Where to try: There is a perpetual line of people waiting patiently for their nasi lemak at Selera Rasa Nasi Lemak in Adam Foodcourt. If you like variety, then Ponggol Nasi Lemak and Chong Pang Nasi Lemak have a wider selection of meats and vegetables to pick from.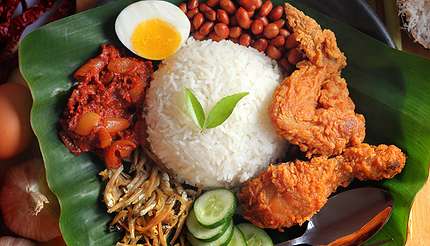 Satay
Eating satay in Singapore is an experience in itself. While the delicious taste of glistening grilled meats on bamboo skewers dipped in a mildly spicy peanut sauce is one thing, the smell and sounds of the meat sizzling over the charcoal fire near are unforgettable. Despite satay originating in Indonesia, in Singapore, you'll find Malay, Chinese and Indian variations, all with their own unique recipes. Typical meats include beef, mutton and chicken. Pork is available at the Chinese stalls. The sweet and savoury satay is usually served with a bowl of peanut sauce, ketupat (rice cake), raw cucumber and onions.
Where to try: A good place to start is the Satay Street next to Lau Pa Sat Food Centre. Conveniently located in the CBD district, this cluster of satay operators serves freshly grilled satay every night. This food centre also sells a diverse variety of food to suit any palate and budget.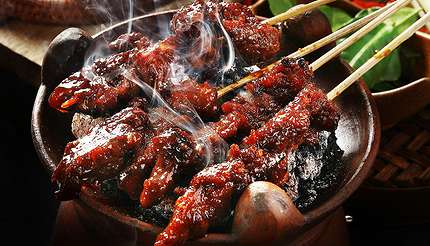 Chilli Crab
There are countless ways to cook crab in Singapore but chilli crab is definitely the most popular. With so many renditions of the sauce, you could spend all day discussing whose is better. Some like it sweeter, some spicier, but the general consensus is, the saucier the better. Once you've cracked open the shell of the large mud crab, dig in and savour the sweet succulent flesh. Ask for 'man tou' (fried buns) to eat with the rich savoury sauce. It will be a messy affair; so don't come dressed in your Sunday best. Some restaurants will provide disposable gloves and a bib.
Where to try: Every seafood restaurant across Singapore serves chilli crab. Some venues, like Jumbo Seafood and Long Beach Seafood, have made ordering easier by providing picture menus showing their signature dishes.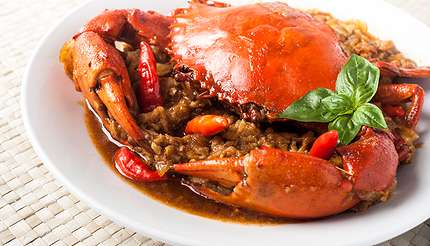 Curry fish head
This is a dish for the adventurous eater. Imagine staring at a huge fish head in a large clay pot of red-hot curry sauce, surrounded by eggplant and lady's fingers! The best thing to do is to just dig in. The tender flesh of the fish, drizzled with the aromatic curry, is otherworldly, especially eaten with steamed rice. The truly adventurous can make an attempt to eat the collagen-rich eyes and lips of the fish.
Where to try: Try the Indian style Curry fish head at Muthu's Curry or the aromatic coconut-milk curry at Hooked on Heads. It's easy to find this dish everywhere, so you needn't travel too far to experience this local delicacy.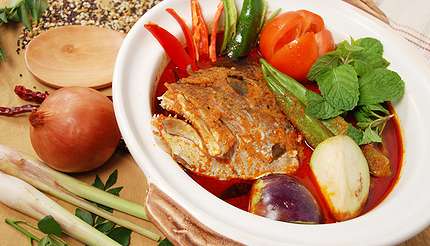 Bak Kut Teh
Even though the name 'teh' refers to tea, you won't find any in this dish. Instead, expect a bowl of tender pork ribs swimming in a rich, peppery broth with a distinct resemblance to tea. While the spicy version is a hot favourite among Singaporean locals, some swear by the Klang Bak Kut Teh, a variant originating from Malaysia that uses herbs and stronger spices.
Where to try: If a bowl of hot, peppery broth is your idea of comfort food, you'll like the one at Founders Bak Kut Teh who have perfected their 40-year old recipe. Lovers of herbal soup can head to Soon Yee Klang Bak Kut Teh for their fix.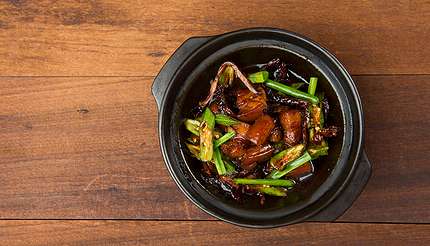 Kaya Toast
Kaya toast, soft-boiled eggs and a cup of hot coffee – that's a typical old-fashioned breakfast in Singapore. Only the locals can truly appreciate the pure joy of kaya, a soft custard jam made from coconut milk, eggs and sugar. Spread it on freshly toasted bread; add a few slabs of cold salted butter and your day is off to a flying start. The best way to enjoy kaya toast is to have it with a cup of rich, aromatic local coffee.
Where to try: Almost every coffee stall in Singapore sells kaya toast, the two are just that synonymous. There are speciality stores like Ya Kun Kaya Toast and Killiney Kopitiam, however, that have made a successful business out of selling kaya toast.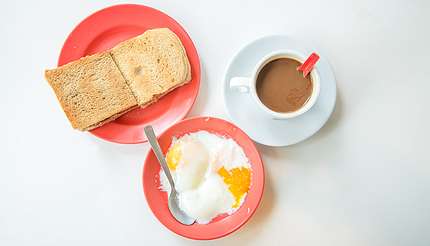 Shaved Ice Desserts
The tropical heat in Singapore will have you craving ice-cold treats all day long. The good news is, ice dessert shops can be found in every food court and hawker centre. The desserts are as creative as they can get. Try the colourful ice kachang (shaved ice with jelly, red bean and syrup) or chendol, a coconut milk shaved ice dessert.
Where to try: There is at least one dessert stall in every food centre. Even the food courts in Changi Airport sell them.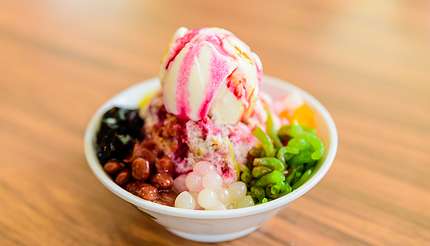 Singapore Sling
Is there a cocktail more iconic than the Singapore Sling? This gin-based cocktail was developed sometime before 1915 by Ngiam Tong Boon, a Hainanese bartender working at the Long Bar in Raffles Hotel, Singapore. A must try for every visitor, the Singapore Sling is a refreshing gin-based concoction containing pineapple juice, lime juice, Curacao and Benedictine, with grenadine and cherry liqueur giving it a stunning, rosy colour.
Where to try: The historic Long Bar at Raffles Hotel is the Home of the Singapore Sling. The best way to enjoy this refreshing cocktail is to help yourself to the boxes of groundnuts on the table and drop the peanut shells on the floor. It is the only place in Singapore where littering is encouraged. After your cocktail, ask for the iconic Tiger Beer, born and brewed in Singapore.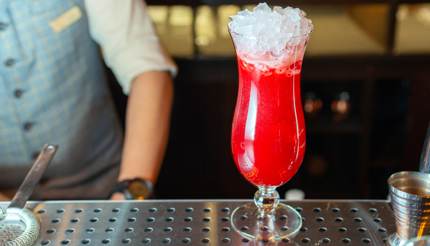 Before you go, check out: