With over 12,500 restaurants serving cuisines from all over the world, Sao Paulo is today one of the most exciting gastronomic capitals in the world
Even with the rise of fine-dining establishments, the city is still serving up traditional food and snacks like coxinha and feijoada in most cafes, bars and markets. Be sure to try them all when you're in Sao Paulo.
Coxinha
You cannot come to São Paulo, and not eat Coxinha (pronounced co-sheen-ya), for it is in this city where the delicious Brazilian delicacy initially became popular. This dough-based snack is filled with shredded chicken, then breaded and shaped to resemble a drumstick, before being deep fried into a crispy and golden treat.
Where to try:
Sold everywhere; you can find coxinha in any diner, snack bar or bakery, and boast various stuffings for meat lovers and vegans. Many claim that the charming Veloso Bar in Vila Mariana serves the best Coxinha. FrangÓ, in the northern neighbourhood of Freguesia do Ó, is also famed for their iteration of the dish.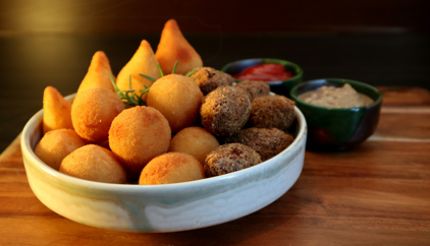 Churrascarias
The churrascarias in Sao Paulo offer bountiful selections of meats of every cut, type and quantity to satisfy even the most voracious of carnivores, and there are endless choices throughout the city to suit every budget and appetite.
Where to try:
Vento Haragana is a favourite amongst locals and tourists with a reputation for their quality meats, impressive salad bar and good service.
Mortadella sandwich
Imagine a sandwich piled up high with nearly half a pound of mortadella sausage, Provolone cheese, sourdough bread, mayonnaise and Dijon mustard. It's quite literally a feast for the meat lover!
Where to try:
Bar do Mané in the Mercado Municipal Market serves Mortadella sandwich of epic dimensions. In between bites, do remember to take in the sounds and colours of the bustling market, and the stained-glass arches and ornate columns of the historical building.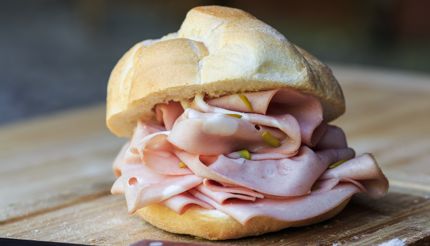 Cod Fish 'pastel' (bacalhau)
Made using mashed potatoes, salted codfish, eggs, parsley and onion, these deep-fried fritters make a delicious treat that even the fussiest eater will love. It goes without saying that these piping hot, savoury bites are perfect with an ice cold beer.
Where to try:
Tasca do Porto, a Portuguese restaurant in the middle of Santos is known to serve excellent bacalhau along with other tasty Portuguese food.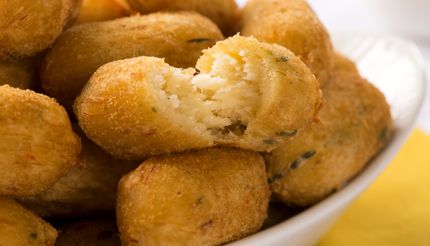 Brazilian Feijoada
(pronounced fay-ZWAH-da) Brazil's most beloved dish, the delicious feijoada is a hearty, comforting stew packed with the beautiful flavours of salty, smoky pork and beef alongside black beans. Best eaten with rice, the traditional post-feijoada activity is to take a long nap. That explains why this dish is mostly eaten during the weekends.
Where to try:
Bolinha, located in the upmarket Jardins district, has been serving Feijoada since the 1950s. The kitchen adds 10 different cuts of pork to the dish, including ribs, ears, trotter, sausage, tongue and belly, which is cooked slowly over a wood-burning stove.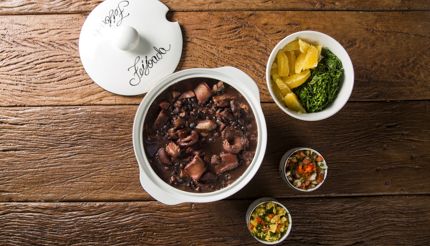 Pão de queijo
No bread lover should miss this while in Sao Paulo. These traditional cheese bread rolls are made using tapioca flour instead of wheat flour, giving them a soft chewy centre.
Where to try:
The best place to sample these delicate cheesy treats is a small, simple bar by the name of Pão de Queijo Haddock Lobo, located in upscale Sao Paulo – known for its delicious bread and Brazilian sweets, like the lime pie.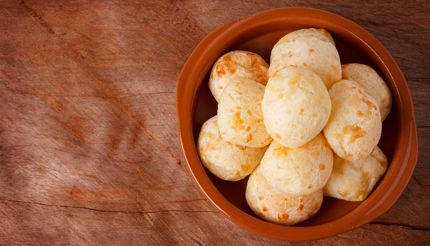 Cassava chips
A ubiquitous snack in Brazil, Cassava chips are made from tapioca, thinly sliced and then deep fried into a crisp and lighted salted chip. This delicate, crunchy chip has a slightly nutty flavour and can turn out to be very addictive.
Where to try:
The cassava chip is commonly served as a side dish in restaurants. These are readily available as a prepackaged snack in most supermarkets.
Torresmos
The Brazilian equivalent of a pork rind, this snack is crunchy, salty and very tasty. If you can cast aside the fact you're eating deep fried pork and fat, you'll find yourself loving it – try with a squeeze of lemon.
Where to try:
Most restaurants serve this common snack but if you are a big pork lover and want to go the whole hog and try out all the amazing pork dishes, then A Casa do Porco is the perfect place for you.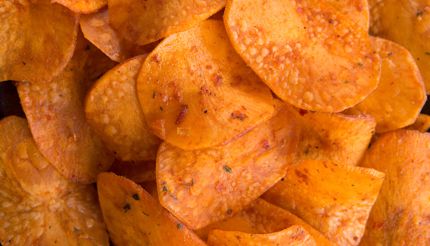 Brigadieros da Escocia
These are bite-sized chocolate sweets traditionally made of sweet condensed milk, chocolate powder, eggs and butter. Hand rolled into balls, they're typically covered in chocolate sprinkles. This simple carnival treat has now been elevated into a gourmet sweet and can be found with the addition of nuts and other ingredients.
Where to try:
Madame Brigadeiro at Rua Bartira does an assortment of different variations, while Benedito Brigadeiro at Jardim Paulista handcrafts these sweets with homemade care.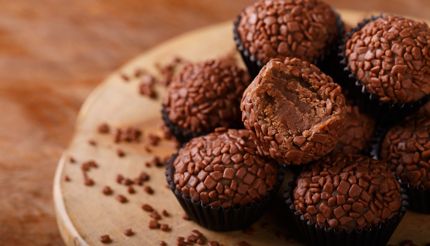 Cocada
Cocada is a coconut lover's dream come true. Strips of toasted coconut are cooked down in sugar until they fuse together into a sticky sweet. Simply divine!
Where to try:
Mercado Municipal Market has stalls selling them.
Cachaça
Cachaça is the spirit of Brazil, made from fermented sugarcane juice, and the key ingredient in a Caipirinha. Cachaça is a complex drink with different flavours and many individual ways of making it. As a result, there are more than 5,000 brands of cachaça in Brazil but the first one was Ypióca, launched between the end of the 19th and beginning of the 20th century.
Where to try:
You can find this drink in almost every bar in Sao Paulo.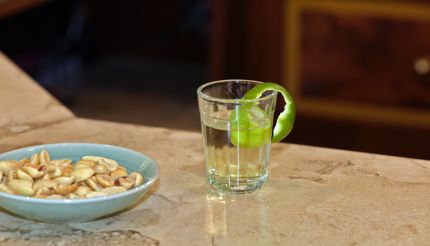 Caipirinha
Brazil's most famous drink, Caipirinha, is a light and refreshing cocktail prepared using cachaça, lime juice and sugar. For the non-traditionalist, most bars also offer concoctions using different fruits, flavours and styles of presentation.
Where to try:
Veloso Bar is an award-winning venue that serves one of the best caipirinhas in town. They also have great finger foods if you want to make an evening of it.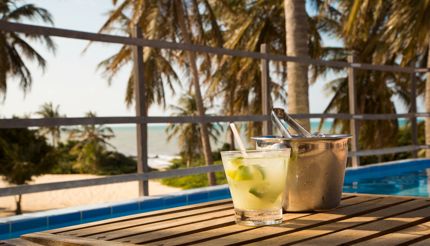 Before you go, check out: