Barcelona is home to a bounty of local, must-eat foods. Join us as we dive head first into the colours, aromas and flavours of the Mediterranean
Welcome to Barcelona! Check out these ten food and drinks you simply must try in this vibrant Catalonian city.
Paella
One of Spain's famous culinary exports, paella has become a global phenomenon that's synonymous with bold flavour and dazzling colour. This rice dish is cooked in a large pan with meats, seafood and vegetables along with paprika and saffron, the aromatic spices that give it its unmistakable colour. If you're a real foodie, be sure to go for the soccarat, or toasted rice at the bottom of the pan – this is where the most flavour is and is considered a delicacy.
Where to try:
Take in the city's old world charm at 7 Portes (Passeig Isabel II 14), a historical eatery where Picasso was a regular. Opened in 1836 and named for the restaurant's seven entrance doors, it is arguably home to some of the best, traditional paella in Barcelona.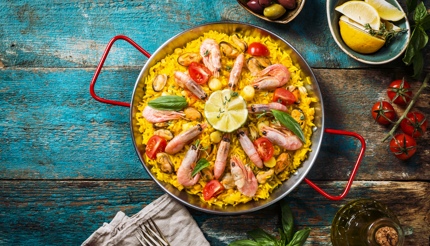 La Bomba
The quintessential tapas dish that anyone visiting Barcelona must try, these tennis ball-sized potato croquettes are typically served with two sauces: a trickle of white garlic aioli for the bomb's fuse, and a spicy red sauce for its explosive quality. Stuffed with seasoned, ground pork, coated in bread crumbs and fried, La Bomba is a blast that will excite and enthuse the palate and leave you wanting more.
Where to try:
La Cova Fumada (Carrer del Baluard 56) is a legendary hole-in-the-wall tapas bar renowned for delicious, traditional bomba and an authentic, local dining experience.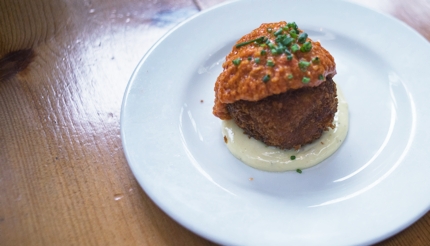 Esqueixada de Bacalao
Esqueixada is a summertime ceviche salad that oozes freshness and flavour. Made with "bacalao" (or raw salted cod), this dish is typically served with diced tomatoes, onions, and black olives.
Where to try:
Located in the picturesque, winding streets of the old Gothic Jewish quarter, La Vinateria del Call (Carrer de Salomó Ben Adret 9) blends a cosy, intimate setting with a superb selection of local tapas seafood dishes – including a fantastic, flavoursome esqueixada.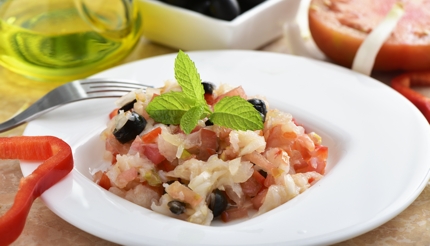 Pa amb Tomàquet
Incredibly simple and straightforward, Pa amb Tomàquet is the Spanish answer to bruschetta – fresh bread rubbed with garlic, topped with tomato juice and seasoned with olive oil, salt, and pepper. A superb accompaniment to a main meal or incredible on its own, some restaurants will simply provide you with the ingredients so you can arrange the dish as you please.
Where to try:
A genuine, neighbourhood tapas bar that offers an authentic taste of Spain, Bodega Can Ros (Carrer de Roger de Flor 303, metro Joanic) is renowned for quality homemade cooking, beautiful, fresh ingredients and an exquisitely simple pa amb tomaquet.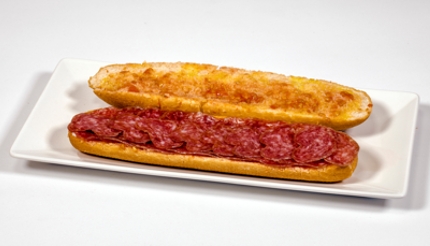 Escalivada
Escalivada is a common tapas dish made from grilling eggplant and red bell peppers over an open wood fire or hot coals. These vegetables are then peeled and served with generous lashings of quality olive oil, garlic, salt, anchovies. Primarily served as tapas, escalivada can also accompany grilled meats or seafood.
Where to try:
Escalivada is so ubiquitous that you should be able to find it everywhere and anywhere that serves tapas.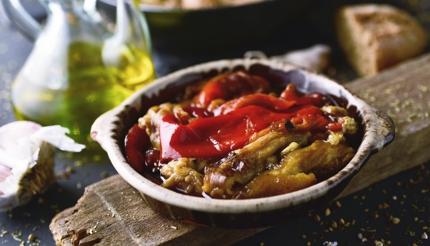 Cap i pota
Literally translating to 'head and foot', this hearty stew originated in the early post-war period and was common among those that could not afford premium cuts of meat. Made using offcut morsels of veal and pork, including pieces of tripe which give it a distinctive flavour, this dish is a slow-cooked staple of the traditional Catalan diet and one that must be sampled for a complete Barcelona experience.
Where To Try:
Where else but the eponymous Restaurant Cap i Pota (Calle Vilafant, 35 Figueres), famous for its robust and rustic version of the dish and the sublime richness of its sauce – perfect for mopping up with crusty bread.
Calçots
A type of scallion cultivated in Valls, Catalonia, the calçot holds a unique status in Catalan cuisine: with their seasonal arrival and harvest from November to April each year, communities come together to celebrate the calçot with a street party in its honour. This festival sees locals grill the sweet, leek-like onions which are then dipped in homemade romesco sauce, a traditional salsa made with hazelnuts, almonds, and red peppers, along with various cuts of meat.
Where to try:
If you can't find a calçotadas (the abovementioned street party) to celebrate the arrival of the calçot, you can enjoy this rustic ritual in the comfort of L'Antic Forn (Carrer del Pintor Fortuny 28), a fine restaurant located in the heart of the city.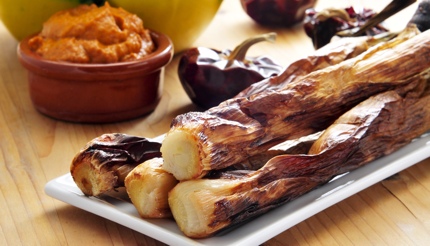 Molecular gastronomy
While Barcelona offers a diverse assortment of traditional Catalan food and drink, it is also at the forefront of the culinary discipline of Molecular Gastronomy. Here you'll find old favourites and classic ingredients rendered into surprising and delightful foams, gels and powders using scientific methods to deconstruct and recreate.
Where to try:
Tickets (Avinguda Paral·lel 164), a one Michelin-starred tapas restaurant headed by Albert Adriá, offers innovative cuisine. Do note that the restaurant requires reservations as far in advance as three months.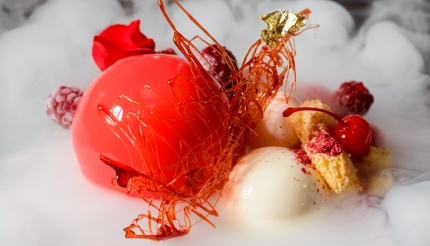 Crema Catalana
While it may bear a striking resemblance to the classic French "creme brûlée", this Catalan dessert is made with milk instead of cream, and infused with lemon zest and cinnamon instead of vanilla. Served cold, this sweet dish offers a refreshing, tantalising taste that's the perfect way to end an authentic Catalan meal.
Where to try:
Situated at the heart of the bustling La Rambla, Patisseria Escribà (La Rambla, 83) is Barcelona's most famous patisserie and has been serving this sweet delicacy for almost a century.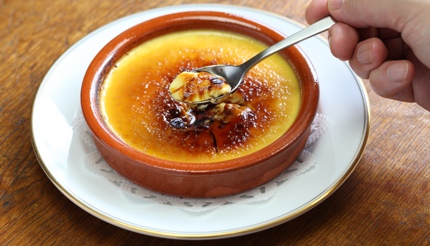 Leche de Pantera
Aka "Panther Milk", Leche de Pantera is a potent, milk-based cocktail that dates back to the 1920s. Composed of a mixture of gin, rum and condensed milk, and served over ice with a dusting of cinnamon, the powerful tavern concoction was first traced to the Spanish Foreign Legion in the 1920s, and became popular in 1975 when a bar revived the recipe.
Where to try:
A rustic and no-frills bar, Tasca el Corral (Carrer de la Mercè, 17) cheerfully serves Leche de Pantera along with other drinks, good food and a great nightlife experience.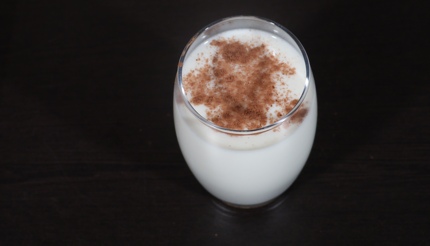 Before you go, check out: