Pierre-Emmanuel Taittinger tells Adam Lechmere about his great love for Britain and his "mission of happiness" to make a great English sparkling wine.
In these difficult political times it's bracing to talk to Pierre-Emmanuel Taittinger, a Frenchman whose outspoken affection for Britain has led him to a muddy field in Kent on a cold May morning.
In late December 2015 Champagne Taittinger announced it had bought 69 hectares of land at Chilham, near Canterbury, and now the head of the company has just broken ground on the first plantings. An initial 20ha of the Champagne grape varieties Chardonnay, Pinot Noir and Pinot Meunier are being planted; over the next two or three years this will be increased to 40ha. The first wine will be released in seven or eight years.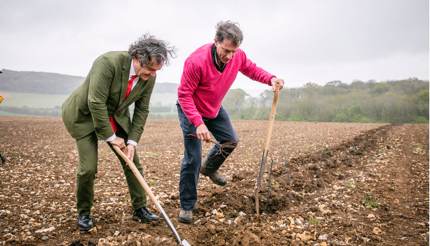 It's a significant moment. A decade ago, the idea of a grand marque Champagne house making wine in England would have seemed far-fetched at best. But English sparkling wine now has a worldwide reputation for excellence. Gusbourne, Nyetimber, Ridgeview, Chapel Down and dozens of other large and small wineries are producing outstanding wines.
Taittinger is making a significant investment – an initial outlay of "just under €6m", the president of the house says, will be doubled or tripled over the years. The land they have bought (in a joint venture with the wine distributor Hatch Mansfield) has been cleared of mature fruit trees, and a winery is planned.
This is a long-term project, Taittinger says, noting that when they started a vineyard in the Napa Valley in California, it was 25 years before they made a profit. "We're not in a hurry. This is an activity for passionate people – it's not really an activity for a businessman. I am 64 and who knows, maybe I won't be here to see the first vintage."
English sparkling wines have won every major award going; any sommelier, from Berlin to New York, wants them on their list. "It's no longer a novelty. It's now widely known that there are great sparkling wines coming out of England," Liz Willette of the US importer Grand Cru Selections says.
There are 133 wineries in the UK, producing 5m bottles of wine (60 per cent of it sparkling). They are spread all over England and Wales but the finest vineland is considered to be in the southeastern counties of Hampshire, Kent and Sussex.
Champagne houses have been sniffing out opportunities in England for years. Taittinger, and lately Vranken-Pommery, are the first to set up here.
For Pierre-Emmanuel Taittinger it's the culmination of a life-long love affair with Britain. "This is a mission of happiness," he told World Travel Guide, after energetically turning over a spadeful of damp Kent earth with his friend Patrick McGrath, the managing director of Hatch Mansfield. "It signifies that our two countries love each other deeply. Wines abolish frontiers – like writers and artists, they never speak of nationality."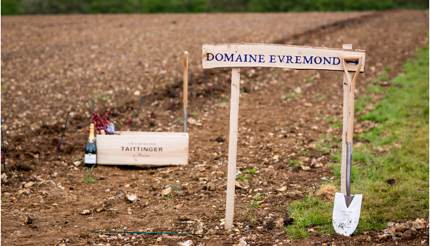 The wine will be called Domaine Évremond, after Charles de Saint-Évremond, the 17th-century bon viveur, literary critic and essayist, an exiled Champenois and Anglophile who is buried in Westminster Abbey.
Much has been made of the similarities between in the rolling chalkland of the southern counties and Champagne. Only two degrees of latitude separate the regions, and it's an often-quoted fact that the south of England lies on the same band of chalk that forms the Paris Basin, which runs up through Champagne, under the English Channel and into the North and South Downs.
But in winemaking terms there are significant differences, says Damien Le Sueur, managing director of Taittinger. "It is truly different. Champagne has a continental climate, and England is oceanic. The influence of the Channel means there is more rain and more wind." Champagne has ferociously cold winters, and big differences between night and day temperatures in summer (vital for the retention of acidity in the grapes). Southern England, by contrast, is temperate, warmer in winter and cooler in summer.
And these differences are to be celebrated. "We can produce a beautiful wine with it's own personality," Le Sueur says. "We're absolutely not competing with Champagne – we're coming here with a British approach, with our Champagne experience, but we intend to learn a lot about the land here."
Le Seuer added that while they will concentrate on sparkling wine at first, there is a "strong possibility" that they would also produce still wine. The temperate and rainy English climate is perfect for ripening acidic grapes for sparkling, but it's not ideal for producing still wines. There are some fine whites around, notably Camel Valley's Bacchus Dry from Cornwall, Chapel Down's Kit's Coty Chardonnay, and the excellent wines from the Staffordshire winery Halfpenny Green, but still wines have yet to reach international standard.
Another Champagne house, Vranken-Pommery Monopole, is also producing wine in England in a joint venture with the Hampshire winery Hattingley Valley. They have plans to plant their own vineyards in due course.