There's no need to be bewildered by Burgundy, as Gretchen Greer discovers with this handy guide to how to get the most out of the world's greatest wine region
Bewildering and bewitching in equal measure, Burgundy is the world's greatest wine region, but also among the most difficult to master. Its vineyards cover a vast expanse: almost 250 km separate the steely, mineral Chardonnays of Chablis in the north and the rich wines of the Mâconnais in the south.
Burgundy's most famous vineyards lie along the Côte d'Or: a 50km chain of limestone hills which offer the perfect exposition and meso-climate for Pinot Noir and Chardonnay to attain their apotheosis.
Medieval monks were the first to appreciate the remarkable fact that the Côte d'Or produces wines of widely varying quality and character. What the church began, the French government concluded centuries later; it produced a hierarchical classification of the Côte's vineyards, dividing them into four tiers, Grand Cru, Premier Cru, Village and simple Bourgogne. The further you ascend up the hierarchy, the more personality, depth and complexity you should demand of the wine—though of course, some perfectionist producers can transcend the classification, producing wines from modest appellations which shame their neighbours' grandest bottlings. To add to the complexity, each village has its own character—ranging from the meaty authority of Gevrey-Chambertin and Pommard to the ethereal elegance of Volnay or Chambolle-Musigny.
There's no better way to explore these nuances than to visit, and that's no hardship since Burgundy is one of France's greatest treasures. The possibilities are infinite for culture lovers: the Côte d'Or alone possesses an astounding 27 per cent of the country's historic sites, so much so that in 2016 UNESCO officially recognized the region's vineyards as a World Heritage Site. Food lovers will equally delight in Burgundy's hearty but sophisticated traditional cuisine, which emphasises top-quality meats, poultry and freshwater fish paired with rich sauces based on wine or cream.
Getting there
Beaune is a straightforward three-hour drive from Paris, so renting a car in Paris is an option; it's handy to have your own transport when you're in Burgundy, unless you're with a tour. Alternatively, take the TGV (high-speed train) to Dijon and then take a taxi to Beaune.
Where to Stay
Staying in town: Beaune
Beaune is the wine capital of Burgundy, with a rich history that stretches back before even the Romans. Its cobbled streets and picturesque gothic facades are home to the region's largest négociants—merchants who purchase wine and grapes from smaller growers to bottle under their own label. Beaune's concentration of great restaurants and location at the heart of the Côte d'Or make it the best place for wine-loving visitors to stay.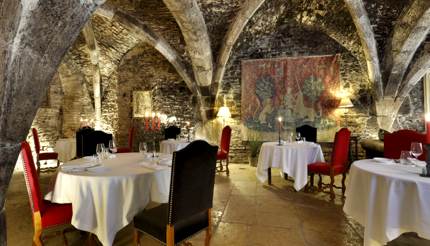 The Hotel Abbaye de Maizières, located in a twelfth century structure owned by Cistercian monks from 1301 until the Revolution in 1789, is a stone's throw away from the Hôtel Dieu in the centre of Beaune. You'll find no more romantic or historic location, with its exposed early medieval vaults and candlelit restaurant. Their tasteful rooms begin at 180 euros a night, while Beaune's abundance of Airbnb options offer accommodation at any price point: check out Cara Nemamiah, Le Petit Bonheur or Cara Seheiah, all palatial studios the price of a decent hotel room, or the chambre d'hôte Sous le Baldaquin.
Staying in the countryside
Château de la Berchère
While staying within a city is convenient, there's nothing more romantic than a night in a Renaissance château or medieval Abbey. They are often adjacent to the vineyards themselves, and you'll need a car to get to and from. The Château de la Berchère, located outside of Nuits-Saint-Georges, was a favourite haunt of the Empress Josephine; Napoleon himself may even have lodged here. It was recently purchased by Bernard and Joceline Dugat-Py of the prestigious Domaine Dugat-Py in Gevrey-Chambertin. Meticulous in their restoration efforts, they have created a hotel that feels more like an exceptionally elegant home. Towering ceilings, vast fireplaces and four-poster beds make for remarkable guestrooms, while a prime location puts you within minutes of Romanée-Conti and other famed vineyards. As an added touch, they often host antique car aficionados due to a unique asset: castle gates secure the perimeter as well now as they did in the sixteenth century.
A little further afield, the twelfth-century abbey has luxurious rooms, two restaurants, and extensive gardens complete with wandering miniature ponies.
Chambres d'hôtes
More economically, several chambres d'hôtes (which are the equivalent of Bed and Breakfast in the UK) along the Côte are more modestly priced. Consider staying at the Domaine Violot-Guillemard in Pommard, which has tastefully decorated rooms, delicious homemade breakfasts and its own swimming pool surrounded by premier cru vineyards. Further to the north, the Domaine Chantal Remy in picturesque Morey-Saint-Denis is another great option. Both families couldn't be friendlier—and both happen to produce excellent wines.
Eating and Drinking
Bistro de l'Hôtel, Beaune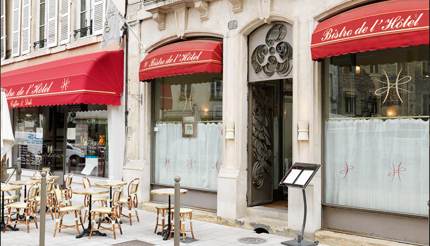 There is simply no finer place for fine dining in Beaune than the Bistro de l'Hôtel. Forget the elaborate foams of molecular cuisine; these dishes are the real deal, traditionally prepared and exquisitely executed. Order the classics: Roast Poulet de Bresse, Sole Meunière, Crêpes Suzette. The staff are friendly and unobtrusive. The atmosphere is elegant but understated, and as the night goes on the tables fill with well-heeled locals and a sophisticated international clientele. The wine list is a little short on bargains, but extensive and exceptional. Reservations are essential.
Ma Cuisine, Beaune
Simple, delicious food and a homey atmosphere are what makes Ma Cuisine a consistently pleasant place to dine, but what distinguishes it is the tomb of a wine list, by now well-picked-over but still replete with hidden gems for the initiated. Those so inclined can spend hours poring over its pages, while patrons in search of something new can always name a price point and ask the helpful staff for recommendations. Expect classic cooking, including terrific roast squab, one of the restaurant's signature dishes. Reservations are a must.
Le Bout du Monde, Beaune
The place to go in Beaune for late night drinks, Au Bout du Monde in the Rue du Faubourg Madeleine is a modern little bar with outdoor seating and a perpetually lively atmosphere after dark. Don't let the locals dancing in the front and smoking out back fool you—when it comes to the drinks menu, this is no dive bar. The wine and spirits list is extensive, admirably representing everything from up-and-coming appellations to the most cultish producers, at a reasonable tariff. The stash of old and rare yellow Chartreuse is simply begging to be sampled. The crowds and music get louder as the night goes on, and it's often difficult to find a table.
A Picnic in the Vineyards
The adventurous-minded can follow the path that runs up from the village of Meursault to the charming little Cabottes in the Le Tesson vineyard; take in the famed Montrachet; or perch on the wall outside of Romanée Conti for a memorable picnic in the vineyards.
NOTE While you're free to park on the road and walk through the vineyards (with the one exception of Romanée-Conti), and picnicking is not discouraged, it's best to keep a respectful distance from the vines themselves, especially at harvest time.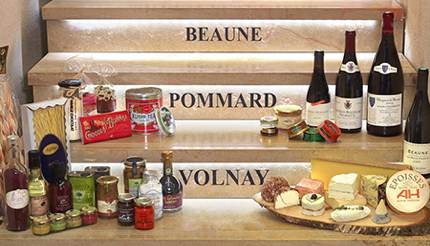 The historic ramparts of Beaune make for a safer option, handily equipped with benches. If you can time your meal to follow a visit to the extensive Beaune market on Saturday morning, all the better: fresh fruits, vegetables, cheeses and meats abound. Some stalls are better than others, so spend a moment watching which stalls the savvy-looking locals favour. Any other day of the week, stock up on wine and cheese at Fromagerie Hess. Staff will help you navigate the lengthy cheese counter, and you can hardly go wrong in picking out a wine from the carefully chosen selection down below, which includes hard-to-find producers such as Ramonet and Boisson-Vadot. While there, stock up on bottles of Jean-Baptiste Joannet's artisanal Framboise and Cassis liqueurs. Made locally by traditional methods, little bottles make excellent gifts for those back at home.
Things to Do
Wine Tasting
The Athenaeum Book and Wine Store, Beaune
If you're taking a more studious approach to Burgundy, the Athenaeum Book and Wine Store, located across from the Hôtel Dieu in Beaune, is a good place to start. Their wine book selection is unparalleled, and while most of the books are in French, you'll find more than a few English versions as well. Maps, glasses and other wine-related resources are amply available. The Athenaeum's new wine store is also well worth a visit, featuring a selection of top producers at a range of price points. The staff are exceedingly helpful, and will present tastings for individuals and groups keen to deepen or expand their knowledge of the region in their tasting room.
Tasting at the domaines
Getting an appointment at Burgundy's most prestigious small domaines gets harder every year, as demand forces more and more growers to be very choosy about who they invite. But some top addresses—including Domaine Anne Gros and Domaine Mongeard-Mugneret, both in the hallowed village of Vosne-Romanée—are still open to the public. By contrast, Beaune's best négociants—Jadot, Drouhin and Bouchard Père et Fils—are better equipped to host tastings, and the broad range of appellations they offer makes them a great starting point for exploring the Côte d'Or. There's a lot to take in so sniff, taste and listen carefully. Don't be afraid to ask questions. Reservations are strongly recommended and often essential.
The Musée des Beaux-Arts, Dijon
Dijon has been the capital of Burgundy since the days of the exuberantly wealthy and powerful Dukes. Those looking for a reprieve from wine and food should look no further than the Musée des Beaux-Arts, housed in the one-time ducal palace. Over six centuries of French and European art are represented, including paintings and sculptures associated with the medieval Dukes, Renaissance, Impressionist and Contemporary art, as well as an impressive gathering of Egyptian antiquities. While portions of the structure date back to the fourteenth century, most of the gallery rooms were completed in the seventeenth and eighteenth centuries; they are often as exquisite as the works they hold.
The Hôtel-Dieu, Beaune
The Musée de l'Hôtel Dieu Museum, located at the fifteenth-century charitable hospital and almshouse in the center of Beaune, is a convenient stop for travellers seeking a little culture to wash down their wine and food. Founded by Duke Philip the Good to remedy the ravages of the recently-concluded Hundred Years' War, the hospital was free, but hardly modest in its design. The steeply-sloping roofs, which can be glimpsed from the street but are best seen from the interior courtyard, are colourfully tiled in the elaborate geometric patterns that are so characteristic of the region's architecture. The interior features painted beam ceilings and red-curtained beds for the sick. The dispensary, with its hundreds of glass vials of herbs and other remedies, is not to be missed.