Reaching for your favourite Christmas drink during the festive season is the perfect accompaniment to food and spending time with friends and family
When the tree is up and Christmas carols play on the radio, many of us reach for the cupboard – uncorking bottles of Port, swilling Prosecco while dancing to the festive tunes, making mulled wine in the kitchen, settling down in front of the fireplace with a large glass of wine – these little things raise our festive spirits and propel us into the New Year with hope and love.
Puerto Rícan Eggnog or Coquito
Eggnog. You either love it or hate it. And those who love it probably thought they were going to hate it when they realised they were about to drink beaten egg yolks, drunk raw, with milk. But add a splash of rum, brandy or bourbon, even the haters could be converted.
If raw yolks still make you squeamish, go for Puerto Rícan Eggnog or Coquito which is made without egg. The recipe is very easy too.
1 can of coconut milk
½ cup white rum
½ cup evaporated milk
2 tbsp of sugar or sweetened condensed milk
½ tsp vanilla extract
¼ tsp cinnamon
¼ tsp nutmeg
A pinch of ground cloves
Blend all the above in a blender and chill for at least an hour. Take it out and use a spoon to mix the liquid well, before pouring into small glasses and sprinkling the top with some nutmeg.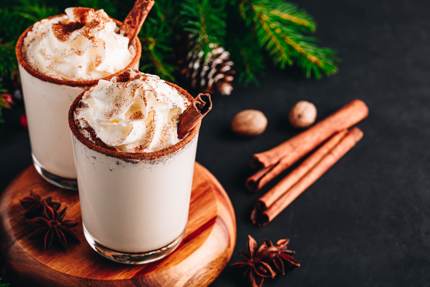 Spanish Sherry
We aren't talking about the cooking sherry here but drinking sherry. The main differences between the two are – cooking sherry is cheaper, and it is made with low-quality sherry with added preservative and salt. On the other hand, drinking cherry is an aged, fortified wine – the type that you see Spanish drinking in bars across Andalucía.
Dry sherries come in a few forms – Fino, Manzanilla, Amontillado, Oloroso and Palo Cortado – they are made with Palomino grapes but each is distinct and unique in its own right. If you are looking for a pointer, start with Fino, the driest and lightest of sherries, best served chilled and paired exceptionally well with salty snacks like slices of meat, nuts and olives.
PS: A trained sherry sommelier is called veneciador, if you are interested in seeking one out.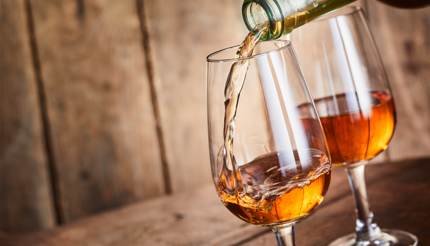 Festive Punch
December is a perfect time to place your punch bowl right in the centre of the table where it should be. Festive punch, usually a big-batch of different alcoholic beverages and fruit juices, can keep your guests in high spirits for a while. More importantly, you can focus on entertaining instead of running to the kitchen and fixing drinks. You can also be as creative as you would like to be, combining sloe gin with Prosecco, white wine with cranberry, red wine with ginger ale plus fresh juices – it really is up to you. If children are involved, you can make it non-alcoholic too.
One recipe we like is from Florida, which features key lime prominently:
1 cup sweetened cranberry juice
1 cup vodka (optional)
5 cups club soda
½ cup syrup
½ cup key lime juice
Mix the above well and serve over well, garnish with fresh cranberries and key lime slices
Jamaican Sorrel Punch
If you can get your hands on some dried hibiscus flowers, known as sorrel in Jamaica, you can definitely bring the Caribbean sunshine to your festive drinking by having a go at making a sorrel punch. Having a punch for Christmas is a tradition for many areas of the Caribbean and is thought to have roots in the regions colonial history.
Some locals insist that this lovely drink is also rich in Vitamin C and can help control high cholesterol levels and manage high blood pressure. Now that's a good reason to keep drinking.
5 cups of water
2 ounces of sorrel (dried hibiscus flowers)
3 whole cloves
2 cubes of ginger – finely chopped
¾ cup of sugar
1 ½ cups of rum
Firstly, you let sorrel, cloves and ginger steep in boiled water overnight, then you strain the liquid, add some sugar and as much rum as you fancy, then serve chilled with a slice of lime.
Italian Bombardino
For many skiers on the Italian Alps, the Bombardino or "the bomb" in English, is just the thing to warm them up after a cold day on the slopes. For those at home, you can easily recreate this après-ski treat too.
Bombardino is created using Advocaat, an egg-based alcoholic drink that is rich and creamy, but no raw eggs are involved. Here is a good recipe:
½ cup Advocaat
½ cup brandy
Whipped cream (to taste)
Cinnamon (to taste)
Warm Advoccat in a pan until hot but not boiling, then add the brandy slowly and stir well. Pour into a glass, top it with whipped cream and cinnamon to taste. You can add expresso to the mixture too.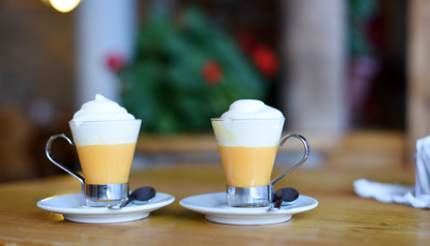 British Ginger Liqueur
British ginger liqueur is thought to have originated around the time of King Edward VII when it was created by his physician with the help of Berry Bros. and Rudd to improve the king's health. There is no doubt that the inclusion of ginger with its many purported health benefits make this beverage worth trying.
Here is a recipe if you want to create your own.
50g fresh ginger peeled and sliced
1 vanilla pod (split)
1 cup sugar
1 cup water
½ cup brandy
Zest of one orange
Add the ginger, vanilla, sugar and water to a saucepan. Bring to the boil, then simmer for 20 minutes. Pour into a large jar and add orange zest and brandy. Leave to steep for one day, then sieve into a serving bottle.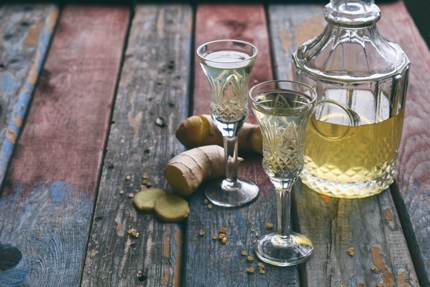 Kahlua Hot Chocolate
Hot chocolate is one of those decadent drinks that are perfect to have by a warm fire when the weather is cold outside. While the traditional hot chocolate is great for the kids, adults can create a little punch by adding the Mexican liqueur Kahlua.
Kahlua is a blend of rum, sugar, vanilla and coffee that is popular on its own but goes great with the warm and creamy flavour of chocolate.
1 cup hot chocolate
1 cup Kahlua
Pour hot chocolate over Kahlua, garnish with shaved chocolate.
Mulled wine
With the onset of winter, many of us naturally think of mulled wine.
Also known as "Glogg" in Nordic countries and "Gluhwein" in Germany, mulled wine is typically made with red wine that is mixed with spices, then sweetened and heated. There are many variations depending on where you are in the world, but this is the traditional and most popular version.
1 bottle or 750ml of red wine
2 stripes of orange zest
¼ cup of brandy
4 cloves
2 star anise
4 tbsp of sugar
1 cinnamon sticks
1 tsp ginger (either fresh or ground)
Hopefully these eight festive drinks will keep you warm and cosy over the Christmas period. You can also add your own little touches to make them a festive family favourite.
If you enjoyed this article, check out: