As Morocco's culinary capital where Arabic, Berber and Mediterranean influences combine, Fez offers you the perfect balance between sweet and savoury sensations
Often cooked with a generous myriad of spices, dishes in Fez are big on flavour. Whether you're grabbing a snack from a street vendor or enjoying fine dining at an exquisite riad, chances are you will come across dishes seasoned with exotic saffron, mace, or the celebrated Moroccan spice mixture ras el hanout. This Fez food and drink guide highlights the must-try bites and beverages in the bustling city.
Tagine
Named after the cone-shaped clay dish in which it's cooked, tagine dishes are sweet-and-spicy slow-cooked stews native to North Africa. The meat is so tender that it melts in your mouth.
Where to try: For authentic tagine, head to Restaurant Dar Tajine (71 Derb Elghorba) in Fez's ancient medina or try Riad Rcif (1 Takharbicht Laayoune Rcif).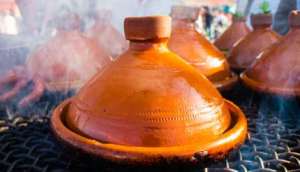 Pastilla
A must-try street food, pastilla is a Moroccan meat pie made from flaky pastry dough filled with shredded pigeon meat and decorated with roasted almond, sugar, and cinnamon. For those wary of trying pigeon, there's also a chicken option.
Where to try: Try it from one of the street vendors around the Bab Bou Jeloud (the Blue Gate), or at Restaurant Bouayad (26 Serrajine Bab Bou Jeloud).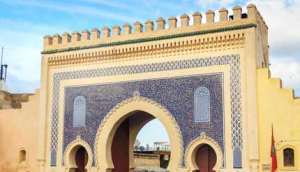 Brochettes
Head towards the billowing clouds of smoke in the market to find kebab-style spiced meat skewers simmering over charcoal. Served with sides like khobz (flat bread) and harissa (red pepper sauce), this savoury snack is sure to leave you satisfied.
Where to try: From various vendors in the medina.
Zaalouk
Similar to a ratatouille, this classic Moroccan salad is made from aubergine, tomatoes, garlic, olive oil and spices. The dish pairs perfectly with hot and crusty Berber griddle bread.
Where to try: Try it at a riad like Dar Iman (6 Derb Ben Azahoum Talaa Kabira), or head to NUR (7 Zkak Rouah) for a high-end, modern take on the dish.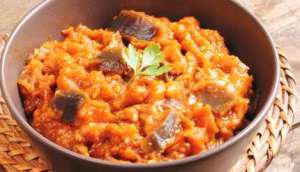 Couscous
While you can buy couscous in just about any grocery store, the light and fluffy semolina balls originated in North Africa and are one of the most popular dishes in Morocco. Couscous is traditionally served with meat or vegetable stew – perfect for soaking in the savoury flavours.
Where to try: Dar Hatim (19 Derb Ezaouia Fandak) is a family home-turned-restaurant that offers delicious couscous options on its set menu.
Snail Soup
Said to be good for digestion and reducing fever, this earthy broth usually contains around 15 different spices. You'll have to pluck the snails from their shells with a toothpick.
Where to try: Stop at a vendor in the medina to try a steaming bowl of snail soup for under £1.
Harira
This traditional Moroccan soup that's is often served to break one's fast during Ramadan. The hearty dish is made with lamb, tomatoes, lentils, eggs, and a variety of spices. It's sure to warm you from the inside out.
Where to try: For mouth-watering harira, head to The Ruined Garden (15 Derb Idrissy Sidi Ahmed Chaoui Medina)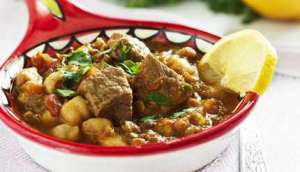 Almond Briwat
Sweet-lovers will enjoy this staple Moroccan dessert, which consists of honey-dipped fried filo pastry stuffed with almonds, sugar, and cinnamon.
Where to try: Like many must-try dishes in Fez, the best briwat can be purchased from street vendors.
Sugarcane Juice
As you wander through the markets of Fez, stop by a sugarcane juice stand for a refreshingly sweet pick-me-up. This delicious drink is believed to boost the immune system, fight infections, and strengthen the liver and kidney functions.
Where to try: Available from vendors inside the medina.
Mint Tea
Light-heartedly dubbed "berber whiskey," the country's national drink is a strong green tea prepared with fresh mint leaves and a heaping spoon of sugar. It's a central part of Moroccan culture, and if offered to you, it's considered impolite to refuse it.
Where to try: Sold throughout the city by tea merchants or in cafés, tea houses, and restaurants.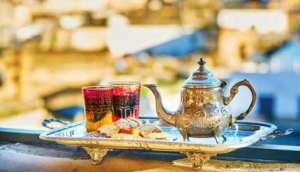 Before you go, check out: