Long acclaimed as the culinary capital of Asia, Hong Kong boasts over 1,100 restaurants with menus spanning from East to West, plus a unique twist of its own
Drawing on its history as a British colonial trading post, Hong Kong has congregated the best of Cantonese cuisine, infused with other Chinese and Western influences gathered over the decades. The result is a vibrant collection of flavours and dining experiences that you won't find anywhere else in the world. Here are the top ten things you should not miss on an epicurean trip to the Pearl of the Orient.

Roast goose
Seasoned in a marinade of soybean paste, oyster sauce, sugar, salt and spice, the goose is roasted in a charcoal oven until the skin turns crispy and the flesh, tender and juicy. The bird is then sliced and served with a sweet plum sauce that brings out the rich flavour of the meat. The dish is so beloved that it is now available as an air-travel safe gastronomic souvenir.

Where To Try:
Ki's Roasted Goose Restaurant is a 40-year stalwart in the local food scene for its roasted meat fare. Located at 79-81 Electric Road, just look for the showcase full of roast geese hanging beneath a dapper black signage near Victoria Park.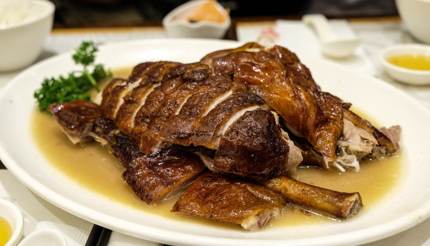 Dim Sum
Often translated as 'a touch of heart', this is a style of Chinese cuisine that consists of bite-sized portions of food served in bamboo steamer baskets and wheeled from table to table in trolleys. Often eaten for brunch with pots of Chinese tea, this is a dining experience that has been reproduced in Chinatowns worldwide, but few have successfully copied the original ambience.

Where To Try:
A bit pricier than the neighbourhood dim sum place, Maxim's Palace City Hall makes up for it with a grandiose dining room and imposing chandelier. The waitress will also cart the dim sum right up to your table, piping hot ready to eat. Choose from a list of classics like barbecue pork buns, shrimp dumplings and lotus leaf rice, and end off with sweets like custard buns and mango pudding. Look for it at City Hall Low Block, right next to the City Gallery.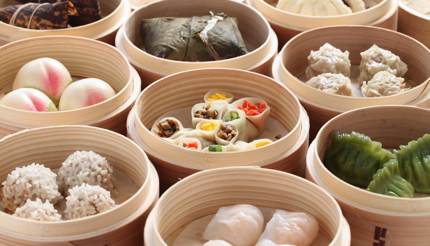 Tea Restaurant
Cha Chaan Teng, or literally 'tea restaurant' is a uniquely Hong Kong styled eatery that offers casual Canto-Western fare that originated from adaptations of western food in the local fashion. Typical menu items include Hong Kong style milk tea, French toast, omelette, sausage, instant noodles and macaroni in soup. It has become such a fixture of Hong Kong culture that legislators have called for 'cha chaan teng' be proposed as an intangible cultural heritage of humanity to UNESCO.

Where To Try:
Follow the aroma of baked goods at Wan Chai to Kam Fung Café, 41 Spring Garden Lane. The fare is simple and affordable, but delightful and comforting. Be prepared to share your table, especially around the bustling breakfast and lunch hours.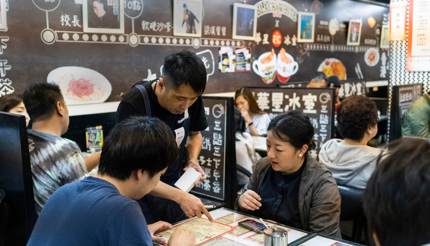 Claypot rice
Cooked over a fiery charcoal stove, this is a dinner dish of rice, diced chicken, Chinese sausage and leafy vegetables in a Chinese style claypot. The finished product is a steaming hot dish, cooked to a crunchy texture at the edges and drenched with the flavour of its ingredients.

Where To Try:
Hing Kee Restaurant is nestled among makeshift clothing stalls and rundown dining establishments along Temple Street, Yau Ma Tei Kowloon. Be sure to patronise the right restaurant as nearby rivals will try to pass themselves off as the real thing. Be ready to wait, as your claypot rice takes 15 to 30 mins to prepare. The kitchen also offers a wide range of dishes, so you can sample delicious fare like deep-fried oyster fritters before the main dish arrives.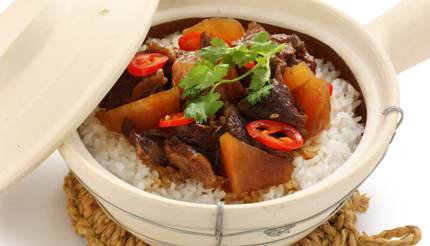 Beef Brisket
Few other culinary traditions have made this cut of beef into an institution as Hong Kong has. Beef brisket and radish is cooked in clear beef broth and served over a bed of noodles and greens.

Where To Try:
Just minutes from Tin Hau MTR station, Sister Wah Beef Brisket at 13A Electric Road ranks among the top restaurants in Hong Kong for their Beef Brisket Noodle. The meat is served in hearty chunks stewed to perfect tenderness and the radish is soaked in the rich beefy broth, all complemented by the chewy Hong Kong style egg noodle.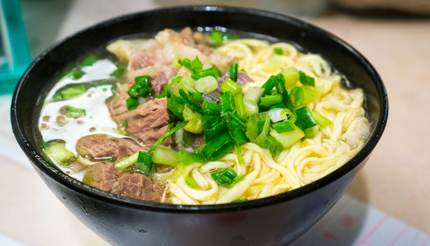 Wonton
You may recognise the humble wonton as a staple of Chinese food, but prepare to have your expectations raised when you come to Hong Kong. The ideal dumpling should have the right ratio of shrimp-to-pork fillings, wrapped in a thin egg flour skin and bathed in a broth of pork bone, dried flounder and dried shrimp. They are then accompanied with a Cantonese style thin egg noodle for the perfect note of chewiness and tenderness.

Where To Try:
You'll find community tables crowded with locals at Tsim Chai Kee Noodle Shop at 98, Wellington Street. Their wontons are firm and juicy, with bright yellow noodles and green scallion garnish swimming in a beautifully balanced soup.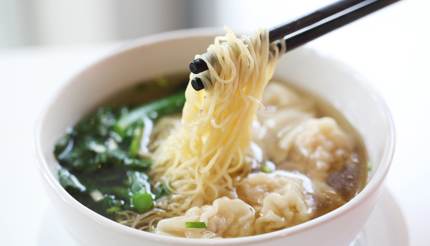 Barbecue Pork
Also known as 'Char Siu' meaning 'fork roasted', this is a Cantonese style of roasting long strips of marinaded pork over a fire or in a covered oven. Easily recognisable from the bright red colouring, char siu gets its distinct flavour from a seasoning mix of honey, five-spice powder, hoisin sauce, red fermented bean curd and dark soy sauce, and is usually served as an ingredient for noodles, steamed buns or rice.

Where To Try:
Touted as Hong Kong's most famous roasted meat eatery, Joy Hing Roasted Meat enjoys a long history since the late 1800s. You'll know the place from the long line of people outside a typical Hong Kong eatery without the frills, located at 265-267 Hennessy Road in Wan Chai. The menu is straightforward and prices affordable, with fare that has won over celebrities like Anthony Bourdain.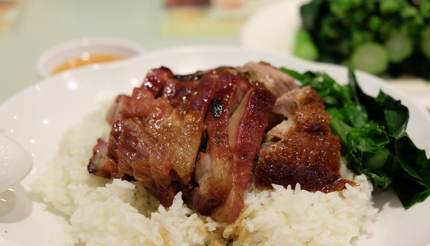 Egg Tart
The Hong Kong egg tart has its origin in Guangzhou at a time when European influenced cooking styles were in vogue. Chinese chefs took the English custard tart and filled it with an egg custard centre. When many chefs migrated from Guangzhou to Hong Kong, they added aspects of the Portuguese Pastel de nata from Macau to the recipe and the modern egg tart was born.

Where To Try:
Hoixe Cake Shop is a local bakery chain with outlets all over Hong Kong and Kowloon that makes their egg tarts fresh daily. Look out for the flowery lettered signboard (in Chinese only) and savour your warm tart with light flaky pastry and soft, smooth egg custard.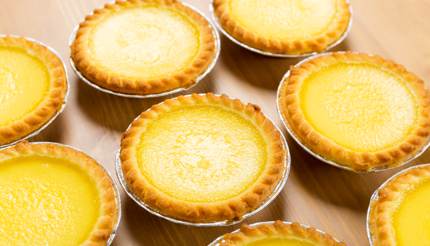 Ginger Juice Milk Curd
Ginger juice milk curd or simply ginger milk is a hot Chinese dessert that traces its origin to Guangzhou. Made from ginger juice, sugar and milk, the ingredients are mixed and heated until it curdles. A favourite treat especially during winter, it is said to warm the body and strengthen the stomach.

Where To Try:
A well-established dessert restaurant in Macau, Yee Shun Milk Company made its way to Hong Kong with four outlets and quickly won over many locals. The Causeway Bay branch at We 506 Lockhart Road offers a variety of Chinese dairy-based desserts including the classic ginger juice milk curd and double-boiled steamed milk. Yee Shun goes to great lengths to ensure that their desserts achieve the desired silky, moist texture.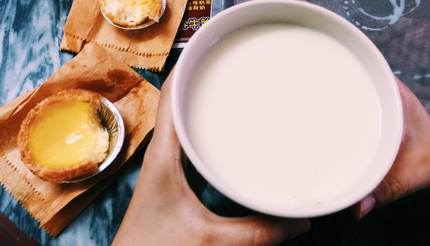 Pantyhose Milk Tea
Hong Kongers acquired their taste for milk tea from the British colonialists, but put their own spin on the simple beverage. Made from black tea and flavoured with evaporated or condensed milk, the drink got its name from the stocking-like sackcloth bag that was used to filter the tea leaves. Pantyhose milk tea is loved for its smoothness, or the creamy body that it gets from the milk used and has sprouted many variants for every palate.


Where To Try:
We traced one of the territory's best-loved pantyhose milk tea to Tai Hing Roast Restaurant at 625 Nathan Road Mongkok in Kowloon. The hole-in-a-wall establishment is a Cha Chaan Teng or tea restaurant that has updated its décor for a younger clientele. The Chilled Original Milk Tea is served in a bowl of ice so as not to dilute its creamy smoothness, a perfect companion for all the other light confections and entrees the eatery offers.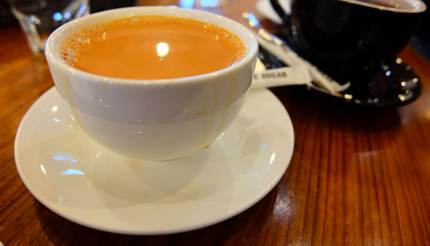 Before you go, check out: