Whether a hearty stew or a creamy risotto, almost every dish in Milan comes with a tale of its invention, making the city's cuisine extraordinary in both taste and history
As rich in flavour as it is in culture, Milan offers a unique local cuisine replete with buttery rice dishes, braised meats and specialty pastries. Situated in the Northern province of Lombardy, Milan diverges from the quintessential tomato and pasta combinations, inviting visitors to indulge in a different side of Italian cooking. Be sure to partake in the Milanese social gathering known as aperitivo – a before dinner custom when friends mingle over cocktails and munch on unlimited food spreads. Think of it as a chic European happy hour.
Risotto alla Milanese
One of the city's most renowned dishes, risotto alla Milanese is known for its saffron-infused golden hue. The rice is cooked to perfection in bone marrow broth and then mixed with diced onions and heaps of butter for a velvety texture. Don't miss out on trying this entrée in its birthplace.
Where to try: Osteria Conchetta (Via Conchetta 8) prepares a house risotto tableside, adding parmesan cheese and simmering the rice right in front of you.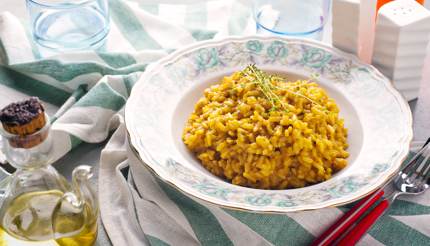 Ossobuco
Directly translated as "bone with a hole", this Milanese dish is made from braised veal browned in a mixture of onions, carrots, celery and white wine. It is served tender and usually includes a mouth-watering side of risotto or polenta.
Where to try: Step into old-world Italy at Antica Trattoria della Pesa (Viale Pasubio 10) for incredible ossobuco in one of Milan's first restaurants. Intriguingly, Ho Chi Minh, who once lived above the Trattoria, was a frequent patron.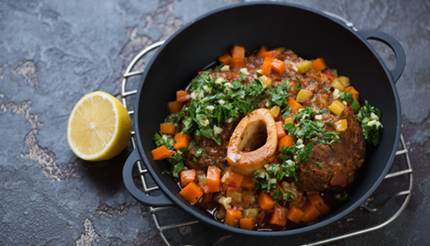 Cassoeula
A go-to dinner recipe for frigid nights in Milan, cassoeula combines pork (typically the less desired pig parts – ribs, rind, trotters) and sweet verzini sausages. The meat is then stewed with soft cabbage and served with a glass of strong red wine to accentuate the savoury taste.
Where to try: Venture to Ratanà (Via Gaetano de Castillia 28) for traditional cassoeula with a modern twist. Milanese-born chef Cesare Battisti works with local farmers and artisans to create Lombardian dishes with fresh seasonal ingredients.
Michetta
This puffy, hollowed-out treat is Milan's staple bread. Originating from the Latin word "mica", meaning crumb, michetta is light and best eaten alongside hearty meals – crumbs and all.
Where to try: For a hip foodie experience, book a table at Michetta's Panini Milan (Via Ambrogio Campiglio 13) and pick from an array of paninis stuffed with your choice of meat, cheese or vegetables.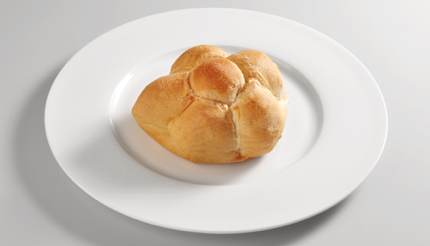 Cotoletta alla Milanese
This delectable breaded veal chop is cooked on the bone and drenched with butter. Typically from the first six cutlets, cotoletta's juicy sirloin comes thick or thin – but offers a bold flavour either way.
Where to try: Nuovo Macello (Via Lombroso 20) offers a delicious take on the traditional veal dish in their humble family-owned restaurant, which exudes retro vibes.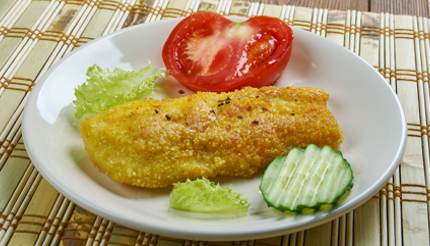 Mondeghili
This inventive dish is Milan's version of the conventional meatball. First designed by peasants to avoid wasting any leftover food, mondeghili consists of beef, sausage, salami and eggs covered in breadcrumbs and cheese – all before being fried in butter.
Where to try: Specializing in traditional Milanese cuisine, La Pobbia (Via Gallarate 92) takes pride in their succulent mondeghili, offering an intimate family-style dining experience.
Gelato
Like many Italian cities, Milan provides a surplus of gelaterias to satisfy those with a sweet tooth. Made with more milk and less eggs, gelato is much denser than ice cream and boasts a silkier texture.
Where to try: If you're patient and want to queue up for the best gelato in town, go to La Gelateria della Musica (Via Pestalozzi 4) for a generous helping. Flavours range from dark chocolate with Himalayan rose salt to Chiacchiere (Italian carnival pastry), so it's certainly worth the wait.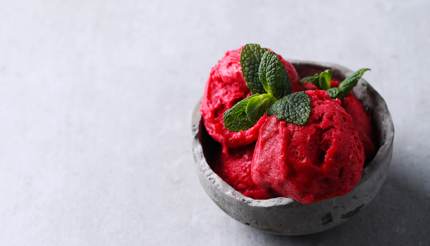 Panettone
This traditional Italian delicacy is a brioche bread baked with candied fruits, raisins and oranges. A beloved Milanese Christmas dessert, panettone symbolises the holiday season and pairs best with sweet wine or hot coffee.
Where to try: For over 200 years, Pasticceria Cova (Via Monte Napoleone 8) has handcrafted heavenly panettone, which features Santa Claus designs in December. Luckily, the shop sells this sweet treat all year, so check it out no matter when you visit Milan.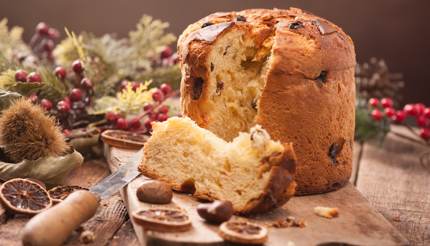 Barbajada
This Milanese drink was created in the 19 th century when local waiter Domenico Barbaja combined cream, coffee and chocolate to make a warm beverage. It usually accompanies panettone or flaky pastries in cosy café settings.
Where to try: Osteria dei Malnat (Via Caccialepori 3) puts a charming spin on the classic drink, serving their "Barbajada al Malnat" – a tart with chocolate filling, whipped cream and coffee frosting.
Negroni Sbagliato
Created by a fluke, this famous cocktail came about when a bartender in Milan accidentally blended prosecco (instead of the usual gin) with red vermouth and Campari. Today, it's simply known as the "wrong negroni" and sipped by locals and tourists alike.
Where to try: Considering Bar Basso (Via Plinio 39) is the venue of the original mishap, you should try your first Negroni Sbagliato at its rightful place. It's served in a huge wine glass garnished with a fresh orange slice.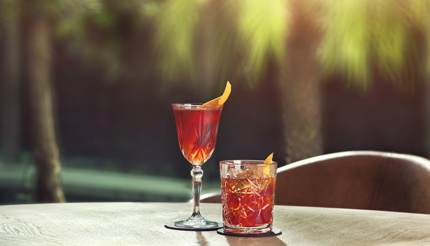 Before you go, check out: