Paris distinguishes itself from the culinary pack with its timeless recipes and divine flavours that no other place in the world can quite replicate
The reputation of French cuisine proceeds itself, making visions of delectable macarons and creamy brie dance in our heads. From exotic delicacies to traditional crowd-pleasers, there is no shortage of good eats in Paris. Nibble on a crêpe after strolling through the city's romantic streets or try garlic soaked escargot if you're feeling adventurous. In Paris, food and drink are more than simply sustenance, but a way to bring people together through the art of culinary indulgence. Bon appétit!
Baguettes
Emblematic of French cuisine, Parisian baguettes are an everyday staple. Their enticing smell wafts from endless bakeries whose dedicated artisans wake early each morning to handcraft the dough. In fact, the French are so serious about their baguettes that a 1933 'bread decree' declared that only flour, water, salt and yeast can be ingredients. Try a baguette à l'ancienne for a traditional taste of Paris under €2.
Where to try: Winner of the 2017 annual competition for Paris's tastiest baguette, Boulangerie Brun (193 Rue de Tolbiac) is sure to serve up an unforgettable slice of heaven.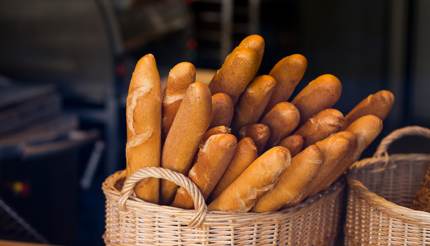 Escargot
Though the idea of gnawing on a snail might sound a bit off-putting, there's no better place to abandon your culinary comfort zone than Paris. Whether an appetizer or an entrée, escargot is typically cooked with rich parsley butter and garlic – so dig into the shell and expand your palate.
Where to try: L'Escargot Montogueil (38 Rue Montorgueil) will surely wine and dine your taste buds with their classic escargot dish that boasts truffle butter, foie gras and an edible 24-carat gold stamp.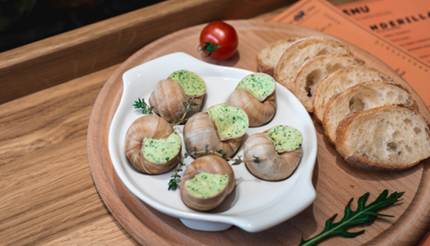 Ratatouille
More than the title of an animated Disney movie, Ratatouille originated in Nice, France but is a restaurant favourite in Paris. The vegetable dish combines eggplants, onions, peppers, tomatoes and zucchini in a garlic seasoning that's stewed to perfection.
Where to try: Stop by Le P'tit Troquet (28 Rue de l'Exposition) for authentic ratatouille in a quaint atmosphere not too far from the Eiffel Tower.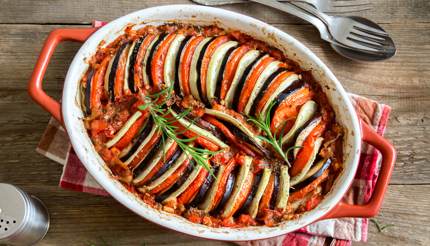 Steak Frites
This classic dish features cuts of steak and strips of fried potatoes, aka 'French fries', drenched in various speciality sauces, most likely Béarnaise. An essential meal on any Parisian menu, steak frites are cooked to your liking, paired with wine and bound to satisfy that salty craving.
Where to try: Serving just one entrée, Le Relais de l'Entrecote (20 Rue de Saint Benoit) offers the best steak frites in town. The only thing you're left to choose is your wine and dessert, which isn't as easy as it sounds.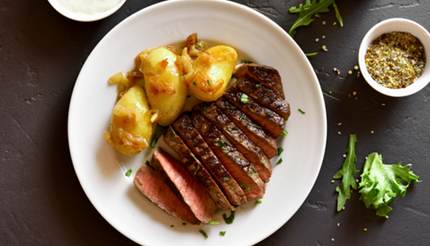 Boeuf Bourguignon
Described by Julia Child as "certainly one of the most delicious beef dishes concocted by man", boeuf bourguignon originated in the Burgundy region of France. Braised in a full-bodied red wine alongside onions, carrots and garlic, the beef is tenderized and simmered until it's mouth-wateringly perfect.
Where to try: Located in the ritzy 6th arrondissement, Josephine Chez Dumonet (117 Rue de Cherche Midi) makes an incredible boeuf bourguignon that's as juicy as it is flavourful.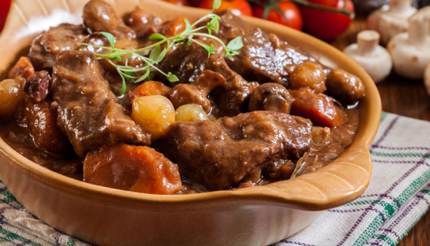 Le Foie Gras
French for "fat liver", foie gras is a French delicacy made from the liver of a fattened duck or goose. Its rich, buttery taste is prized by Parisian chefs who serve it as a full dish or fashion it into mousse and pâté. Known for its melt-in-your-mouth sensation, foie gras is not something to be overlooked.
Where to try: For a sample of Paris's tastiest foie gras, linger in the intimate ambience of Allard (41 Rue de Saint-André des Arts) for a chance to rest and eat in an ornately decorated bistro.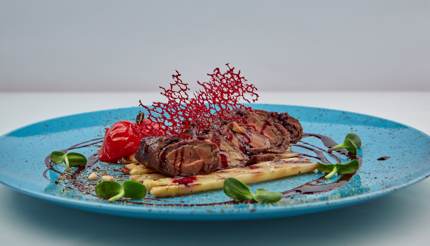 Macarons
These sweet meringue pastries are the crown jewels of French desserts, sporting flavours from the traditional chocolate and raspberry to the outlandish matcha and lavender. The wildly popular confection is filled with a smooth ganache or cream and truly is a pillowy indulgence like no other.
Where to try: For a household name, waltz into one of the six Parisian Ladurée shops (the most popular at 75 Avenue des Champs Elysées) for an aesthetically pleasing and exquisitely tasting macaron. To compare Ladurée with its unofficial rival, head to Pierre Hermé (86 Avenue des Champs-Elysées) where the head chef and shop namesake has been labelled the "Picasso of pastry".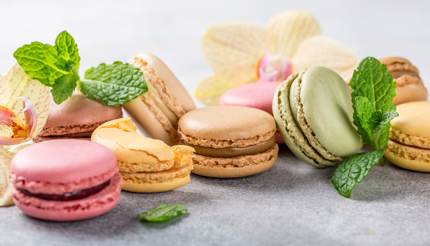 Crêpes
French for "pancakes", crêpes have become a worldwide obsession with street food and artisan adaptations galore. But Paris is the place to sample these buttery layers filled with anything from Nutella to orange whipped cream to egg and sausage. Pastry chefs are not afraid to experiment with unexpected fillings, so be sure to try even the wackiest of flavours.
Where to try: For crêpes piled with savoury ingredients like meats and cheeses, visit La Crêperie Josselin (67 Rue du Montparnasse). For a sweeter experience, head to Crêperie Framboise (7 Rue de Ponthieu) where the salted caramel crêpe is allegedly to-die-for.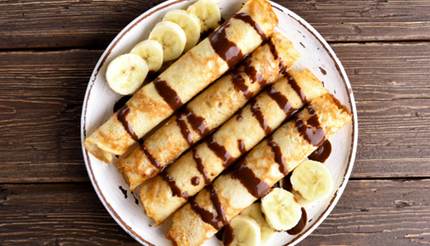 Pain au Chocolat
A rolled and puffed sweet pastry, pain au chocolat is layered like a typical croissant but boasts a dark chocolate centre. It's best served warm and paired with a cup of coffee, which makes for a modest yet delightful breakfast treat.
Where to try: There are endless places in Paris to stop for a quick pain au chocolat, whether it's a supermarket or a boulangerie. If you're seeking a gourmet experience, try the old-fashioned Du Pain et Des Idées (34 Rue Yves Toudic) for flaky pain au chocolat coveted by locals and tourists alike.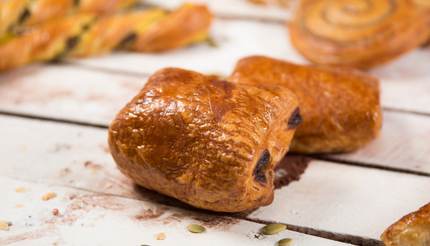 Café au Lait
Simply coffee with milk, the French created this classic drink after being introduced to the black brew by nearby Turkish peoples. Popular around the world and still enjoyed in Paris today, café au lait is equal parts coffee and scalded milk. You'll surely start off your morning on the right foot with this beverage. Where to try: If you're not in a rush, begin your day at Boulangerie Poilâne (8 Rue de Cherche Midi) for a luxurious coffee fix. In a charming environment, you can enjoy a sit-down breakfast accompanied by a huge bowl of steaming café au lait.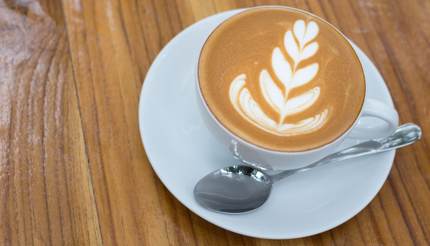 Soixante Quinze (French 75)
Gin, champagne, sugar and lemon juice make up this signature Parisian cocktail. Named after the 75-millimetre WWI weapon, the drink is said to "knock you flat" with its precision and potency. Returning to its 1915 origins, the 75 is often served in a Collins glass that resembles a cartridge shell.
Where to try: Nestled in the Ritz Hotel Paris, the Bar Hemingway (15 Place Vendôme) mixes an elegantly flavourful Soixante Quinze. You can sip this cocktail among 1920s inspired décor in the establishment best known for housing Ernest Hemingway's intellectual debates.
Before you go, check out: