With a wealth of independent restaurants, classic home-cooked dishes, craft brews and fresh produce, Lithuania's capital Vilnius has much to offer to any travellers willing to explore it
Vilnius may be the capital of Lithuania, but its moderate size makes it a perfect destination for those who like to be able to get around on foot to explore cobbled side-streets and courtyards. Slow down, take the weight off and enjoy Lithuania's wide variety of dishes, set under a backdrop that includes one of the largest surviving medieval old towns in Northern Europe. Whether you're after hearty meat dishes, foraged fruits or a glass of mead to warm the soul, you're sure to find authentic Baltic flavours wherever you go
Šaltibarščiai
This curious cold beetroot soup is not only delicious, but it's also a treat to look at: lurid pink, garnished with fresh green herbs and hard-boiled eggs. Šaltibarščiai is made by mixing beetroot with cucumbers, onion, and a type of sourced milk called kefir before it's blended and served with fried potatoes on the side.
Where to try it: In the summer months you are likely to spot Šaltibarščiai on many menus around the city as it's both tasty and easy to make, but Saula (Didziolji str. 26) serves a classic version in a beautiful setting.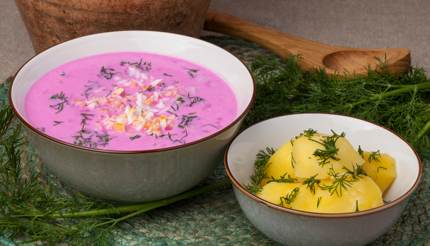 Kepta Duona
Kepta Duona is a traditional bar snack that is practically mandatory during any trip to a pub in Vilnius. These fried sticks of rye bread are dipped in a creamy cheese sauce and form the perfect accompaniment to dark Lithuanian ale. For many Lithuanians abroad, this is the food which they associate most with home. Kepta Duona has an addictive flavour, and it's easy to get carried away as the portions are typically generous.
Where to try it: Alus Namai (A. Goštauto g. 8), near Baltasis Tiltas bridge on the river Neris, dishes up huge plates of Kepta Duona alongside traditional beers.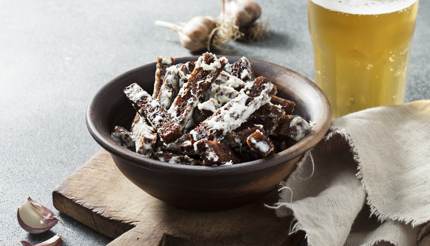 Cepelinai
Cepelinai, or Zeppelins, are dumplings named after their resemblance to the oblong aircraft invented by Ferdinand von Zeppelin. Grated potatoes are turned into a sticky dough and filled with ground meat, then steamed or boiled and served with a creamy sauce and fried lardons ladled on top. Mushroom-filled cepelinai are popular among vegetarians.
Where to try it: Šnekutis (Sv. Stepono 8) is an unpretentious tavern where you can meet locals and tuck into many variations of meat and potatoes; they are well-known for their Cepelinai.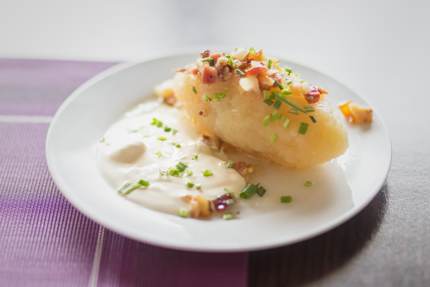 Lašiniai
If you have ordered bar snacks in a Vilnius pub, you may see a bowl of lumpy 'butter' placed in the middle alongside pieces of bread. This is Lašiniai; a type of non-rendered pork fat, spread on rye bread and eaten as a snack or with a meal. Many tourists are put off by the notion of spreading pork fat like butter, but Lašiniai is hearty and brings a smoked meat flavour to any dish. Don't be afraid, just tuck in.
Where to try it: Aline Leičiai (Stiklių g. 4) in the Old Town has a vast range of traditional Lithuanian food and drink; ask for rye bread and Lašiniai on the side.
Džiugas Cheese
Similar to parmesan, this hard cow's cheese can be found in many aged varieties. It is intensely savoury, umami and sweet at the same time. Džiugas is versatile and used in many dishes; there's seemingly no limit to what Lithuanians can pair it with – cheese and coffee is one combination which may feel unusual. One of the most indulgent ways to try it is in ice cream, where pieces of Džiugas are swirled with red berries. The result is not dissimilar to frozen cheesecake, and perfect for an afternoon strolling around the Old Town.
Where to try it: The best place to sample Džiugas in all its forms is at Cheese Džiugas House (Jogailos g. 4). Try a selection of dishes, get inspired, and pick up a few blocks of cheese to bring back home.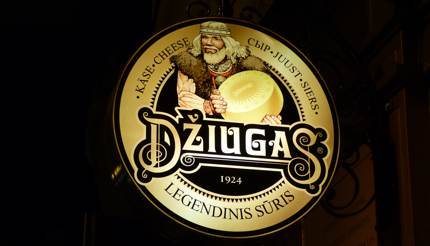 Wild berries
In an ideal world, everyone would of course forage their own berries. The forests of Lithuania are full of delicious bilberries, lingonberries, raspberries and wild strawberries that can be used to make everything from jam to alcohol, or simply eaten on the spot. For some people – particularly families with small children – it's a fun weekend activity to go berry-picking, while others sell what they have foraged.
Where to try: You can get a range of seasonal berries at Kalvariju Market (Kalvariju g. 61), but for a more sophisticated experience, head over to the cutting-edge restaurant Sweet Root (Užupio g. 22). The owners take time to forage their own berries, straight from the forest to the table.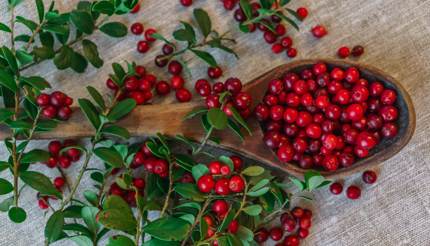 Šakotis
Šakotis means 'tree with many branches', and this unique cake does resemble a cream-coloured fir tree. While most cakes are baked in an oven, Šakotis – sometimes called Ragoulis – is created by dripping cake batter on a roasting spit over open flames to create a large, spiked sculpture, often decorated with chocolate or edible flowers. It's one of the most important desserts in Lithuanian culture, and no wedding, anniversary, Christmas or other special occasion is complete without it.
Where to try it: The super-modern Crooked Nose and Coffee Stories (Šaltinių g. 20-17) serves gourmet coffee with Šakotis in minimalist surroundings.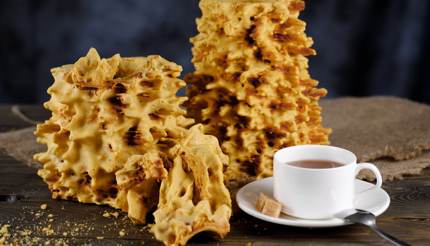 Alus
In direct translation Alus just means 'beer', but don't be fooled into thinking it's your standard pint. Although Lithuania may have been somewhat overlooked by other countries during the recent boom of craft beers, there is definitely no shortage of breweries in Vilnius – many of them in the city centre. Many people enjoy homebrewing as a hobby, so experimental styles and flavours are popular. Why not go wild with sour raspberry gose, smoked porter, or hemp ale?
Where to try it: Craft & Draft (Gedimino pr. 5) brew their own beers and also sell many other local brands. If you want to get your beer 'to go', the beer shop Maukas (Ukmergės g. 259A) fill and seal beer cans from their own taps. Of course you can try before you buy!
Fruit wine
Grapevines don't grow in this part of the world, but that doesn't stop Lithuanians from making wine: apples, gooseberries, blackcurrants and many more fruits are turned into sweet wines that suit many occasions. As well as the conservative flavours other more exotic tastes come from plants like the rowanberry and dandelion. Most of the produce used for making wines are locally grown, so you will get a genuine taste of the countryside in every sip.
Where to try it: Check out the dessert wines at Restaurant Amandus paired with modern Baltic and Nordic dishes (Pilies g. 34), or if you want to grab a few bottles as souvenirs, Vyno Klubas (Stumbrų g. 15) has a large selection.
Mead
Mead may be a traditional beverage in the Baltic states but has fallen by the wayside for many decades. With interest growing in craft beer there is also increased enthusiasm for this ancient honey-based drink, and numerous brands and varieties are produced in Lithuania. Most average around 8-17% ABV, and many are no stronger than beer or wine. Be cautious though, there are some varieties like Lietuviškas midus (Mead Balsam) that can reach a frightening 75% ABV
Where to try it: Bambalynė (Stiklių g. 7) is an underground bar where you can find an interesting range of mead. Some of them are very strong – beware! Vilnius International Airport also has a selection of bottles if you need to pick up a last-minute gift.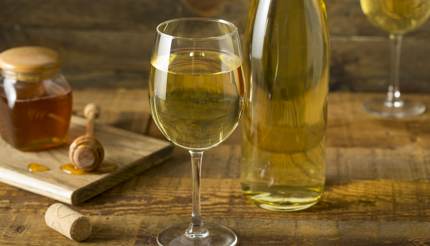 Before you go, check out: