Scotland's traditional dishes are a little unconventional, but they're definitely worth a try
As Scotland's capital city, Edinburgh is full of food options. From eccentric dishes like black pudding and haggis to classic seafood meals of smoked salmon or haddock, there's sure to be something for every craving.
Haggis
Scotland's national dish is a classic for the locals but can be intimidating to visitors. Made of oatmeal, various spices, and sheep or calf's offal – entrails and internal organs, such as the heart and liver – this dish is usually cooked in the stomach of the sheep and served as a savoury pudding. As outlandish as this may sound, haggis is said to be a delicious meal that will leave you wanting a second helping.
Where to try: Head over to the Royal McGregor pub (154 High St) to try some haggis fritters, or Whiski Bar (119 High St) where you can try a "haggis tower" – traditional haggis served with neeps (mashed swede), and tatties (mashed potatoes).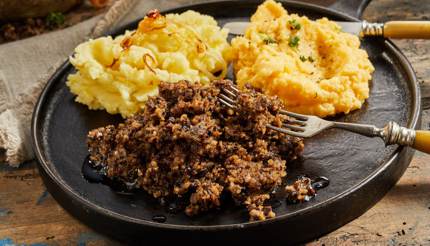 Stornoway black pudding
Another traditional Scottish dish, this pudding is made with pig's blood, sausage meat, onion, spices, and oatmeal to provide texture. While it may seem questionable, its award-winning status will make you curious enough to try it.
Where to try: Stornoway black pudding is sold by Crombies (Broughton St) and the famous Charles Macleod butcher at several locations around the city.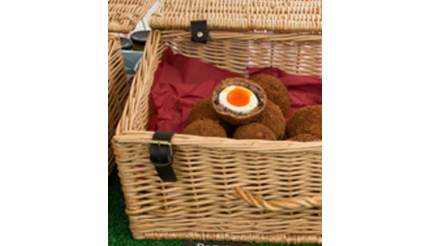 Porridge
It's almost inevitable that you'll be trying this traditional Scottish breakfast during your visit. Made from locally grown oats and milk (or water), this simple and healthy dish is the perfect way to start your mornings.
Where to try: Urban Angel (121 Hanover Street) is an affordable café that serves porridge for breakfast and brunch until 1700. Or try Mimi's Bakehouse (277 St John's Road), where they serve homemade porridge topped with cinnamon and brown sugar or fruit of your choosing.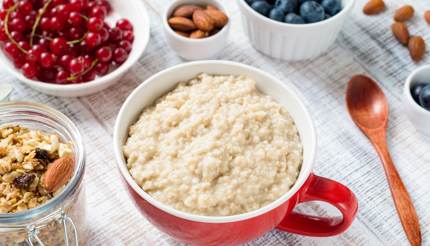 Cullen skink
Don't let the name throw you off – this hearty soup, made with smoked haddock, onions, and potatoes, is a Scottish classic. Its thickness and full flavour make it an instant classic.
Where to try: Visit Dubh Prais (123b High Street) for an inexpensive, authentic bowl of cullen skink. Or head down to Whiski Bar (119 High St) where a classic bowl of soup is served at an affordable price.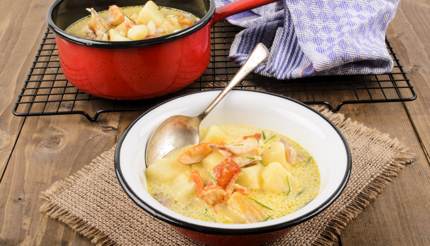 Smoked salmon
Often served in slices, this dish is the perfect example of Scotland's excellent seafood. Salmon is popular worldwide, but Scottish salmon is in a league of its own.
Where to try: Stac Polly (29-33 Dublin Street) offers smoked salmon as a main course with baby potatoes, mussels, and vegetables. Or you could head to Something Fishy (16a Broughton Street), a family run fishmonger's shop that will give you the chance to learn more about the fishing process in Scotland and exactly what you're getting when you buy your salmon.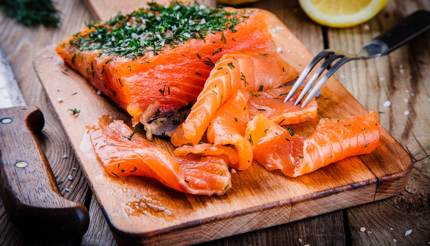 Partan bree
This crab broth with rice and cream is another example of seafood soup in Scotland. With only a few ingredients, this is a simple yet enjoyable bisque.
Where to try: Head to the chic One Square bar/restaurant (1 Festival Square) and try a steaming bowl of this creamy shellfish soup.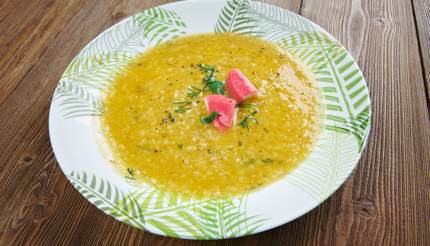 Arbroath smokies
This smoked haddock is made with a very specific process. Pieces of fish are salted overnight then tied in pairs to dry. The haddock is traditionally hung over a barrel with a fire underneath and left to smoke for 30-40 minutes. The result is a delicious, golden brown fish unlike anything you've ever tasted.
Where to try: Visit Fishers in Leith (1 Shore) for tasty and affordable smoked haddock and asparagus. If you want to make your own, head back to Something Fishy (16a Broughton Street), which may have them in stock.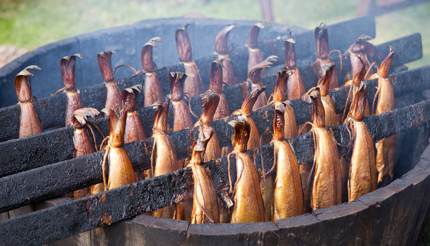 Cranachan
A trip to Scotland wouldn't be complete without trying a few of their sweets. Cranachan is a layered dish made from whipped cream, honey, whisky, fresh raspberries, and toasted oatmeal. Certainly an indulgence you won't regret.
Where to try: Whiski Bar (119 High St) doesn't just serve an extensive array of pub food and drinks – you can also finish your night with a delicious dessert of cranachan here. Or, try the cranachan cheesecake at The Doric (15-16 Market St, Old Town).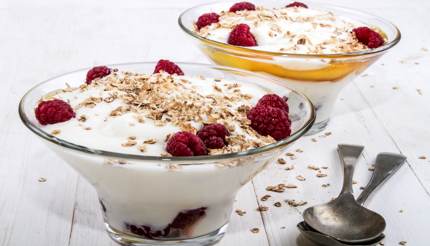 Tunnock's teacakes
Tunnock's is a family-owned baked goods brand whose teacakes, caramel logs and wafer creams are the perfect companion to tea or coffee. The soft meringue on a biscuit base covered in milk chocolate will leave your mouth watering for more.
Where to try: This easily accessible treat can be found at Sainsburys (9-10 St Andrews Square), Tesco Superstore (7 Broughton Road), or even Amazon.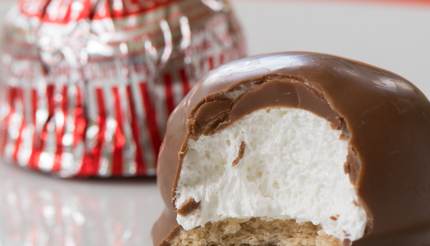 Whisky
Whisky is Scotland's national drink and their largest export. With hundreds of distilleries and several opportunities to tour and learn about the entire whisky making process, you won't want to leave the country before experiencing this important part of Scottish culture.
Where to try: Walk into any pub in Edinburgh and you're sure to find a hefty selection of Whisky – from classics like Whiski Bar (119 High St) and The Doric (15-16 Market St, Old Town) to the more upscale Bennets Bar (8 Leven St), which offers over 150 different malt whiskies.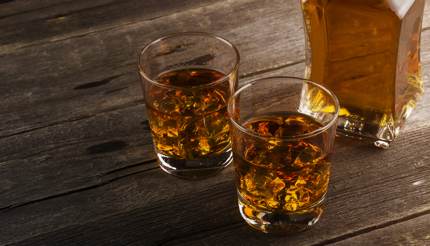 Before you go, check out: