For exotic dishes paired with refreshing craft beers, East West Brewing Co. is the best guide to eat and drink well in Vietnam's capital city
First-time visitors to Ho Chi Minh City are often overwhelmed by the sheer energy and variety of food and drink on offer. For foodies and beer-loving souls, the city's burgeoning craft beer scene lends further excitement to the search for fresh and authentic cuisine. Fortunately, with the roaring success of East West Brewing Co., Ho Chi Minh City's first in-house microbrewery, visitors don't have to look far to experience excellent food and beer at affordable prices.
Set in a dynamic, ever-evolving Vietnamese city, East West Brewing Co., culinary and brewing program led by Executive Chef Matthew Venzke and Head Brewer Sean Thommen, goes above and beyond the standards of traditional pub cuisine. The restaurant boasts an extensive menu that draws gastronomic inspiration from across the globe.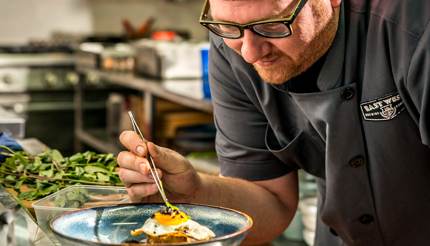 Forceful and charismatic, Venzke worked in several Michelin Star restaurants in the United States before coming to Ho Chi Minh. He excels at combining premium ingredients from different cultures into dishes that challenge and reward the craft beer drinker's appetite. This allows East West to offer a wide selection of fresh seafood, steaks and wagyu beef, in addition to classic beer foods that are prepared with a modern, East West twist.
Must-try dishes
Among the most popular of Venzke's innovative dishes is mực một nắng, or "one day sunfish," a traditional Vietnamese dish cooked from a freshly caught squid that is dried on top of a fisherman's boat for one day before being frozen. Chef Venzke takes this recipe to the next level by brushing the squid with a house Cajun seasoning when grilling it, then garnishing it with fresh rau răm (Vietnamese coriander) and basil. The sizzling calamari, served with a savoury corn and bacon relish, is one of the brewery's best sellers.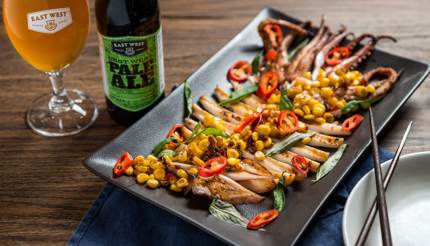 Popular as well is Chef Venzke's signature Pan Seared Salmon, a dish many visitors wouldn't expect to find on the streets of Ho Chi Minh City. The crispy-skinned salmon is served with lemongrass-ginger coconut milk, black sticky rice and a fried egg, then garnished with crispy black rice and basil. In the resulting dish, crunchy and soft textures mix with bold flavours, creating a delightful dining experience.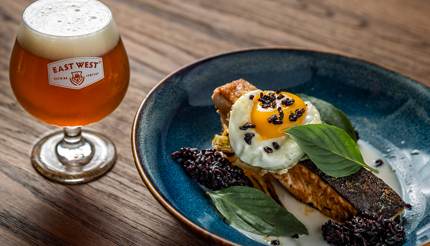 Traditional delights
While some of East West's food might appeal to the less adventurous taste tester, other dishes, such as bò kho, a traditional braised beef stew served with French bread, are perfect for visitors searching for authentic Vietnamese flavour. The microbrewery also recently launched a new lunch concept that allows customers to choose a main plate from a Southern California-influenced menu, along with an authentic Vietnamese side dish from a Saigon-inspired menu. In simple terms, customers really can indulge in the best of both worlds.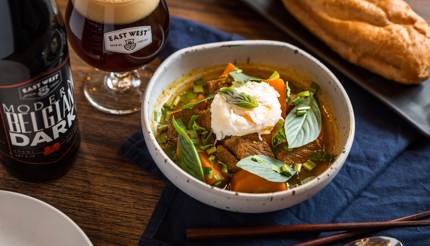 Craft beer
East West's lunch and dinner dishes don't stand alone: they are as well-crafted as the beer this independent brewery produces. The Vietnamese market is fairly new to craft beer, which is why head brewer Sean Thommen believes it's important to have beers on tap that represent both classic styles and modern variations. "We have a duty," he says, "as do all the craft brewers in Vietnam, to educate and steer the direction of craft beer, as well as listen to the folks drinking it."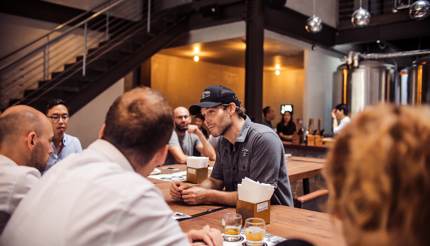 This is why East West offers a wide variety of classic brews, as well as an ever-revolving seasonal tap list of quirky and experimental flavours. Thommen makes a traditional Hefeweizen, a wheat beer from Germany, true to form, down to the mineral content of the water. He also offers a Belgian beer with a local twist, which is created using Vietnamese palm sugar in place of traditional Belgian candy sugar. He insists that East West cannot overstate the importance of the culture and history of beer as a baseline in their production, with authenticity and innovation as the core foundations of their craft.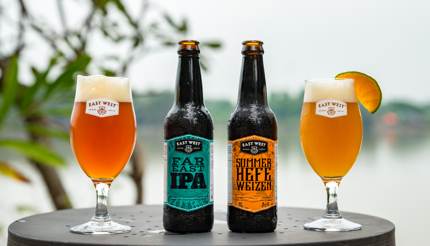 Could this be the best IPA?
With this devotion to brewery, it's little wonder that East West's Far East IPA is Ho Chi Minh City's newest must-try beer. Its genius is in its appeal to both new Vietnamese craft beer drinkers and hard-core craft beer aficionados. As Thommen says, "It's amazing to see someone from this country light up and say, 'Wow, this is what craft beer is!' and someone from my country drinks the same beer and goes 'Ah, finally a good beer!'"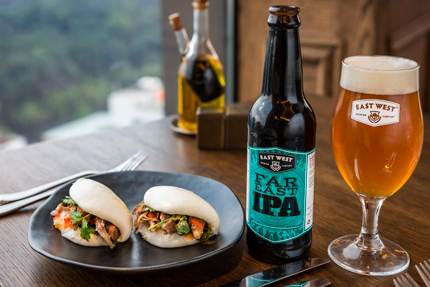 Yet what makes East West different from other restaurants and breweries of Saigon is not its innovative food or its brilliant craft beer, but how these two have been explicitly paired at East West since the microbrewery first opened. As a great chef who knows his beer, Chef Venzke was able to design a menu in which the flavour and texture of each dish complements the in-house craft beer. Visitors can experience this first-hand on one of East West's premium brewery tours, after which each person is given a flight of beers paired with one of Chef Venzke's creations.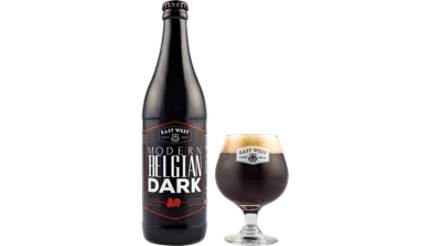 At East West Brewing Co., executive chef Venzke and head brewer Thommen sincerely believe that food can elevate the experience of beer, and vice versa. In Ho Chi Minh City's emerging market for high quality, affordable cuisine, their mission is to demonstrate to visitors and natives alike just how exceptional the pairing of styled pub dishes and personally-crafted beer can be.
Bon appétit.
Where to find East West Brewing Co.
This spacious gastropub is located at 181-185 Ly Tu Trong Street, Ben Thanh Ward in District 1, just a block away from Ben Thanh Market.
Email: info@eastwestbrewing.vn Tel: 091 306 0728 Website: eastwestbrewing.vn Facebook: @eastwestbrewery Instagram: @eastwestbrewery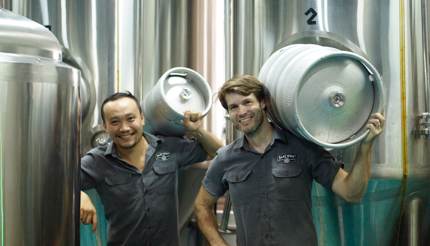 Before you go, check out the Ho Chi Minh city guide.