Pi Day was first recognised in 1988 by the physicist Larry Shaw, who wanted to mark the beauty of π, the constant relation of the circumference of a circle to its diameter.  This formula has been calculated to more than a trillion digits but it is normally written 3.14, which, as Shaw pointed out, is also 14 March (it doesn't work so well in the UK, where they do it differently: i.e. 14 March is abbreviated to 14.3. A British wag on twitter reminded Americans on 12 December 2012 that the day should be written 12.12.12, not 12.12.12). On the first Pi Day (it has now been officially recognised), staff and visitors at the San Francisco Exploratorium, where Shaw worked, were given fruit pies to eat. To celebrate Pi Day, Matt Kirouac gives a handy roundup of eight all-American pies across the US and where to find them.
Key Lime Pie
In Florida, key lime pie is as iconic as Mickey Mouse. Originating in the Keys, the confection is traditionally made with tangy key lime juice, egg yolks and sweetened condensed milk atop a buttery graham cracker pie crust. It's as tart and refreshing as a glass of lemonade, and perfect for warm weather snacking. One of the best slices can be found at Miami's famed Joe's Stone Crab, an institution renowned for its beachy comfort food. The pies are baked fresh daily, and they're also available for shipping due to rampant popularity.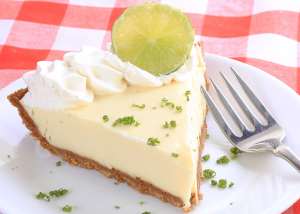 Shaker Lemon Pie
The Midwest is the birthplace of several classic pies, but it also proudly lays claim to some less commonplace novelties like the shaker lemon pie. First created by Shaker communities in states like Ohio, these pastry-loving people began experimenting with lemon recipes when they started purchasing the citrus fruits from warmer growing regions. They wound up slicing the lemons paper-thin, peels and all, and mixing it all up with sugar for hours in order to break down the texture and create a soft, pleasant chew. Then eggs are added, all baked into a double-crust pie pan with a resulting texture akin to lemon jam. Shaker lemon pie ascends to new heights at Honey Pies in Little Rock, Arkansas. The homey bakeshop and cafe rotates the dessert onto its menu seasonally, utilizing a rich butter crust and fresh Meyer lemons for added notes of sweet and sour.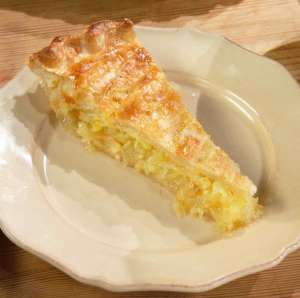 Chess Pie
Chess pie is a dessert with an impressive travel history. Although its earliest origins are said to have taken shape in England, it journeyed through New England before hitting its stride and becoming a fixture in the American South, where home bakers honed recipes using local ingredients. Today, a classic chess pie consists of a single layer of crust and a gelatinous custard filling made with eggs, butter, sugar, vanilla and cornmeal, which adds a bit of gritty bite. Chess pies play a big role at Hoosier Mama Pie Company in Chicago. In addition to the classic vinegar chess pies and lemon chess pies, the shop features holiday flavours like cranberry chess, plus a crowd-pleasing mainstay: chocolate chess. The latter has a brownie batter-like texture, making it a particularly indulgent option if you have a hankering for comfort food.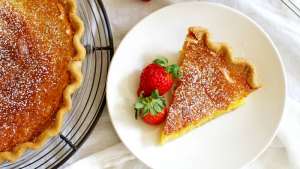 Buttermilk Pie
A close cousin of chess pie, buttermilk pie is a similarly Southern staple that differs in its lack of cornmeal in the custard. Thus, the texture is silkier and the flavour is more focused on buttermilk's quintessential tang. Instead of cornmeal, a bit of flour helps thicken things up over the crust, and it's eaten either warm or chilled. A nice rendition can be found at Oklahoma City's Pie Junkie, where buttermilk pie is made with a splash of Bird Dog Blackberry Whiskey for added headiness and fruity undertone.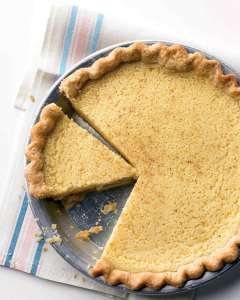 Shoo-fly Pie
The crafty Pennsylvania Dutch are to thank for shoo-fly pie, a gooey molasses-based confection that earned its name from the fact that molasses attracts flies and thus they must be shooed away. It's also made with egg, flour, brown sugar and shortening, resulting in a pie that's deep, dark and rich with treacly flavour. At Scratch Baking in Durham, North Carolina, they give the pie a distinct Southern twang with the inclusion of sorghum. It's a softer, somewhat toasty flavour compared to molasses, adding a nice complexity to the version at Scratch Baking.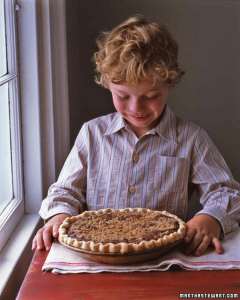 Sweet Potato Pie
A prominent player on Thanksgiving dining tables across the U.S., sweet potato pie is another example of the South's impressive contributions to dessert lore. Similar in look and flavour to pumpkin pie, occasionally topped with marshmallows, it's a simple and well-honed combo of orange tubers, milk, sugar, eggs and warm, wafting notes of nutmeg and cinnamon. One of the best versions in the country is at Dangerously Delicious Pies in Baltimore, where their sweet potato definitely lives up to the bakery name. It looks classic, but the flavours are nicely layered and bright, thanks to locally sourced sweet potatoes, butter and heady spices in a light, flaky crust. It's also available all year long, so you need not confine your cravings to November.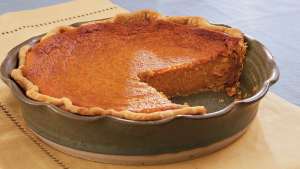 Apple Pie
Of course, it's impossible to talk about pie in America without mentioning that most iconic of American desserts: apple pie. The formula is simple, just a hearty mix of chopped apples with copious amounts of butter and sugar in a flaky pie crust. Variety of apple, style of cut and form of crust all vary, but the core of the dessert remains the same. Unless of course you're in dairy country, in which case cheddar occasionally makes its way into the combination. A popular addition in Wisconsin especially, apple-cheddar pies toe the line between sweet and savoury; a bit of sharp and salty flair from the cheese balances the sugary, cinnamon-flecked apples. One prime example can be found at Honeypie in Milwaukee. The adorable eatery sports an overwhelming array of pies, from classics like apple to novel creations like Milwaukee Mud, Brandy Old Fashioned Cherry and Bourbon Fudge. But one of the stars is the apple-cheddar-bacon pie, a pie whose fillings sound more like salad fixings than dessert. In addition to the cheese, the bacon brings a bit more salt to the party, along with a toothsome chew. And of course, it's further proof that everything is better with bacon.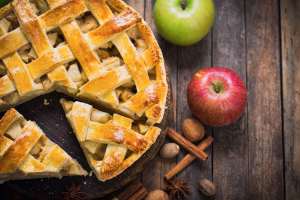 Are you hungry and looking forward to having a slice of pie now? Enjoy your Pi(e) Day.